Is Trump Losing GOP Support? 43% of Republicans Want New Leaders: Poll
Former President Donald Trump appears to still be the dominant driving force within the Republican Party, according to most political analysts as well as GOP lawmakers—including his critics. But a new poll Sunday shows that a substantial minority of Republican voters would prefer new leaders instead of Trump.
Trump has largely been viewed as a polarizing political figure, even within his own party. So called "Never Trumpers" continue to push back against his influence and control of the GOP, even as their years-long efforts have often appeared futile to curb his support among the Republican base. As this year's GOP primaries continue, Trump's preferred candidates have dominated—winning in nearly all their contests thus far.
Meanwhile, a poll released by NBC News/Hart Research Associates/Public Opinion Strategies showed that a significant chunk of Republican primary voters actually prefer that someone else would take the reins of leading their party. The survey found that a third (33 percent) of Republican primary voters believe Trump was a good president, but that it's time for new leaders. An additional 10 percent said Trump was a bad president and it is now time for their party to move on.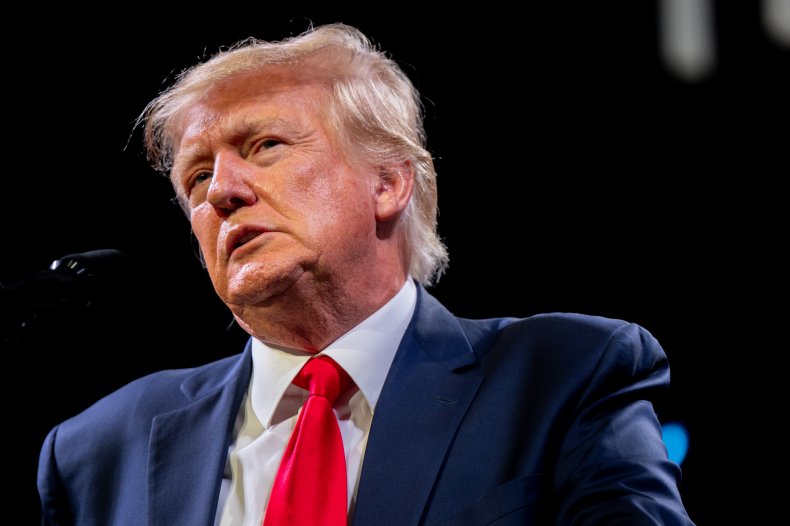 In totally, the poll shows that 43 percent of voters who plan to vote in GOP primaries this year would prefer their party have new leaders and/or move on from the former president. At the same time, a relatively narrow majority (55 percent) said that the Republican Party should continue to be led by Trump moving forward.
Furthermore, the survey found that substantially more Republican respondents said they were supportive of their political party over Trump. Only about a third (34 percent) said they were more supportive of the former president compared to 58 percent who described themselves as a supporter of the GOP first.
The survey was carried out from May 5 to 7 and 9 to 10. It included interviews with 1,000 adults.
Although the polling data may shed some light on GOP voters' sentiments, Trump does appear to still have a strong influence on his party and its future. News and polling analysis site FiveThirtyEight's recent assessment showed that 39 out of 40 Senate, House and governor candidates endorsed by Trump in their Republican primaries have won thus far in 2022. However, some analysts have contended that this is due partly to the former president largely backing candidates who are already viewed as favorites to win.
Appearing to be at odds with the new survey data, CBS News polling in February showed that a substantial majority of Republicans thought Trump should run for president again in 2024. More than two-thirds (69 percent) said the former president should seek another White House term and less than a third (31 percent) said he should not.
Recent polls also suggest that Trump would be well-positioned for a rematch against President Joe Biden in 2024. The RealClearPolitics average of recent national polls shows the former president about 0.8 percentage points ahead of the Democratic president.
On average, Trump has the support of 45 percent of voters compared to just 44.2 percent for Biden. Some of the recent polls included in the average—all of which are from the end of April—have Biden 1 to 2 points ahead. Others from the same time period have Trump in the lead by 1 to 4 points.
For now, Trump is utilizing his political capital in primaries across the country in a bid to demonstrate his continued dominance of GOP politics. Analysts have noted that Republicans seeking office are largely attempting to adopt the former president's combative style in order to resonate with the GOP base, as well as to curry favor with Trump. Even the former president's harshest critics on the right have admitted he's still leading their party.
"I don't delude myself into thinking I have a big swath of the Republican Party," Senator Mitt Romney, a Utah Republican, told Politico earlier this month. Romney, notably, is the only GOP senator who voted twice to convict Trump, first in his his 2020 Senate impeachment trial, then again in 2021. "It's hard to imagine anything that would derail his support. So if he wants to become the nominee in '24, I think he's very likely to achieve that."