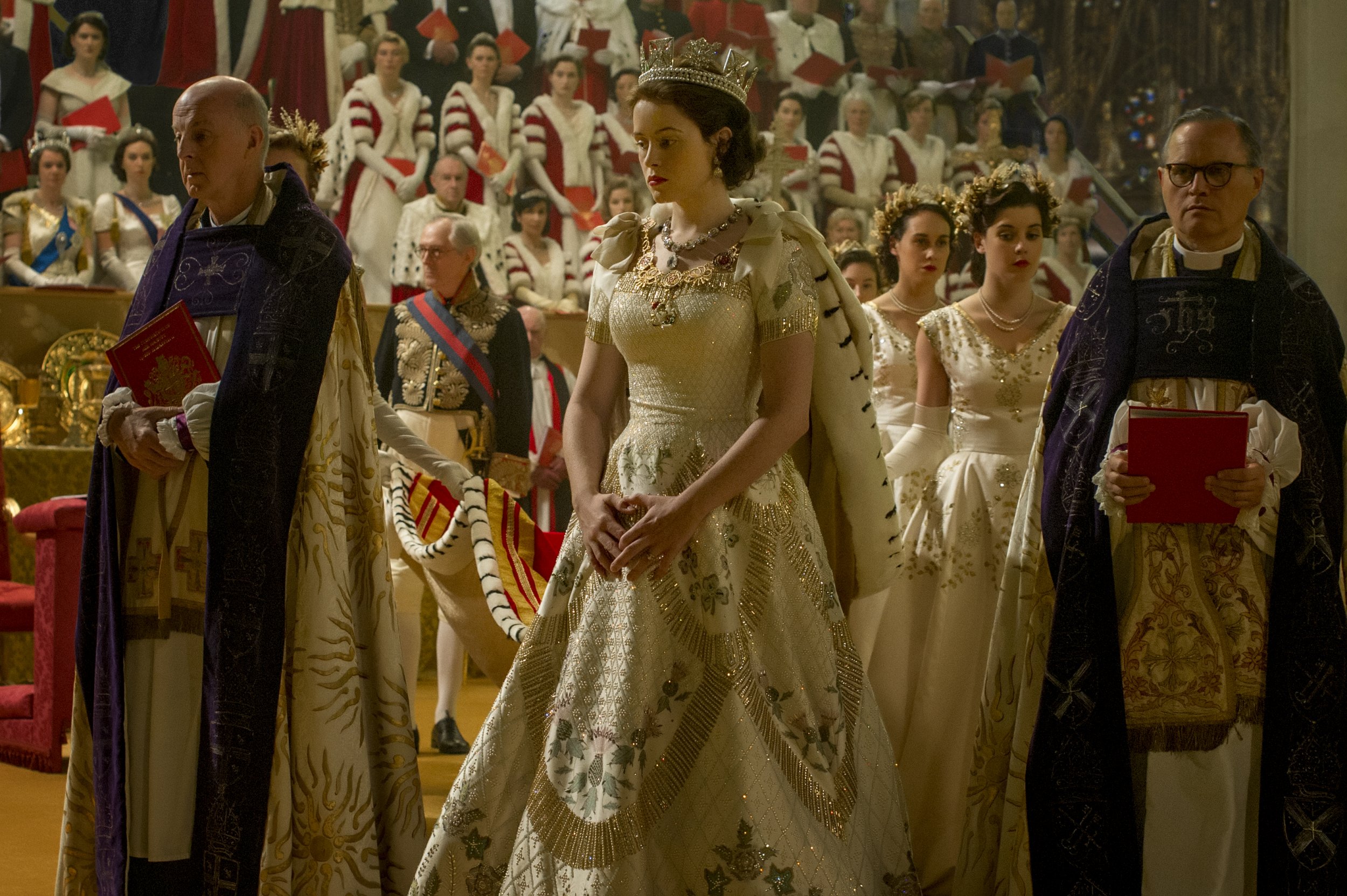 Missing Downton Abbey? Netflix is looking to fill the hole left by the Crawleys with regal drama The Crown, about the reigning British monarch, which debuts globally Friday.
The ten-part series is the streaming giant's first British production and cost a rumored £100 million. In a sign of confidence from Netflix, the show is already in production on its second season before the first has begun streaming. That can be attributed to a combination of rich writing from Peter Morgan, who is firmly in his comfort zone writing about the royals—he also wrote the movie The Queen and London stage play The Audience, both starring Helen Mirren in the lead role—sumptuous direction from filmmaker and theater producer Stephen Daldry, and piercing performances from Claire Foy as Queen Elizabeth, Doctor Who's Matt Smith as Prince Philip and, most unusually, U.S. actor John Lithgow as prime minister Winston Churchill.
Ahead of the show's premiere, Newsweek spoke with Foy, Smith, Jared Harris (King George VI) and Vanessa Kirby (Princess Margaret), as well as Daldry and Morgan, about bringing the intrigue of Buckingham Palace scandal to life.
Here are some of the things we learned:
A royal reception
The difficulty in writing about the royals is that much of their dramas take place firmly behind the closed doors of their residences. That means many situations and conversations, while rooted in reality, are subject to creative license from Morgan.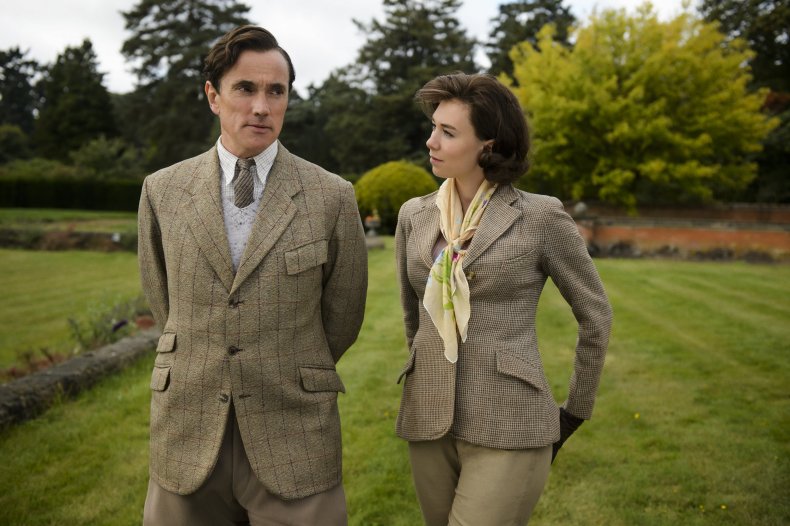 The show's interpretation of the royals has already received some criticism from royalists, Foy tells Newsweek. "A lot of people have been saying, 'Matt, your bum's in it.' The reason why his bottom is in it is because Philip sleeps naked," she said. "What do you do? Do you do something that says something about the character—that he's exciting and sleeps naked, while Elizabeth's there with her nightie up to her neck? That says something about the character."
Smith adds that the show is not intended to be "salacious or gratuitous in any way" but "we do want it to be honest and have an edge that is at times uncomfortable. It's a human drama—these people aren't robots."
Traveling back to TV
For Smith, The Crown marks his first major television role since quitting time-traveling sci-fi drama Doctor Who in 2013. He admits that signing up for another series with the potential of running numerous seasons was daunting.
"I won't lie—at first I thought 'Oh God, that's a long engagement'. But actually, when it's work of this quality, that really dissipates into the background," explains Smith.
"I thought, well, you've got Peter Morgan and Stephen Daldry… give it a whirl."
Bad press for Philip?
While most think of Prince Philip, who turned 95 this year, as a cantankerous old man prone to being politically incorrect, Smith plays him at a time in his life when he is a sprightly navy admiral in the formative years of his marriage to Elizabeth.
The actor says his portrayal wasn't prejudiced by the public perception of Philip today, and in fact thinks the Duke of Edinburgh is wrongly maligned.
"I think the preconception that we have is actually a misconception," Smith tells Newsweek . "If you look at his life, look at him, and study the man, he's none of those things we think he is. Don't we all get more cantankerous in our old age? If you've had your photo taken a million times, believe you me, I'd think you'd become a little more cantankerous. I love those edges to him."
As for Philip's more colorful verbal blunders, Smith says: "The story we're dealing with is him at a completely different age. I focused in on who I thought he was then."
"I think he gets a bit of a bad press nowadays, to be honest," adds the actor.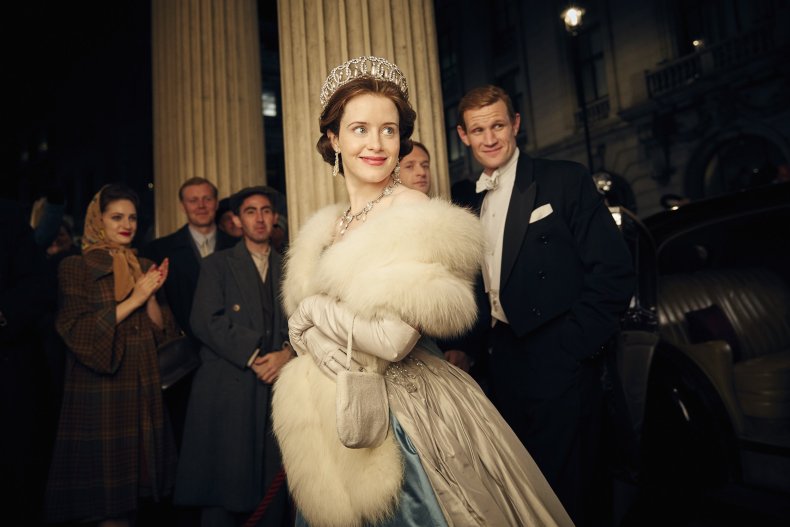 Sibling rivalry
Princess Margaret, the oft-forgotten offspring of King George VI and the mother of Queen Elizabeth II, also plays a sizeable role in The Crown. While her older sister ascends to the throne, Margaret—played by rising British actor Vanessa Kirby—is deep in the throes of an illicit romance with the divorced Peter Townsend, an RAF officer turned aide to King George and later Queen Elizabeth.
Margaret and Peter planned to marry but, as he was divorced, the union was vetoed by both the Church and Parliament. The only way they could marry was if she renounced her royal heritage.
Kirby says there was a simmering tension between Margaret and her monarch sibling. "Peter's been amazing at writing the conflict between them, and the fact they're put in such a strained position where your big sister can tell you whether you can marry someone or not," the actor says. "There's a resentment, as well as love, because they are family. It was very tough…[the relationship] gets very bad."
Deep down, Margaret—who died in 2002—was also jealous of her sister succeeding their father to the crown, Kirby believes. "There's one scene where Margaret says, 'Remember that I was papa's favorite'. He said, 'Elizabeth was my pride but Margaret was my joy'. She's very proud of that."
Playing dead
Jared Harris' role on The Crown, as you might expect, is a small one. In order for Queen Elizabeth's reign to begin, his character, King George, must die, and die he does early in the season. Harris already has some experience with grand death scenes—his Mad Men character Lane Pryce's suicide was one of that drama's most shocking moments.
How does this latest death compare? "It was less shocking because I knew it was coming, whereas they sprung it out of the blue on me in Mad Men."
Harris also revealed that he volunteered to play King George's corpse, but Daldry decided to use a dummy. "They got this anatomical dummy… somewhere in [a hospital in] London there is a life-size, full-bodied dummy of a dead me."
The Brexit impact
The Crown is an inherently British drama that analyzes the values of the country's monarchy and political climate. But in the wake of the European referendum in June, creators Daldry and Morgan admit they had some reservations as to whether the U.K.'s neighboring countries, angered by the decision to leave the EU, would still be receptive towards it.
"We didn't give Brexit any thought, because no one thought it would happen," says Morgan. "I kept thinking this is an interesting show because at the center of its philosophical gravity it has respect for the Commonwealth. I thought, 'How counter to the prevailing wind'. Then this madness happens."
"On one hand, for Britain, it's an interesting time for this show to come out as we look inwards and think, 'What have we done? Who are we?' If we've cut ourselves off, who are we, if not Europe?"
"I should imagine the Germans and the French should throw bricks at the television when this comes out," Morgan quips. "Or the opposite. They may actually think, 'Now I understand why those people are so crazy that they left'."
Spanning the years
At a BAFTA preview screening last week, Daldry said he hopes the show would continue for seven seasons. Speaking to Newsweek, Daldry and Morgan elaborate that each season would span around 10 years in the life of Elizabeth and Philip.
But according to Smith and Foy, who are currently filming their second season, that doesn't necessarily mean they'll be fitted with prosthetics to make them look older. Instead, the core characters could be recast.
"I'm not sure we'll have that responsibility [of aging]," says Smith. "I don't know what the situation is, but I think there is a school of thought that they might use different actors for different times."
"Unless there's a petition—that we start!" jokes Foy.
The Crown premieres on Netflix on November 4.