Sen. Dianne Feinstein's Approval Ratings Tumble After Criticism From Progressives
Sen. Dianne Feinstein (D-Calif.) has seen her job approval ratings plummet following a period of relentless criticism from progressives, according to a new poll.
The poll, released Thursday by the University of California at Berkeley's Institute of Governmental Studies (IGS), found that a 46 percent plurality of California voters now disapprove of Feinstein's job performance. Although the 87-year-old Feinstein has easily won reelection to the Senate for decades, only 35 percent of voters in the poll approved of her performance, while 19 percent were unsure.
"Feinstein's decline among liberals and young voters suggest that core Democratic constituencies are now less likely to view her as an effective advocate," IGS Co-Director Eric Schickler said in a statement.
Feinstein was "strongly" disapproved of by 26 percent of all voters, while 19 percent said they disapproved "somewhat." Strong approval for Feinstein was only seen among 12 percent of voters, with another 23 percent approving somewhat.
Although a January 2021 IGS survey found nearly identical ratings, it is clear that Feinstein has seen a sharp decline in support in recent years. She had a 48 percent approval rating, with 37 percent disapproving and 15 percent unsure, in a poll taken in December 2017. Her approval ratings were as high as 57 percent for multiple years before that.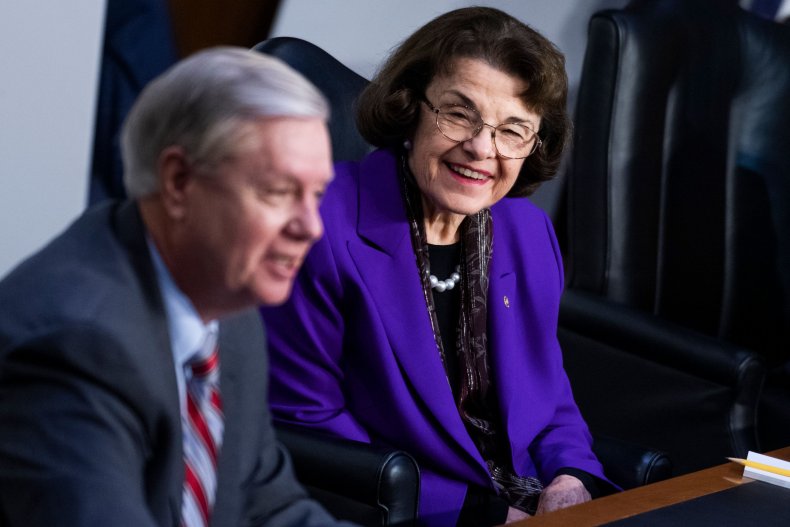 The steepest drop in support for Feinstein was among voters under 40 and those who identify as liberal. While 70 percent of liberal voters approved of Feinstein in the 2017 poll, only 47 percent agreed in 2021, a decline of 23 percent. A 21 percent drop was seen in voters aged 30-39, while support fell 17 percent among those under 30.
Predictably, support for the Democratic senator is lowest among Republicans, with 10 percent approving of Feinstein. Around half of Democrats approved of the senator, 53 percent, while just 28 percent of independent voters agreed. A 53 percent majority of men and a 40 percent plurality of women disapproved.
The poll was conducted online among 5,036 registered voters in California between April 29 and May 5. It has a margin of error of 2.5 percent.
The approval ratings drop comes after heavy criticism of Feinstein from progressives. She stepped down from her role as the lead Democrat on the Senate Judiciary Committee after being blasted from the left for her performance during confirmation hearings for Supreme Court Justice Amy Coney Barrett last year, particularly for praising and physically embracing Sen. Lindsey Graham (R-S.C.).
Feinstein's refusal to support eliminating the Senate's filibuster rule has also drawn the ire of progressives concerned about Republican roadblocks in an upper chamber under tenuous Democratic control. Most recently, progressives were up in arms after Feinstein suggested that the prospect of 82-year-old liberal Supreme Court Justice Stephen Breyer retiring from the court during the Biden administration would be a "great loss."
Regardless of the criticism and apparent decline in her popularity, Feinstein has refused calls to retire. In March, she told reporters that it was "pretty obvious" she was up for the job until at least the end of her current term. It is not clear whether Feinstein intends to run for reelection after that, when she would be 91, although she filed initial paperwork for a 2024 reelection run in January.
Newsweek reached out to Feinstein's office for comment.