Senate GOP Down One for Stimulus 'Vote-a-Rama' as Dan Sullivan Returns Home for Funeral
Alaskan Republican Senator Dan Sullivan has left Washington D.C. for a funeral as the Senate votes on potential amendments to the coronavirus relief package.
Sullivan's return to his home state is due to the funeral of his father-in-law, which is being held in Fairbanks, according to The Hill.
"Senator Sullivan intended to vote against final passage of the bill and made his opposition clear in a statement on Thursday, after his vote against the motion to proceed with consideration of the bill," Sullivan spokesperson Nate Adams told The Hill.
Sullivan's trip back home falls during the "vote-a-rama" session before the final vote on President Joe Biden's American Rescue Act. "Vote-a-rama" is a session where senators can propose amendments to the relief package, which need only a simple majority vote to be added.
On Friday, Sen. Bernie Sanders used this process to propose a $15 per hour minimum wage. This attempt failed after seven Democrats crossed party lines to vote against the amendment.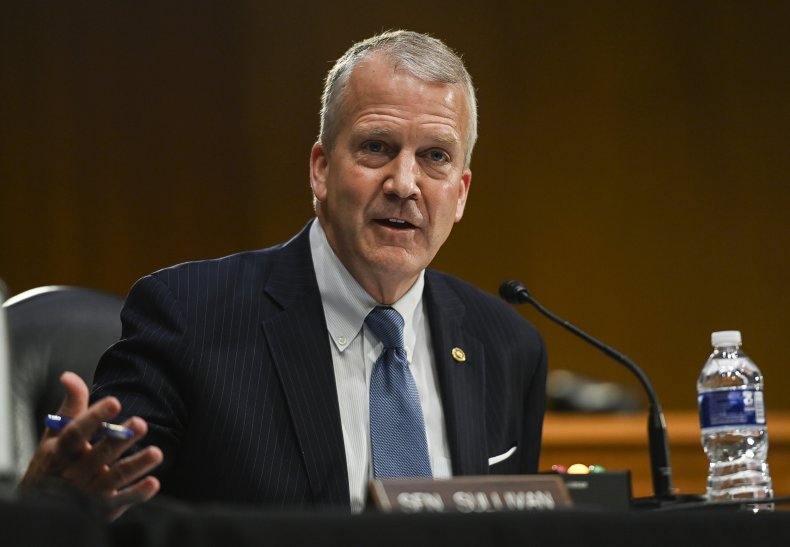 As the Senate is currently split 50-50 between Republicans and Democrats, Sullivan's departure puts the GOP in a tight spot. Without Sullivan, the split is 49-50, giving Democrats a slight edge. Even with Sullivan, Democrats have the majority, with Vice President Kamala Harris casting any tie-breaking votes. That said, it is still possible for Republican-proposed amendments to pass, providing one Democrat joins a unanimous GOP vote.
Sullivan may be back in time for the final vote, according to The Hill, as the timeline is still unclear. It's expected the final vote will be early Saturday at the earliest.
Sullivan has criticized the size of the bill when explaining why he planned to vote against it.
"Too much of this bill has nothing to do with pandemic relief. In fact, only a small fraction of the money being proposed will contribute to vaccinations and public health initiatives," Sullivan said in a statement released Thursday.
"The effects of this pandemic aren't just hurting Republican states or Democratic states. That's why we need input and compromise from both sides of the aisle and representatives from all parts of the country—especially when it comes to a bill with a nearly $2 trillion price tag," Sullivan added.
Newsweek reached out to Senate Minority Leader Mitch McConnell for comment.
Sullivan's father-in-law is Hugh "Bud" Fate, who passed away last week at 91. Fate was a travelling dentist who flew to remote villages around Alaska to perform dentistry. Fate also represented Fairbanks in the state House of Representatives as a Republican from 2002 to 2005. Fate's daughter, Julie Fate Sullivan, married Dan Sullivan in 1994.