Top Senate Republican Proposes Bill for Americans to Get More Money
Top Senate Republican Chuck Grassley is looking to ease the impact of inflation with a new bill that would provide or save additional money for American families and students under certain programs to help them keep up with rising costs.
The Iowa lawmaker's Family and Community Inflation Relief Act was first reported by Fox Business, which was able to obtain a copy of the proposal ahead of Grassley's plans to introduce it Thursday. It would index and adjust certain thresholds for several tax benefits and government assistance programs, such as the Child Tax Credit, to reflect increases in U.S. prices.
"The bill would ensure tax benefits afforded to families, students and others are not eroded at a time when they are seeing their paychecks shrink and costs rise due to inflation," a summary of the legislation on Grassley's website read.
Year-over-year inflation surged 9.1 percent in June, the largest increase since 1981 and up from an 8.6 percent year-over-year increase in May. Last month, the Federal Reserve announced its biggest interest rate hike in 28 years to combat the rising costs.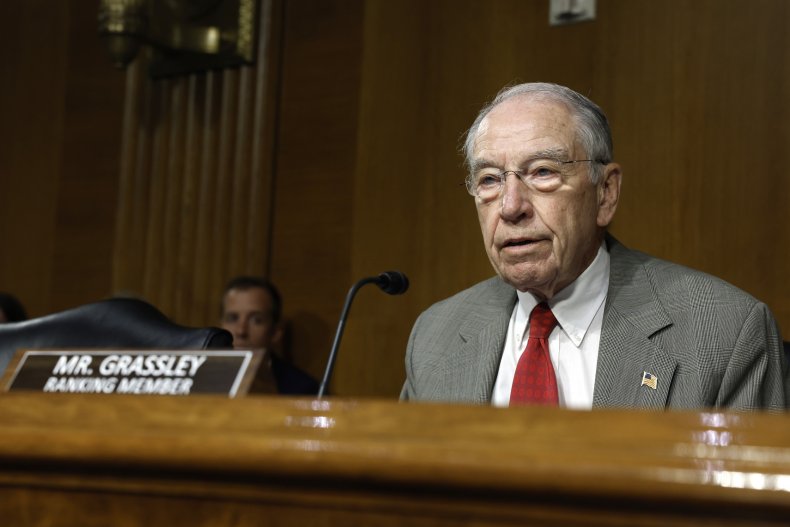 Experts have explained that the interest rate hike, which was three-quarters of a percentage point, can potentially offset inflation by restoring a balance in supply and demand. Increasing interest rates makes it more expensive to borrow money and therefore discourages people from spending money, which will lead to decreased demand and eventually lower inflation.
While June's inflation data indicates that the U.S. is still contending with elevated costs, Grassley's proposal would "target relief to low and moderate income Americans" in the meantime.
"The relentless 40-year high inflation we're seeing today has made it increasingly difficult for Americans to afford their trips to the gas station and grocery store," Grassley said in a statement included in a press release.
"While President [Joe] Biden has failed to produce any meaningful solutions to the economic crisis he created, I'll continue working on commonsense policies that will help Americans weather this soaring inflation," he added.
In addition to the Child Tax Credit, Grassley's proposal would index for inflation the Non-Child Dependent Credit, Child and Dependent Care Credit, American Opportunity Tax Credit, Lifetime Learning Credit, Student Loan Interest Deduction and Charitable Mileage Deduction.
For all but the Charitable Mileage Deduction, under which individuals can deduct mileage that they drive for charitable purposes, the Family and Community Inflation Relief Act would index income phase-out thresholds for inflation.
Grassley wants to pay for the costs of indexing these programs by extending the current law cap, which is set to expire after 2025, on the state and local tax (SALT) deduction.
"This provision extends the current SALT cap for one year, which is expected [to] offset the cost of the above provisions," the legislation summary said.
Grassley's office referred Newsweek to the press release on his website when asked for more information and comment.