Senator Joe Manchin Asks Twitter to Suspend Trump's Account Over 'Public Safety' Concerns
Democratic Senator Joe Manchin urged Twitter on Friday to suspend President Donald Trump's account "in the interest of our national security and public safety," after a mob of his followers stormed the U.S. Capitol this week.
"The next 12 days are critical for the preservation of our democracy. @jack, once again I urge you to suspend the @realDonaldTrump @twitter account in the interest of our national security and public safety. @TwitterSupport," the West Virginia senator wrote. Jack Dorsey (@jack) is Twitter's CEO.
In a statement to Newsweek, Manchin said that "President Trump's platform on social media has been used to incite violence and insurrection. Facebook and Instagram made the correct decision in banning President Trump for at least the remainder of his term, and I will continue to urge Twitter and other platforms to do the same."
His comments come after Trump regained access to his Twitter account following a temporary ban following Wednesday's Capitol Hill riot.
Twitter first locked the president from his account on Wednesday after he used the platform to reiterate unsubstantiated claims of voter fraud in the presidential election, and to tell his supporters who attacked the Capitol that he "loves" them.
In an announcement that evening, Twitter said it would suspend the president's account for 12 hours following the removal of those tweets.
"As a result of the unprecedented and ongoing violent situation in Washington, D.C., we have required the removal of three @realDonaldTrump Tweets that were posted earlier today for repeated and severe violations of our Civic Integrity policy," the Twitter Safety account tweeted.
"This means that the account of @realDonaldTrump will be locked for 12 hours following the removal of these Tweets. If the Tweets are not removed, the account will remain locked," the tweet continued.
Trump has since regained access to the social media platform, where he issued a statement on Thursday evening. In the video message, he condemned "the heinous attack on the United States Capitol" and said he was "fighting to defend American democracy."
On Friday, Trump tweeted again, saying that the 75 million "great American patriots" who voted for him will have a "giant voice long into the future."
Twitter's decision to allow Trump access to his account differs from a move by Facebook's CEO Mark Zuckerberg, who on Thursday suspended the president from the site until at least the end of his term.
"We believe the risks of allowing the President to continue to use our service during this period are simply too great," Zuckerberg said in a statement. "Therefore, we are extending the block we have placed on his Facebook and Instagram accounts indefinitely and for at least the next two weeks until the peaceful transition of power is complete."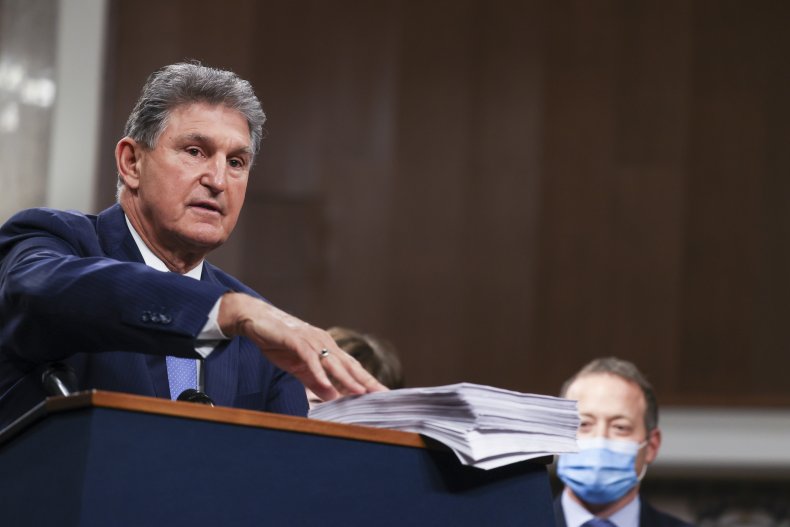 Trump has now seen suspension from four of the six most popular social media platforms. On Thursday, Snapchat became the latest platform to lock Trump's account.
The Capitol Hill riot resulted in at least five deaths, including that of a Capitol Hill police officer, and reportedly many other injuries. Rioters broke through Capitol windows, violently clashed with police and occupied congressional offices.
In response to Manchin's tweet, Twitter told Newsweek Friday that "any future violations of the Twitter rules, including our civic integrity or violent threats policies, will result in permanent suspension of the @realDonaldTrump account," but provided no further comment.