Senator Slams Trump's 'Dangerous and Reckless Position' on Iran, Blames Administration for Uranium Enrichment
Democratic Senator Chris Van Hollen strongly criticized President Donald Trump's Iran policy on Monday, calling it "dangerous and reckless" while blaming the administration for the Persian Gulf nation's increased uranium enrichment in recent weeks.
"When President Trump ripped up the Iran nuclear agreement and reimposed sanctions, Iran warned for many, many months that under the terms of the agreement, it was no longer bound by its terms," Van Hollen, who represents Maryland, said in an interview with CNN Newsroom on Monday. The congressman also pointed out that Iran had remained compliant with the 2015 nuclear treaty until now, voicing his hope that European leaders "will find a way forward."
The Senator then took aim at Trump and his administration, saying it had "ripped up" the international treaty "knowing that Iran would proceed as it is." Van Hollen argued that the Trump administration had "no real strategy," saying this was a "very dangerous and reckless position."
Iran this week surpassed the uranium enrichment level of 3.67 percent, which was set under the 2015 Joint Comprehensive Plan of Action (JCPOA), commonly known as the Iran nuclear deal. That level, along with several other restrictions, were put in place under the treaty to prevent Iran from being able to construct a nuclear weapon. Iranian leaders have consistently said they do not seek a nuclear weapon and only aim to use nuclear technology for peaceful means. Washington and European allies have long been skeptical of those claims, however.
Under the 2015 deal, Iran was promised sanctions relief and international investment in exchange for curbing its nuclear program. The agreement was signed under the administration of President Barack Obama, along with the United Kingdom, France, Germany, the European Union, Russia and China. Consistent reports from the United Nations nuclear watchdog found that Iran remained in compliance with the JCPOA and U.S. intelligence leaders admitted earlier this year that the deal had effectively curbed the Persian Gulf nation's nuclear capabilities.
But Trump never liked the JCPOA and officially decided to withdraw the U.S. from the treaty in May of last year. His administration then reimplemented harsh financial sanctions targeting Iran and Iranian leaders. The treaty's other signatories have been highly critical of the Trump administration's efforts and have attempted to salvage the international agreement with Iran. But this May, a year after Trump withdrew from the treaty, Iran, feeling the negative impact of sanctions, announced that it would begin stepping back from its commitments under the deal.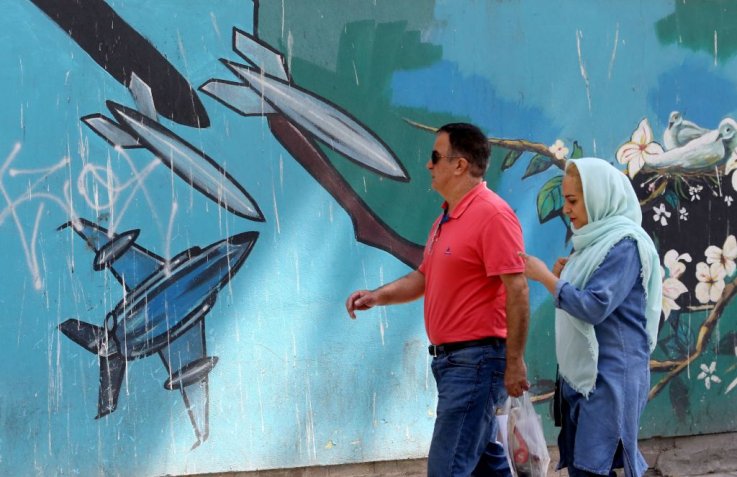 Due to increased tensions between the U.S. and Iran, many in Washington have also warned that the Trump administration is acting in a similar manner to that of President George W. Bush and his administration prior to the invasion of Iraq. The Bush administration used false intelligence to justify the launch of that war, claiming inaccurately that Iraq had weapons of mass destruction.
Last month, the U.S. accused Iran of being behind a series of attacks on allied oil tankers. The Iranian military also shot down an unmanned U.S. military drone, claiming it had encroached on its airspace. American leaders conversely claimed that the drone was flying over international waters, nearly leading Trump to strike Iran in response. The president, however, called off the counterattack moments beforehand.
"We should not be in another unnecessary war in the Middle East," Van Hollen warned during his Monday interview with CNN. "Iraq was one such unnecessary war. We should not make it two," he said.
Senator Slams Trump's 'Dangerous and Reckless Position' on Iran, Blames Administration for Uranium Enrichment | U.S.