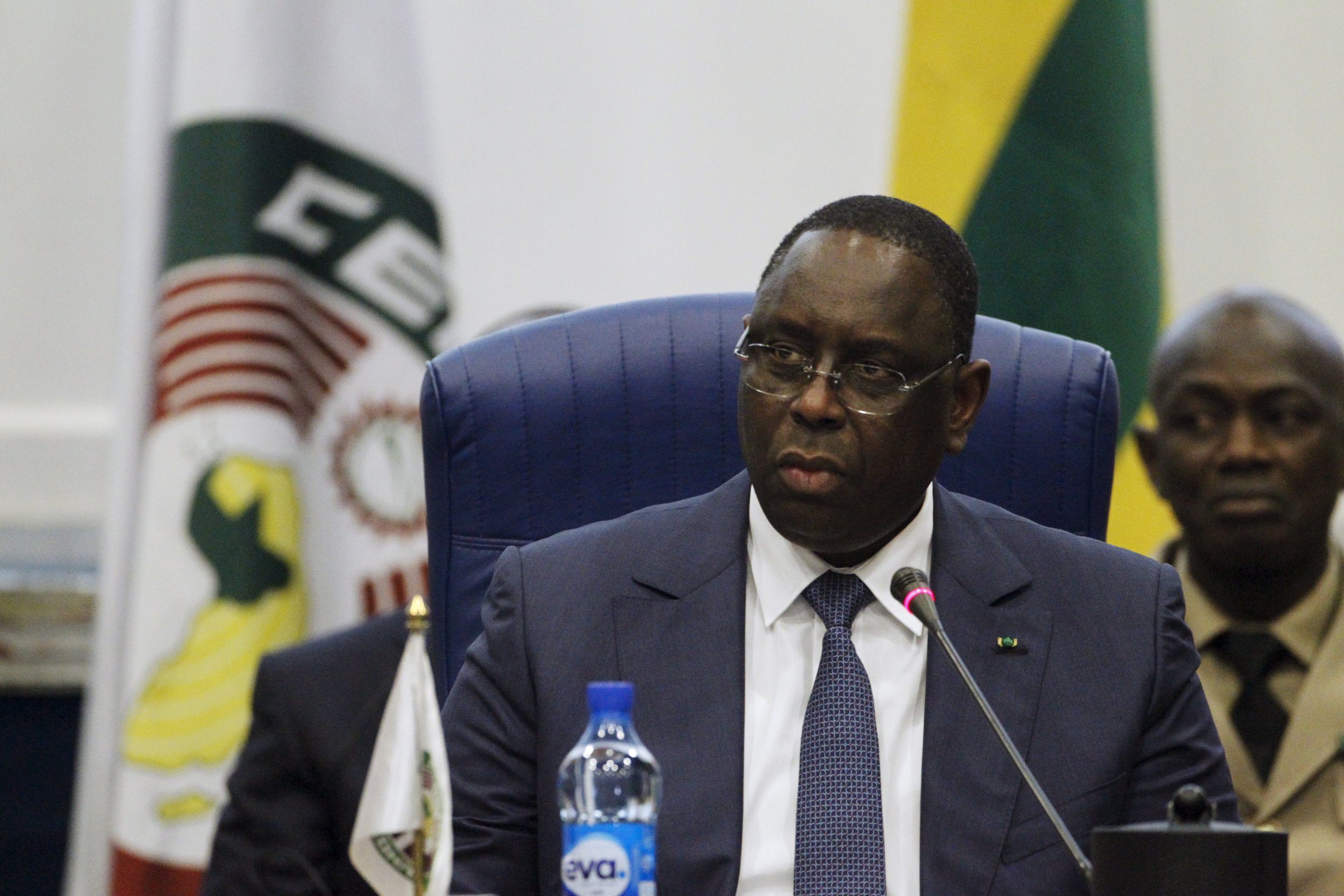 Senegal's President Macky Sall has proposed cutting his term in power by two years, bucking a trend of African leaders attempting to stay in power for longer than their original mandates.
AFP reported that Sall, who was elected in 2012, submitted 15 proposed reforms to Senegal's constitutional council on Monday. These include cutting presidential terms from seven years to five, which would bring the date of Senegal's next presidential election forward to 2017 from 2019. Sall has also proposed limiting presidents to two consecutive terms. The president wants to put the proposals to a referendum in May.
Africa has seen a spate of leaders seeking to abolish constitutional limits on presidential terms or find other means of staying in power. Uganda's Yoweri Museveni, who is seeking to extend his 30-year rule in elections scheduled for February, removed term limits from the country's constitution in 2006. Other long-serving African leaders including Zimbabwean President Robert Mugabe and Angolan leader Jose Eduardo dos Santos—who have both been in power for more than 35 years—have also extended their terms by amending their countries' constitutions.
Burundi's President Pierre Nkurunziza decided in May 2015 to run for a controversial third term in office. Nkurunziza's decision was followed by months of deadly violence in the East African country, in which more than 400 people have been killed so far. In December 2015, Rwanda voted in favor of allowing President Paul Kagame to extend his term in office in a constitutional referendum, a result that mirrored an October 2015 referendum in Congo-Brazzaville that could allow Denis Sassou Nguesso to add to his 31 years in power.
Sall said in March 2015 that cutting his own mandate would set a precedent for others in the region. "We have to understand, in Africa too, that we are able to offer an example, and that power is not an end in itself," said Sall.
The proposed reforms to presidential mandates cannot be revised and a constitutional expert told AFP that an opinion should be submitted on them within one month.
Sall replaced Abdoulaye Wade in March 2012 after the latter controversially ran for a third term as president of Senegal. Wade successfully petitioned Senegal's Constitutional Court to allow him to run for a third term, despite the 2001 constitution stipulating two consecutive terms as the limit. The decision sparked protests in Senegal which resulted in a number of deaths among protesters demonstrating against Wade's re-election bid.
The Senegalese president was a close ally of Wade's, serving as prime minister and parliamentary speaker under his predecessor before breaking away to form his own opposition party in 2008. Upon election, his ministerial appointments included Senegalese singer Youssou N'Dour.