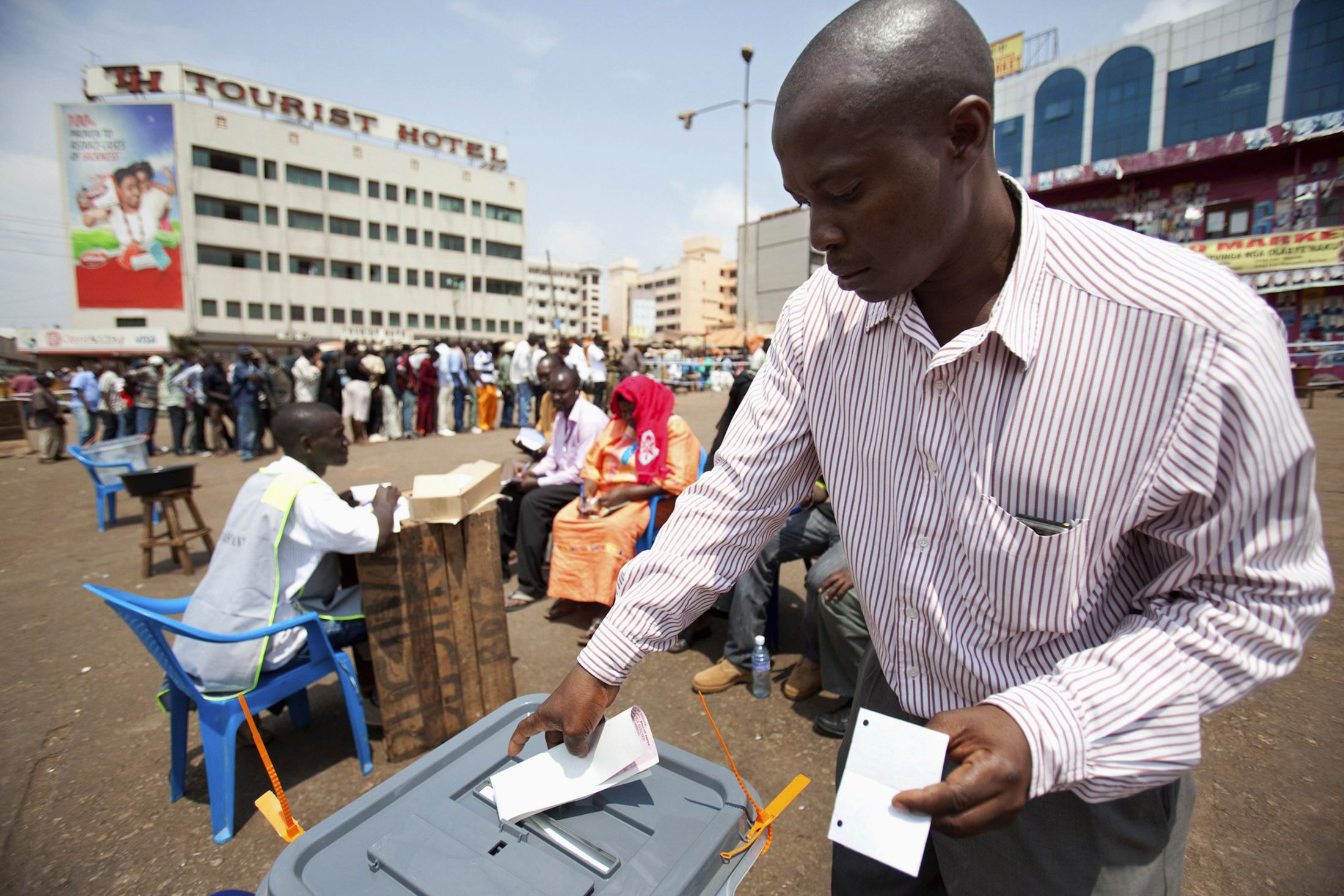 Ugandans will be heading to the polls in February as the East African country prepares to choose its president for the next five years.
The long-time incumbent, Yoweri Museveni, is looking to win his fifth term in office and thereby extend his already 30-year rule. He faces eight opponents in the race, although the election is being touted as a three-horse race between Museveni, his seasoned opponent Kizza Besigye, and his former ally Amama Mbabazi.
With just over a month to go before the elections on February 18, Newsweek profiles the key candidates.
Yoweri Museveni
Uganda's current president removed two former leaders of the country on his way to power in 1986. Born in 1944 into a family of cattle keepers in western Uganda, Museveni was a founder of the Front for National Salvation, a rebel group that helped overthrow military dictator Idi Amin in 1979. After claiming elections held in 1980 in Uganda were unfair, Museveni launched a six-year guerilla struggle, eventually seizing power with his National Resistance Movement (NRM) in 1986.
The first elections under Museveni were not held until 1996. Since then, however, the 71-year-old statesman has won four elections, the latest in 2011 with a massive 68 percent majority. This is despite Uganda's constitution originally only permitting two presidential terms—after vowing to stand down following his second term, Museveni amended the constitution so he could stand again (successfully) in 2006.
Museveni's campaign has been built on the dual prongs of highlighting the successes of NRM governance while dismissing the credentials of his opponents, according to Phil Clark, an expert in African politics at SOAS University of London.
Uganda has experienced a period of sustained economic growth under Museveni, averaging 7 percent GDP growth per year in the 1990s and 2000s, although this slowed to around 5 percent between 2000 and 2010. The country met its Millennium Development Goal of halving poverty by 2015, while also reducing hunger and improving equality in Uganda. "Predictably, Museveni is going with a mandate of no change and continuity and trying to point to the various virtues of NRM governance over the last 30 years," says Clark.
The ruling party has, however, come in for criticism for the heavy-handed tactics used by authorities in cracking down on opposition parties. Amnesty International released a report in December claiming that Ugandan police have tortured opposition activists, while a January report by Human Rights Watch claimed that journalists were being intimidated by government authorities if they expressed support for the opposition.
Kizza Besigye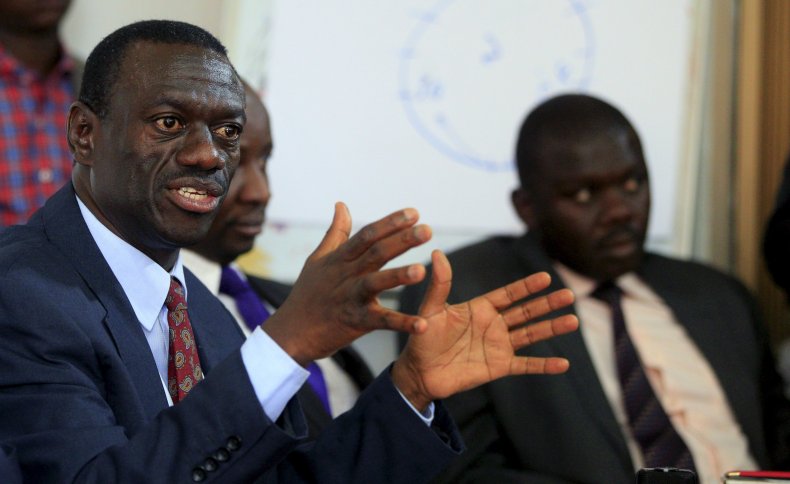 Besigye is nothing if not persistent. The candidate for Uganda's main opposition party, the Forum for Democratic Change, has stood against Museveni in the past three elections and lost each time.
A trained physician, Besigye actually served as Museveni's personal physician while the Ugandan president was plotting the overthrow of Milton Obote's government in the early 1980s. He reneged on his support for Museveni in 2001, accusing the NRM of corruption and running against the president for the first time in 2001.
According to Ahmed Salim, an East Africa analyst at political risk consultancy Teneo Intelligence, Besigye's doggedness has been a constant factor in winning over voters. "He still manages to capture a lot of admiration amongst Ugandans. His perseverance, his tendency to really fight the establishment—he does have a strong base [and is] perhaps even more popular than Mbabazi," says Salim.
Besigye's own personal story adds to his appeal: he has been arrested numerous times during previous campaigns, including on charges of rape and treason in 2006 that were only cleared long after the polls closed. "That on its own creates a narrative and a very strong support base with individuals who are not too keen on supporting the NRM or Museveni," says Salim.
The campaigns of both Besigye and Mbabazi have been beset by a degree of confusion, says Clark, which Museveni is taking full advantage of. The two opposition candidates originally planned to field a single candidate from an opposition coalition, but failed to agree and ended up running separately. "Both Mbabazi and Besigye have been quite confusing in some of their messages and Museveni is a master at capitalizing on any incoherence in the opposition message," says Clark.
Amama Mbabazi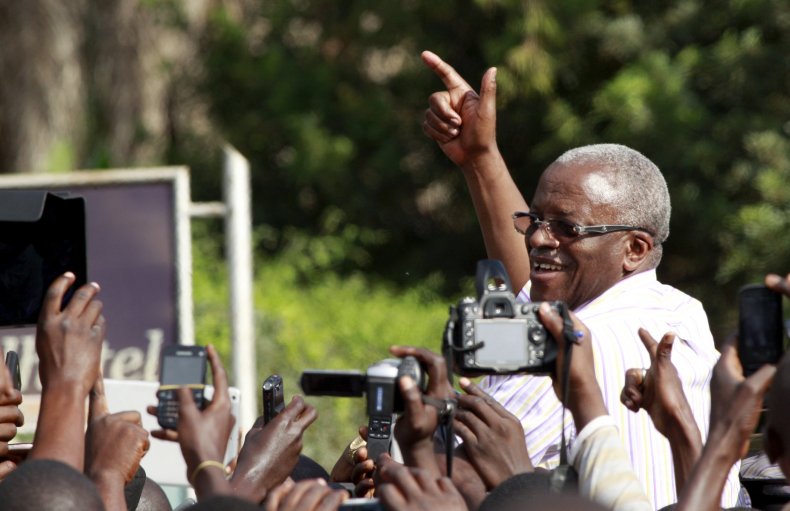 The new kid on the block in 2016's presidential election, Mbabazi served in Museveni's government for more than 20 years and was prime minister between 2011 and 2014, when he was sacked by the president. The move was seen as a check on Mbabazi's ambitions to be the NRM's presidential candidate and Museveni said it was because the former premier was involved in " divisive activities."
In June 2015, Mbabazi announced via a YouTube video that he would be running for the NRM nomination, saying he wanted to breathe new life into a government that had become "weak and inefficient". Confusingly, however, Mbabazi later announced he would be running for president on an independent ticket while remaining an NRM member, alleging that the NRM's voting system was illegal.
Mbabazi's experience in power is both a blessing and a curse, says Clark, as the independent candidate simultaneously tries to point to his experience while distancing himself his past in Museveni's inner circle. "Sometimes he's able to pull off this merry dance but sometimes these end up being counteracting messages," says Clark.
In the course of his campaigning, Mbabazi has made several ambitious promises, including creating four million jobs within five years and reducing the State House budget by 60 percent. He has also claimed that his supporters have been "assaulted, arrested, 'disappeared' and even killed" in a public statement on Thursday, drawing the ire of Uganda's police, who reject the claims.