Every 'Sex and the City' Episode, Ranked From Worst to Best
When Sex and the City debuted in 1998, it was a small revolution on television. HBO may have given us sex and nudity before, but never in this level of messy detail. No other show, for example, would feature a scene where a character would tell their friends, "I know a guy with the funkiest tasting spunk."
In the 25 years after Sex and the City first aired, many criticisms about the show have been widely shared. The show starts great and gets very bad by the end. Carrie is the absolute worst. The show has big problems with race and/or any forms of sexuality that are not heterosexual and vanilla.
All of these criticisms are true some of the show, but there is also plenty to like across all six seasons. For every episode that talks about the racism faced by white people (yikes), there is one where the show is honest about the fact that many women have abortions. For every episode where Carrie is a pure maniac who jeopardises every relationship for no reason, there is one where she is all of us, panicking about whether we will ever find love. And what's more, the show has at least one laugh out loud moment in pretty much every episode.
With the show set to return (sans Kim Cattrall) in the HBO Max reboot And Just Like That, we have looked back at the six years of Sex and the City and ranked every episode. There are many factors at play here—how well an episode holds up, how good its script and performances are, how iconic it has become among fans—but most of all it is about how much fun to watch the episodes are. Because, to be sure, Sex and the City is still an enjoyable watch for all its problems.
All 94 Sex and the City episodes ranked from worst to best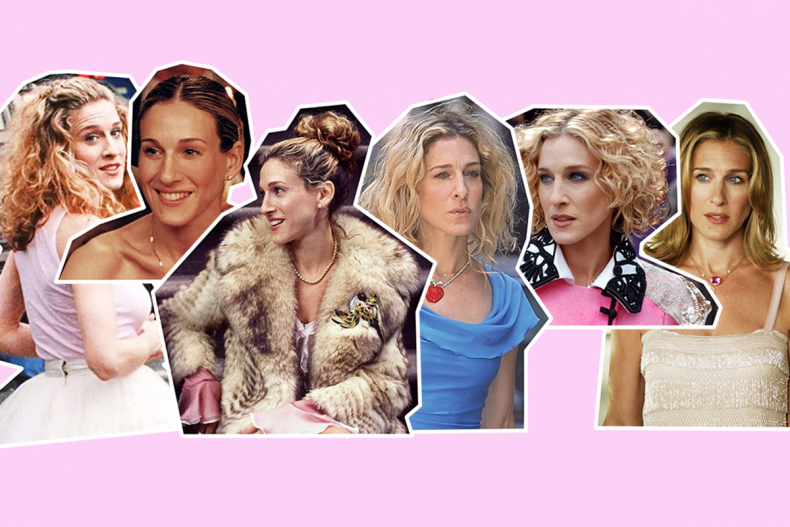 94. "The Caste System" (Season 2, Episode 10)
Comparing the dating travails of four fairly wealthy white women to the Indian caste system is just not OK, especially when the only person of color (Samantha's boyfriend's servant, no less) exists solely as the butt of a joke.
93. "No Ifs, And, Or Butts" (Season 3, Episode 5)
Quelle surprise...a show this white managed to botch an episode about race by having Samantha complaining about the "racism" she experienced from a Black woman who would not let her date her brother. Silver lining: we meet Aidan.
92. "Cock-A-Doodle-Do" (Season 3, Episode 18)
This episode does a pretty good job of bringing to a close all the main romantic dramas of Season 3 (Miranda and Steve, Carrie and Big, Charlotte and Trey), but the casual transphobia (including a lot of slurs) makes it unwatchable today.
91. "Old Dogs, New Dicks" (Season 2, Episode 9)
Big is the absolute worst, and Carrie wonders, "can you change a man?" The answer is yes, if you fall for all the romantic clichés this show was supposed to break down. Plus, Charlotte is at her most irritating level of prissy when she dates an uncircumcised man—the horror!
90. "The Cold War" (Season 6, Episode 17)
The writers knew that Season 6 would be the final one, meaning they had one last chance to do all the things they wanted with the sow. Judging by this episode, they were desperate to put Samantha in an afro, do dog period jokes and get a few last uses of the homophobic f-word in under the wire.
89. "Unoriginal Sin" (Season 5, Episode 2)
An episode of Sex and the City without any sex at all, and therefore pointless. There are nice moments, like Carrie dedicating her book to Charlotte, but an episode about a christening is not what we signed up for with this show.
88. "Lights, Camera, Relationship" (Season 6, Episode 5)
Was this an episode, or just a 30-minute advert for Prada, intercut with footage of Smith Jerrod's ass and unrelatable scenes of Berger not being able to deal with the lack of success that his book has had? Also, what an awful episode title.
87. "Plus One Is The Loneliest Number" (Season 5, Episode 5)
The one with Carrie's book party. Here, the show makes the same mistake that fellow HBO show Entourage did: The more the characters succeed, the less interesting they are.
86. "Running With Scissors" (Season 3, Episode 11)
The worst thing about the Big and Carrie affair episodes is that we basically never see any of Natasha, like the show is too timid to make us feel bad about what Carrie is doing—and when she does appear, she quickly falls down the stairs.
85. "Sex And The Country" (Season 4, Episode 9)
Watching Carrie bored at Aidan's cabin makes for a boring episode. The scenes of Miranda caring for Steve after his cancer diagnosis are sweet, though.
84. "Luck Be An Old Lady" (Season 5, Episode 3)
An existentially bleak preview of And Just Like That in which the girls head to Atlantic City and spend the whole time worried about growing old and terrified that their friendships are not as strong as they used to be.
83. "What's Sex Got To Do With It" (Season 4, Episode 4)
Though heralded at the time for its frankness about sex, the only sex that gets treated with respect in Sex and the City is straight intercourse. As such, Samantha dabbling in lesbianism is treated with total disgust by the other three women.
82. "Boy, Girl, Boy, Girl" (Season 3, Episode 4)
In which Carrie meets a group of very cool bisexual 20-somethings (and gets to make out with Alanis Morissette!) only to ruin it by being very biphobic.
81. "Politically Erect" (Season 3, Episode 2)
Nothing dates the show to the Clinton era more than this. The woman are proud of not voting, there's un-PC jokes about a little person, and a grey-haired politician with a fetish. It has maybe the funniest episode title, though.
80. "The Big Time" (Season 3, Episode 8)
Just as things are going well, the show brings Big back AND breaks Steve and Miranda up for the first time </3.
79. "Three's a Crowd" (Season 1, Episode 8)
The first Sex and the City episode to be weirdly anti-sex, it mostly sees the central foursome failing to have threesomes—though Kristen Davis gets a great bit of physical comedy when she wriggles out of the middle of a ménage-à-trois.
78. "Cover Girl" (Season 5, Episode 4)
In general, every episode that is about the release of Carrie's book is bad. Who cares if she looks bad on the cover? And what's with all the Weight Watchers product placement?
77. "The Real Me" (Season 4, Episode 2)
Carrie falling on the runway is one of the show's most famous moments, but we just did not need a whole episode of people telling Sarah Jessica Parker how fabulous she is. Not even an Alan Cumming cameo stops it from feeling indulgent.
76. "The Awful Truth" (Season 2, Episode 2)
How did this show dedicate three episodes to Samantha's boyfriend having a small penis?! It comes to an end here alongside two dull storylines (Carrie moping over Big, Charlotte getting a dog) and a fun one about Miranda trying dirty talk.
75. "Baby, Talk Is Cheap" (Season 4, Episode 6)
A possible disturbing precursor to what the reboot could be like. Carrie freaks out over email, the girls discuss the pros and cons of rimming, and Carrie and Aidan get back together seemingly because the writers had no better ideas.
74. "Anchors Away" (Season 5, Episode 1)
One episode into Miranda having her baby, and the show is already worse without her gloriously cynical voice. The girls hit Times Square with handsome sailors, but they are having a lot more fun than we are watching.
73. "A 'Vogue' Idea" (Season 4, Episode 17)
There can never be enough Candice Bergen on TV, but everything about Carrie's time at Vogue is unrealistic. An editor giving anyone that much attention for a 500 word feature? Unlikely. The way it laughs off a major case of sexual harassment? Unpleasant.
72. "Pick A Little, Talk A Little" (Season 6, Episode 4)
Remember how this show was once about ordinary problems? By this point, entire episodes are about Berger being pissed because Carrie did not like one thing in his book. Someone's "just not that into" Miranda and we could say the same about us and this episode.
71. "Ghost Town" (Season 4, Episode 5)
Season 3 still haunts Season 4 five episodes in, with Steve and Aidan coming back into Carrie and Miranda's lives when they open their bar. The obsession with ghosts of boyfriends past kills all present momentum with the show.
70. "Models and Mortals" (Season 1, Episode 2)
Carrie wonders why some men only date models. A problematic early episode by today's standards, with filming your partner without their consent during sex (which, by the way, is illegal) being seen as merely an eccentric quirk.
69. "Defining Moments" (Season 4, Episode 3)
Three episodes into Season 4, we are just rehashing last season's drama with Carrie and Big, and Charlotte and Trey. However, Samantha standing up to Big is an amazing moment, and her lesbian arc is a personal favorite storyline.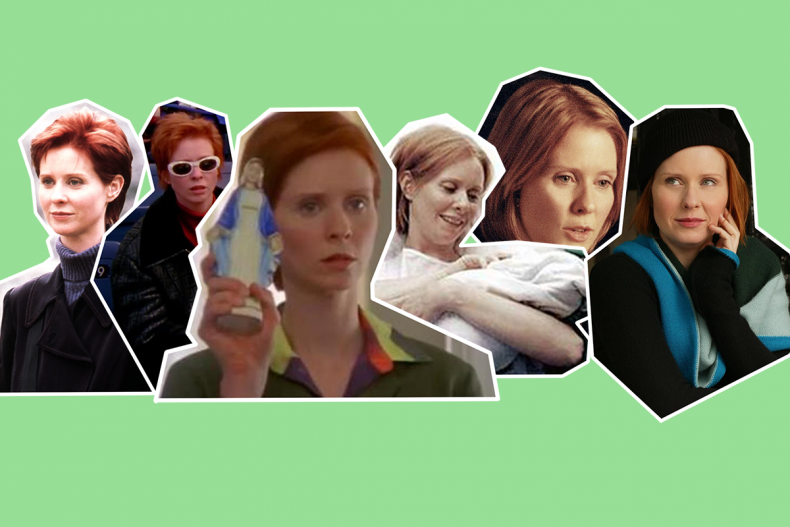 68. "Attack Of The 5'10'' Woman" (Season 3, Episode 3)
Turns out the only thing that's worse than Carrie being obsessed with Big is Carrie being obsessed with being mean about his new wife Natasha.
67. "Splat!" (Season 6, Episode 18)
Everyone remembers Kristen Johnston going out of the window, but most of the episode is about Carrie deciding to go to Paris. The episode loses big points for making Miranda the villain even though she's right—quitting your job and moving to Paris with no prospects for your lover is a mistake (even when it's an obvious set-up for a finale where Carrie falls back in love with New York and Big again).
66. "Time And Punishment" (Season 4, Episode 7)
The episode where Carrie sends Aidan to help Miranda when her neck goes out, aka, Exhibit A for all the "Carrie is the worst" people out there—though to her credit, it's not like Carrie could lift Miranda and take her to the hospital.
65. "Boy, Interrupted" (Season 6, Episode 10)
It is frankly a disgrace that the show took this long to give one of its characters a love interest of color (here's looking at you, too, Friends). Also a shame that the sweet scenes between Miranda and Dr. Robert Leeds (Blair Underwood) are in the same episode as the very silly stuff about Carrie's asylum-dwelling boyfriend and that awful Geri Horner (née Halliwell) cameo.
64. "Critical Condition" (Season 5, Episode 6)
Samantha using her "shoulder massager" to help soothe Brady is prime SATC goofiness, and it is satisfying to see Charlotte finally defeat Bunny. But who cares about the reviews Carrie spends so much of the episode freaking out about?
63. "The Perfect Present" (Season 6, Episode 3)
Christmas is such a magical time in New York that it is a shame that SATC's only festive episode is set in July and sees Charlotte celebrating a last holiday before becoming a Jew.
62. "An American Girl In Paris (Part Une)" (Season 6, Episode 19)
The show obviously had to send Carrie to Paris to provide an obstacle for Big to surmount to get back with her, but all the scenes of Carrie being sad in Paris just feel sad. It would, however, take a Miranda-level cynic not to cheer when Miranda says "go get our girl."
61. "The Agony And The 'Ex'tasy" (Season 4, Episode 1)
Season 4 starts strong, with more hang-out time between our four leads than we have had for a while. Then it gets a little muddled with the message that Carrie's soulmate is both her friends (woo) but also Big (boo).
60. "Great Sexpectations" (Season 6, Episode 2)
Commission Jules and Mimi for real, you cowards! An episode that's mostly table setting for Season 6. Samantha meets Smith Jarrod, Charlotte meets Judaism, and Carrie meets her first stumbling block in her relationship with Berger.
59. "​​Ring A Ding Ding" (Season 4, Episode 16)
While this writer may have gotten some sick pleasure from the story of a journalist having no savings and no way of buying property (that's a big ring of truth right there), most journos do not have a friend who will just give them a $30,000 ring.
58. "Escape From New York (Season 3, Episode 13)
Like fellow HBO show The Sopranos, SATC is not at its best when it goes to Hollywood, losing itself to lame New York versus LA jokes and a bizarre Matthew McConaughey cameo. Still, at least we got to see the '90s Sarahs in one scene as SMG (Sarah Michelle Gellar) stars alongside SJP.
57. "Sex And Another City" (Season 3, Episode 14)
It's the biggest eye-rolling cliché of the lot, but the second LA episode proves it: New York really is a character in this show, and it does not quite work without it—even with roles for Vince Vaughan, Carrie Fisher and Hugh Hefner.
56. "Out Of The Frying Pan" (Season 6, Episode 16)
Lots of things from this show have dated really badly. But years on inflated house prices have made the series' snobbery about living in Brooklyn feel the most old-fashioned of all.
55. "The Drought" (Season 1, Episode 11)
In this era of prestige TV, it is hard to believe that this show spans an entire episode around Carrie freaking out because she farted in front of Mr. Big.
54. "Let There Be Light" (Season 6, Episode 13)
With only eight episodes left at this point, it is inexplicable that the show stalls for time like this with pointless storylines like Charlotte helping the blind or Robert getting over Miranda leaving him. Plus, the return of Richard really makes Smith look like a doofus in comparison.
53. "All Or Nothing" (Season 3, Episode 10)
Having Samantha knocked out with the flu for most of this episode really proves how essential she is to the show being good (a bad omen for the reboot). Charlotte fighting over the prenup is a nice moment of personal growth.
52. "All That Glitters" (Season 4, Episode 14)
There's an argument that you can trace all straight women acting disrespectfully in gay spaces to this episode, in which the girls visit a gay club. And what's worse is that all that takes away from the genuine heartbreak of the Trey-Charlotte split.
51. "Sex and the City" (Season 1, Episode 1)
The SATC pilot has something about it, but it's not quite the show we know and love yet: There's too much focus on random characters who aren't our central foursome.
50. "Hop, Skip, And A Week" (Season 6, Episode 6)
Aka, the Post-It note, felt across the world. Ultimately, Berger was clearly there to be everything Big wasn't rather than a character in his own right. As such, the emotional heart of this episode is Harry's proposal to Charlotte.
49. "The Man, The Myth, The Viagra" (Season 2, Episode 8)
Good point: This is the episode where we meet Steve. Bad point: That also means that it is the beginning of the show ruining the beautiful bitter Miranda that we love. Even badder point: This is the one with the Donald Trump cameo.
48. "Oh Come All Ye Faithful" (Season 1, Episode 12)
The Season 1 finale of the show is like Samantha's boyfriend's penis: Too short. Big and Carrier break up, Miranda and Skipper get back together, but everything feels rushed.
47. "Evolution" (Season 2, Episode 11)
The definition of a middling Sex and the City episode. Big remains a sociopath (this time he does not let Carrie keep any stuff in his apartment), but nothing is too egregious (though the "gay straight man" stuff is close).
46. "What Goes Around Comes Around" (Season 3, Episode 17)
This episode may have Charlotte and Trey breaking up and Natasha finally getting her own moment during her lunch with Carrie, but it also has the dumb plot about Samantha having sex with the obsessed college student.
45. "The Catch" (Season 6, Episode 8)
Remember in the first movie when Charlotte soils herself and we wondered how the writers could do her so dirty? It began here where they turned her wedding to Harry into a farce and bookended it with the clunking metaphor of Carrie on the trapeze.
44. "A Woman's Right To Shoes" (Season 6, Episode 9)
Usually, an episode about Carrie getting her shoes stolen from a party and trying to get the host of that party to pay for them would be privileged nonsense, but this episode commits to it so much that it becomes a tense psychodrama. Plus, this ep has the bravery to speak the truth: Us childless people should not have to accommodate your kids.
43. "The Good Fight" (Season 4, Episode 13)
Look, we know that after Aidan and Carrie get engaged, everything is a slippery slope until they break up, but that does not make watching them fight over moving in together any easier. That, combined with Trey's maniac move of giving Charlotte a cardboard cut-out baby, makes this a hard episode to watch.
42. "Secret Sex" (Season 1, Episode 6)
Carrie's first date with Big—girl, why didn't you read the red flags of him taking you to that Chinese restaurant while you had the chance?! On the funnier side is Miranda's reaction to discovering her boyfriend likes spanking.
41. "Are We Sluts" (Season 3, Episode 6)
It's the most basic Sex and the City opinion, but that does not it any less true: Aidan really is too pure for this world. Who doesn't want to share a bath with him?
40. "The F*** Buddy" (Season 2, Episode 14)
Early Sex and the City is so much more enjoyable when Big's not around. Not a superb episode, but there's just a lightness to the stories of the four women trying to get out of their usual dating patterns missing from the season prior to this.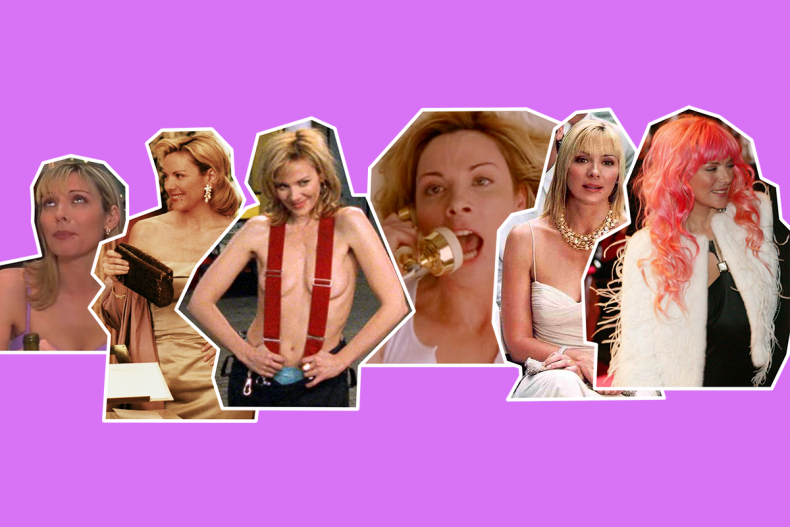 39. "Shortcomings (Season 2, Episode 15)
Justin Theroux gets his second shot at dating Carrie, this time as premature ejaculator Vaughn. Seeing as we can't have Samantha in the reboot, could we maybe have Vaughn's fabulous mother instead (plus his dad, Duckie from NCIS).
38. "The Power of Female Sex" (Season 1, Episode 5)
The first episode to address the fact that Carrie's lifestyle must make her constantly broke. Luckily, a suitor has $1,000 to put on her dresser. (It's also the episode where Charlotte gets a vagina painting, so that's an extra star right there).
37. "Take Me Out to the Ballgame" (Season 2, Episode 1)
The one where Miranda berates the gang for being too obsessed with men. She's not wrong, but it does rather undermine the show's premise. Still, the scenes of them getting drunk at Yankee Stadium are the show at its most fun.
36. "To Market, To Market" (Season 6, Episode 1)
The central metaphor that love is like the stock market is clunky AF, but this episode sets up all the plots of Season 6 (Carrie and Berger, Charlotte's conversion, Miranda and Steve) and gives us a satisfying ending for Aidan.
35. "The Turtle and the Hare" (Season 1, Episode 9)
Though too messy overall to be among the great episodes (the Turtle stuff doesn't fit in at all), it was instalments like this that put the show on the map. Which other show in 1998 dedicated so much time to the joy of vibrators?
34. "Twenty-Something Girls Vs Thirty-Something Women" (Season 2, Episode 17)
The girls couldn't just have fun and frolics (and crabs) in The Hamptons: Big had to ruin it by being there with Natasha. The various pieces don't quite fit together (the storyline about Carrie's 20-something protégé, for example, goes absolutely nowhere).
33. "Valley of the Twenty-Something Guys" (Season 1, Episode 4)
In which Carrie makes the terrible choice to keep mooning after Mr. Big rather than staying with a 20-something Timothy Olyphant with a tongue piercing—just never go to his apartment, Carrie!!
32. "I Heart NY" (Season 4, Episode 18)
Season 4 ends with an episode that packs a lot in—a post 9/11 New York tribute, Miranda having a baby, Samantha leaving Richard, Big leaving The Big Apple. For the most part, it pulls it all off.
31. "The Big Journey" (Season 5, Episode 7)
Usually, SATC's trips outside of New York don't work, but after a slow season we needed as much of a break as Carrie and Samantha. The train stuff is a little broad, but the San Fran-set ep pulls off the near impossible: A sweet Big and Carrie scene.
30. "Change Of A Dress" (Season 4, Episode 15)
We did not need any of that Charlotte tap dancing subplot, but the end of Carrie and Aidan, and Miranda's worries about not being excited for her baby's birth, are both strong emotional moments.
29. "Belles Of The Balls" (Season 4, Episode 10)
A surprisingly nuanced (for SATC) look at masculine insecurities: There's definitely some schadenfreude to be had from Big falling apart after a woman treats him the way he treated Carrie. And who doesn't love two grown men fighting in the mud?
28. "Bay of Married Pigs" (Season 1, Episode 3)
The show explores the battle between marrieds and singles in its first properly good episode. Shame they missed their one chance to make Miranda the powerful lesbian she should have been after being set up with Sid.
27. "The Monogamists" (Season 1, Episode 7)
Carrie again turns down a sexy guest star (Justin Theroux) to have Mr. Big gaslight her again and Skipper hits a new low for SATC men by dumping his girlfriend while still inside her.
26. "The Post-It Always Sticks Twice" (Season 6, Episode 7)
Berger's Post-It may be the all-time bad break-up move, but at least it gave us what the show had been missing for a long time: The central four ladies without their usual men, all together and having fun in a club.
25. "Hot Child in the City" (Season 3, Episode 15)
The women let their inner children out. Though this episode starts the ritual humiliation of Miranda that would mar the later seasons by giving her braces, Charlotte and Trey's continued marital problems are pretty moving.
24. "I Love a Charade" (Season 5, Episode 8)
Season 5 was just eight episodes long due to SJP's pregnancy, but the finale tries to pack in half a season's worth of developments. Berger and Carrie become a thing, as do Steve and Miranda (kind of), and Charlotte and Harry.
23. "Games People Play" (Season 2, Episode 13)
The show gets its first celebrity date ringer as Jon Bon Jovi plays a man Carrie meets in therapy. Plus, the episode has the biggest unintentional laugh in the entire series when Carrie she doesn't like therapy because it is "so self-indulgent."
22. "The Cheating Curve" (Season 2, Episode 6)
Carrie and Big officially get back together in an episode all about cheating (that's called foreshadowing, kids). One of those good standard SATC episodes were every story is a nice twist on the central idea, Charlotte briefly becomes a straight power lesbian, and Samantha gets her pubic hair shaped into a lightning bolt.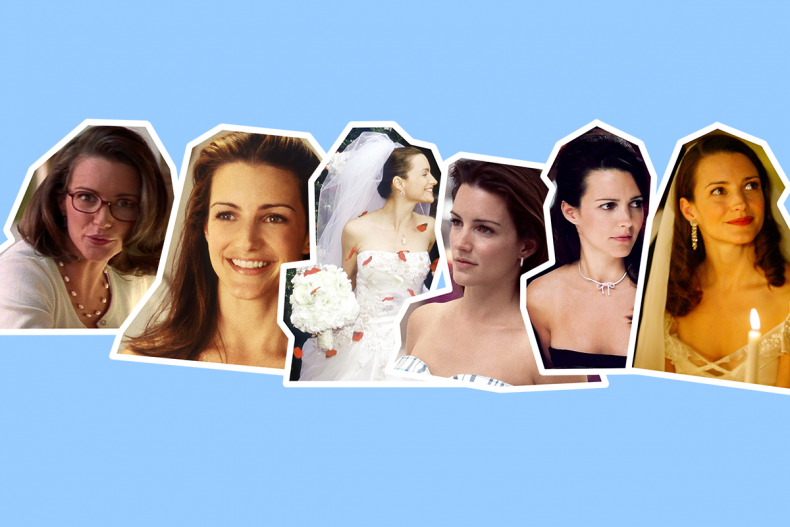 21. "Easy Come, Easy Go" (Season 3, Episode 9)
The idea that Big still gets so many chances while being so awful is the worst thing about the show. But Chris Noth is never better than in this episode where he and Carrie sleep together again.
20. "Catch-38" (Season 6, Episode 15)
The closest SATC ever got to being a Sartre play. An episode all about the existential terror of your body clock ticking away and/or being trapped in an endless honeymoon.
19. "Frenemies" (Season 3, Episode 16)
Watching an episode in which the girls fall out with Samantha feels too real now, but the episode works because it allows the women to step out of their characters a little: Charlotte needs a little Samantha to arouse Trey, and Samantha needs to be a prude once in a while.
18. "Ex and the City" (Season 2, Episode 18)
About as satisfying an end to the Big and Carrie storyline as anyone could want. Shame this was nowhere near the end of the Big and Carrie storyline.
17. "The Domino Effect" (Season 6, Episode 11)
The middle episodes of Season 6 have one aim: To get to a place where the show can end with Carrie and Big and Steve and Miranda both together. It's calculated and contrived to be sure, but that does not mean it isn't immensely satisfying to see Carrie care for a post-operation Big and Steve about to say he loves Miranda.
16. "Was It Good For You" (Season 2, Episode 16)
This is intended to be a ranking of episode quality rather than of Carrie's behaviour. So while forcing an alcoholic off the wagon is bad, this is one of the most consistently funny episodes—that tantric sex seminar is one of the finest set pieces.
15. "Four Women And A Funeral" (Season 2, Episode 5)
Our foursome go to a funeral and each react in different ways. Gallows humor was more the thing of fellow HBO show Six Feet Under, but Sex and the City wears it well this time.
14. "The Chicken Dance" (Season 2, Episode 7)
The nearest SATC got to a bottle episode, with most of the action taking place at the wedding of Miranda's interior decorator (Elspeth from The Good Wife!). The show should have done these contained episodes more often.
13. "They Shoot Single People, Don't They" (Season 2, Episode 4)
An episode that gets at the subtext behind the show: These women are willing to go through so many bad dates because it is better than the existential terror of being alone. Plus: Bradley Cooper in his first ever role!
12. "La Douleur Exquise" (Season 2, Episode 12)
The title means "exquisite pain," which is the perfect description for watching the show. No sooner are you cheering Carrie on for giving Big an epic dressing down than the show ruins it by having her apologise. Still, Big leaving for Paris gives us a break from his toxicity.
11. "My Motherboard, My Self" (Season 4, Episode 8)
Ironically, it takes a death to really bring Season 4 to life. Miranda's mother's death even gives Samantha an actual emotional moment. And as for Steve turning up at the funeral: HAS IT GOT VERY DUSTY IN HERE OR IS IT JUST OUR EYES?
10. "An American Girl In Paris (Part Deux)" (Season 6, Episode 20)
In theory, it is a good idea to end the show with an extended 45-minute episode. In practise, that means a lot of padding (like the Steve's mom stuff) before we get what we came to see: The Big and Carrie happy ending. And despite all the bad Big behaviour over the years, it manages to be that rare thing: An emotionally satisfying finale.
9. "The Freak Show" (Season 2, Episode 3)
Takes a simple idea (that most people you date are complete freaks) and has a lot of fun with it—you'll never look at figs the same way again. Plus, Ben is maybe one of the cutest guys that Carrie ever dated.
8. "Drama Queens" (Season 3, Episode 7)
The general consensus is that Carrie should have ended up with Aidan and not Big, but episodes like this show that Aidan's main function is to be the person that Carrie treats the way Big treated her, making their eventual reunion make sense. And what show is not improved by adding Kyle MacLachlan to the cast?
7. "Just Say Yes" (Season 4, Episode 12)
The plot arc that sees Carrie become more Big reaches its head here when she is guilted into saying yes to marrying Aidan. And who doesn't love seeing Kyle MacLachlan do the Highland fling?!
6. "The Ick Factor" (Season 6, Episode 14)
The writers may think that Carrie and Big are the show's best couple, but viewers know it is Miranda and Steve hands-down. Their quiet, intimate wedding gives us everything we want for our cynical queen and her oddly charming lover. We can't help but wonder whether giving Samantha breast cancer was part of the feud, giving the episode a delicious element of behind the scenes shade.
5. "Where There's Smoke" (Season 3, Episode 1)
Something about Staten Island gave the show the fun back that it often missed amid all the Big drama of Season 2. Samantha gets to have fireman fun, Miranda gets sweet moments with Steve, Carrie gets John Slattery, and even Charlotte gets to let loose.
4. "The Baby Shower" (Season 1, Episode 10)
The subtext for all the best moments of early Sex and the City is that, while being single is tough, settling down is even worse. Nothing says this better than when the girls head to Connecticut for the baby shower of their former party girl friend Laney.
3. "Don't Ask, Don't Tell" (Season 3, Episode 12)
Charlotte gets married to Trey in an episode that really shows how the show evolved over three years. It can still be hilarious (see Miranda pretending to be a stewardess) but also manages to get real emotion out of what would have been a one-episode joke two seasons ago: Trey's erectile dysfunction.
2. "Coulda, Woulda, Shoulda" (Season 4, Episode 11)
Maybe one of the most influential episodes of the season, it was groundbreaking at the time to see four women speaking so frankly about abortion on TV in 2001. And in a show that sometimes suffers from its plots not fitting together, the contrasts of Miranda getting pregnant and Charlotte finding it hard to conceive is expertly done.
1. "One" (Season 6, Episode 12)
The Season 6 midseason finale has everything that make Sex and the City great. There's romance (Miranda and Steve get back together), laughs (Samantha's pube dyeing incident) and a great date (Carrie and Aleksandr).
But what tips it into GOAT territory is Charlotte. Usually, she is the worst character, Pollyanna-ish at best and small-minded at the worst. But at her best, as she is here after her miscarriage, her romantic soul is the beating heart of the show. There is a strong argument to be made about the show ending here.
...And Just Like That premieres on HBO Max on Thursday, December 9. The original Sex and the City series is available to stream on NOW TV now.