From 'Game of Thrones' to 'Dexter': The Worst Season Finales That Embittered Fans
Everyone hopes their favorite TV show will have the perfect ending, but that's not always the case.
Sure, not every viewer will be happy with how a show ends but there are some that have been so universally hated they've practically ruined the programme completely.
Some series have attempted to rectify their terrible finales with reboots like Dexter: New Blood, which will be airing on Showtime from November 7, but they haven't all been able to redeem themselves.
From Game of Thrones to Gossip Girl, Newsweek looks back at the 10 worst TV finales of all time.
1. Dexter
The appeal of serial killer Dexter Morgan's (played by Michael C. Hall) blood-drenched tale was waning long before it finally came to a lacklustre end in Season 8.
Following the success of its fourth season, and the departure of its original showrunner Clyde Phillips, Dexter struggled to keep the momentum and got worse as the years progressed because of sloppy character arcs and incohesive storylines
Season 8 of Dexter ended with its eponymous character unplugging his sister Debra from her life support, faking his death, and abandoning his son Harrison by sequestering himself in a remote location to live out his days.
Not only did it not make sense to fans, it was also a disappointment because it didn't give Dexter a definitive end, which he undoubtedly deserved. But, hopefully New Blood will change that.
2. Game of Thrones
The ending of Game of Thrones is so hated it has all but ruined its cultural impact. Prior to the finale everyone was trying to emulate it, and now it serves as a lesson on what not to do with a show.
Fans were wondering who would sit on the Iron Throne, would it be Daenerys Targaryen (Emilia Clarke), or Jon Snow (Kit Harington)? Or maybe even Tyrion Lannister (Peter Dinkladge)?
Unfortunately it was none of them; instead Bran Stark (Isaac Hempstead Wright) was ultimately given the throne because it "made a good story" when Daenerys was killed by Jon when she became too power hungry, after sacking King's Landing in a fiery siege.
Oh, and Cersei Lannister (Lena Heady), the primary antagonist after the White Walkers—who were destroyed rather easily several episodes earlier—was killed by some falling rocks with twin Jamie back by her side.
All in all, it was a rushed, incomprehensive finale that left a bad taste in fans mouths.
3. How I Met Your Mother
How I Met Your Mother, like the title suggests, was supposed to be all about how Ted Mosby (Josh Radnor) met his wife.
After years of Ted telling his children of the many near-misses between him and their mother, he finally explained how he and Tracy McConnell (Cristin Miloti) first met, only to then rush through their years of married life together.
Season 9 of the sitcom ended with Ted revealing that Tracy had cancer and sadly died, which was why he sat down with their kids in the first place to recount their story.
Except, that wasn't all. It turned out that Ted told the story because he wanted permission from his children to move on and pursue former flame Robin (Cobie Smulders) again. Talk about a let down.
4. Sherlock
Sherlock propelled the careers of its two leads, Benedict Cumberbatch and Martin Freeman, to meteoric heights, but unfortunately that didn't stop the show from having a terrible ending.
The BBC series ended on its fourth season with Arthur Conan Doyle's iconic sleuth going up against his sister Eurus at a maximum-security asylum that she had taken over, where she subjected him to a series of ordeals.
In a weird twist on the Saw films, Holmes and Watson were forced to choose which of her victims deserved to live and die, but eventually they persuaded her to stand down and go back to business as usual.
The show ended with a montage of the pair solving cases... and that was it. While it has left the story open-ended enough for Cumberbatch and Freeman to return, it just doesn't seem worth it after such a frustrating finale.
5. Lost
Before its last few seasons Lost was one of the most influential TV shows around, but that all changed when the mysteries of the island were finally revealed.
Season 6's finale left fans very disappointed simply because they couldn't really understand what on Earth they'd just watched.
The season featured two alternate timelines, the one fans knew where the Smoke Monster was trying to escape the island in human form, and a "flash sideways" timeline in which the Oceanic Flight 815 did not crash and the characters never met.
It all ended with Jack Shepherd (Matthew Fox) dying on the island only to wake up in a church with several survivors from the show, and they "move on" together.
Given how confusing and convoluted it was, the Lost finale has become as famous as the show itself, and not in a good way.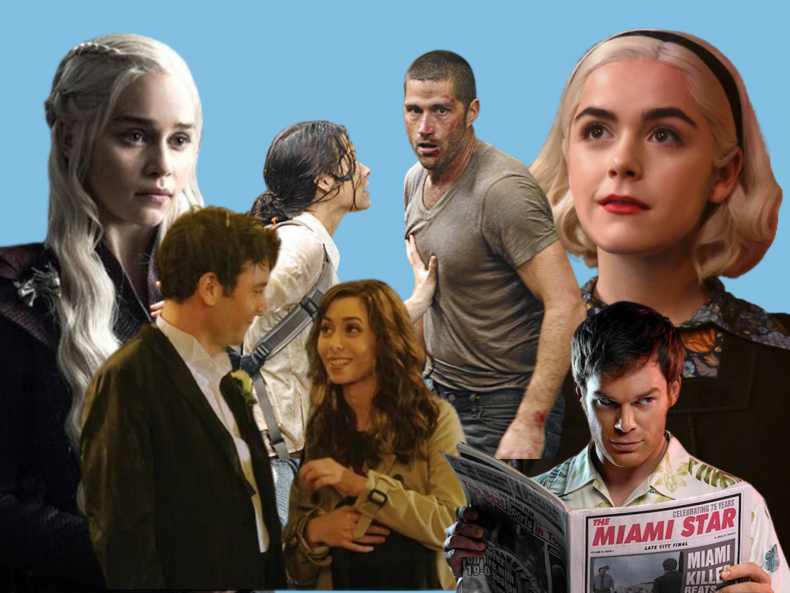 6. Gossip Girl
Gossip Girl is another show where the reveal made no sense whatsoever to fans, and that's because of two words: Dan Humphrey.
Why on Earth would Dan (played by Penn Badgley) of all the characters have been Gossip Girl? It just didn't match up with everything that had come before it. It also created so many plot holes.
Elsewhere, the finale felt incredibly rushed as the first half focused on Chuck Bass (Ed Westwick) and Blair Waldorf's (Leighton Meester) wedding, and then cut to five years later.
Viewers were transported to Dan and Serena van der Woodsen's (Blake Lively) wedding, and the episode quickly showed all the characters, revealed who ended up with who and also set up a future Gossip Girl.
But, really, the finale felt too rushed and tied everything up in a very dissatisfying bow.
7. Castle
Castle's finale was ruined because of behind-the-scenes politics; several cast members had signed on for a ninth season but producers revealed Stana Katic would not return as lead Kate Beckett.
It was then abruptly decided that the show would be cancelled instead, with a rushed finale being delivered because the season had already been filmed before the cancellation so an ending had to be tacked on to placate fans.
It saw both Richard Castle (Nathan Fillion) and Beckett get shot and seemingly get left for dead only to then suddenly flash forward to seven years later, where they are happily eating breakfast with their three children.
The final scene only lasts a minute or so, and serves little purpose other than to pander to fans by showing Castle and Beckett finally together after years of hoping it'd happen.
8. True Blood
True Blood was known for being daring and dramatic, blood-drenched and sensual, but the Season 7 finale was anything but.
"Thank You" was tame by comparison to what came before it, with the show ending with a time jump that showed how everyone was living happily ever after.
Before the time jump, though, there was a rushed wedding between Jessica (Deboarh Ann Woll) and Hoyt (Jim Parrack), Bill (Stephen Moyer) asked Sookie (Anna Paquin) to kill him because he was dying of Hep-V, and Eric (Alexander Skarsgard) didn't even see her once.
It was frustrating for the fans on both Team Bill and Team Eric for the show to end with Sookie ending up with a human, whose face was never even shown to the camera.
9. The Chilling Adventures of Sabrina
The Chilling Adventures of Sabrina had a much shorter shelf life than some of the other shows in this list, but its ending was just as poor.
The Season 4 finale saw Sabrina split into two beings, Sabrina Spellman and Sabrina Morningstar, and the latter travelled to a parallel universe to go up against The Void, before returning home and dying.
But the finale wasn't satisfied with killing off one Sabrina, oh no, because Spellman also dies later in the episode after she absorbs the power of The Void and learns the only way to stop it is to allow it be to be drained out of her... alongside her blood.
The finale ends on a rather grim note, with Sabrina waking up in "heaven" where she is met by Nick, who died so that he could be with her. Quite sad, really, but fans can at least rejoice in the fact she'll be back for a crossover in Riverdale's sixth season.
10. Gilmore Girls
The original Gilmore Girls finale is more polarizing than the others on this list since some fans saw it as a fitting ending, while others feel the exact opposite.

"Bon Voyage" ends with Rory (Alexis Bledel) planning to leave her town to pursue her career as a journalist after she's given a job reporting on President Barack Obama's then presidential campaign.
But she doesn't get to leave without one final goodbye; she has Friday Night Dinner with her grandparents as usual, the town prepare a surprise graduation party for her, and she and mother Lorelai (Lauren Graham) enjoy their morning routine of breakfast at Luke's for the last time.
While it was a bittersweet farewell to the characters, luckily a sequel mini-series Gilmore Girls: A Year in the Life, was released by Netflix in 2016 to give them another send-off.