Eric Choosing Adam Over Rahim in 'Sex Education' Underestimates the Trauma of Gay Bullying
Sex Education has a deservedly good reputation for its portrayal of LGBTQ+ characters. But that does not make it hurt any less that the Netflix show disregarded the experiences of thousands of queer people by deciding to have gay character Eric (played by Ncuti Gatwa) choose to date his ex-bully Adam (Connor Swindells) over the man that fairly unconditionally loved him, Rahim (Sami Outalbali).
Throughout its two-season run (a third season airs from September 17), the Netflix show has been praised for featuring moments of actually useful sex education amid the comedy and drama of the plot.
This is especially useful for LGBTQ+ people. In many schools, LGBTQ+ people may receive no education at all about how to have safe sex with a same-sex partner – or may get an education that is still tainted by stigmas hanging over from the height of the AIDS crisis.
In the United Kingdom, where Sex Education is filmed, inclusive relationship and sex education was only became a compulsory part of the curriculum when the 2020 school year began in September last year. The U.S. is much further behind Britain, with many schools still offering abstinence-only sexual education for straight people, never mind anything about how to have happy and healthy romantic and sexual relationships with people of the same sex.
In this climate, Eric's various romantic misadventures may be the only depiction of queer sex and relationships that many teenagers are seeing. And for the most part, Eric's storyline has been revolutionary.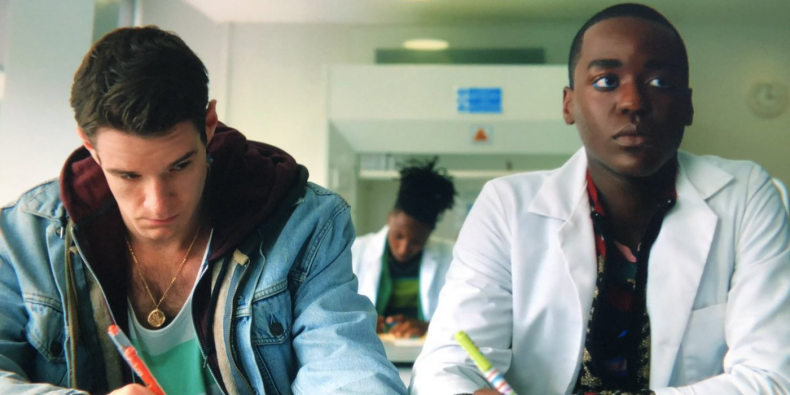 Not since Charlie Hunnam's character in the U.K. version of Queer as Folk 20 years ago has a show so much tried to explore what it is like to be a young gay man in the British equivalent of high school. The show should be praised for tackling complex topics like Eric's ever-changing relationship to a religion that he was brought up in but shuns him, as well as his explorations of gender identity.
Sex Education's first season should also be praised for tackling the realities of coming out gay while still in school. Many other Netflix teen shows feature LGBTQ+ students, but most of them exist as side characters whose sexuality is accepted instantly by all their peers.
This is just not the reality for most real LGBTQ+ students. Per LGBTQ+ charity Stonewall, 45 percent of lesbian, gay and bisexual pupils, and 64 percent of trans ones were bullied because of their sexual orientation in the last year, and nine out of 10 secondary school teachers polled reported that LGBTQ+ pupils had been bullied in their school. U.S. charity the Child Mind Institute, meanwhile, found that gay teens were four times more likely to attempt suicide.
With bullying a part of many young LGBTQ+ students' lives, Sex Education deserves some credit for acknowledging that Eric was the victim of a campaign of bullying by Adam, and yet not letting Eric ever be seen as purely a victim.
But then the show made Eric fall in love with Adam. In Season 1, Eric and Adam had a secret sexual encounter following a detention. Then in Season 2, Eric got in a relationship with the out gay man Rahim, only to leave him at the end of the season to explore a relationship with Adam, the man who until that point had done the utmost to make Eric's life a living hell.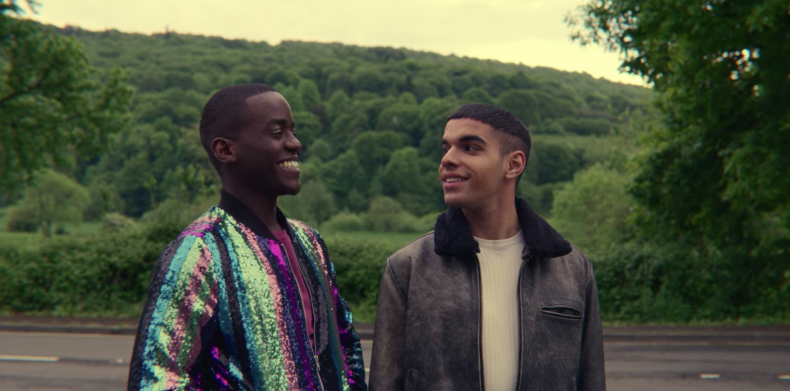 There is a kernel of truth in Adam's story of going from homophobic bully to closeted gay man. In 2012, Scientific American reported on a study that found that individuals who expressed hostility toward LGBTQ+ people are more likely to have secret desires for people of their own sex.
"This study shows that if you are feeling that kind of visceral reaction to an out-group, ask yourself, 'Why?'" professor of psychology at the University of Rochester and study co-author Richard Ryan said in a statement. "Those intense emotions should serve as a call to self-reflection."
This emotional arc may ring true for Adam, but it serves to cheapen the good work the show has done with Eric. Adam's progression from homophobe to homosexual may cause some anti-gay bullies to question exactly why they are physically and verbally hurting their classmates, but it also completely undervalues the serious trauma that a sustained campaign of bullying can do to a person.
For many Netflix viewers who have experienced anti-LGBTQ+ bullying in their past, the idea of a gay man embarking on a relationship with this bully is at best unrealistic, and at worst a horrifying, re-traumatising thought.
Of course, we also have to concede that Sex Education is a comedy-drama, and so has to have dramatic stakes – stakes that we get from the complicated relationship between Adam and Eric but did not get from the sweet, loving relationship between Eric and Rahim.
However, if the show is going to explore the Eric and Adam relationship, then Eric (and the show's many LGBTQ+ viewers) deserve a scene in which he gets a true apology from Adam for the hurt he caused Eric – oblique scenes like having the two throwing things in a junkyard just will not cut it.
The show may be trying to make the Adam and Eric relationship more palatable by softening the Adam character as the series goes on (something that continues in Season 3). However, queer viewers will not forget what Adam did to Eric throughout the earlier run of the show, and Sex Education should not either.
It should also spin-off showing us Rahim's fabulous gay adventures in Paris, but that is a discussion for another day.
Sex Education Season 3 is released on Netflix on September 17. Seasons 1 to 2 are streaming now.