'Shameless' Season 11: Show Boss Gives Update on Emmy Rossum Return
Shameless has less than a dozen episodes left before it comes to an end, with Season 11 set to be the show's last ever. This means that time is running out for Emmy Rossum to make one last appearance as Fiona Gallagher after she exited the Showtime show in March 2019.
So far, her appearance has not been confirmed, and Shameless creator John Wells has repeatedly been asked in interviews whether she would manage to return.
Most recently, he was asked by TVLine and Rossum's return. He said: "She's shooting this big limited series for Peacock, and they haven't yet gone back into production. So until we know what her schedule is, we can't really know if she would be able to do it or not. I've certainly asked her, and she knows we'd love to have her do it. It really just depends on her schedule."
Asked what the show will do if Rossum cannot come back, Wells said, "I really don't want to think about the possibility that she won't be able to come back yet, so I may be in my own bit of denial about it."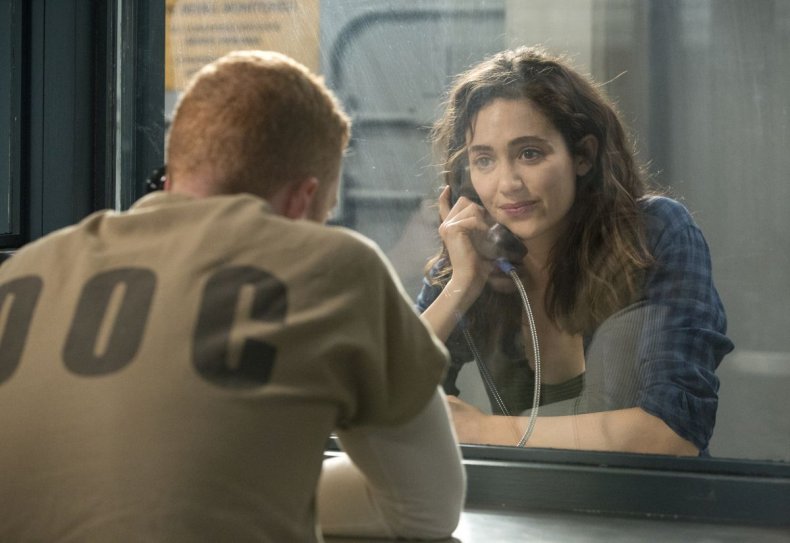 That Peacock series is Angelyne, a biographical series about the pink Lamborghini-driving Los Angeles personality who became famous from her appearance on a series of billboards in the city in the '80s. The series was filming throughout February and March, but has not returned post-coronavirus shutdown.
Filming on Shameless Season 11 has been running since September, meaning that time could be running out for Rossum to come back. For Season 10, filming started in August and wrapped in November, which might mean that Season 11 is close to wrapping—though coronavirus safety measures have slowed down production on other shows, which might mean that Rossum can film her cameo as Fiona early in 2021.
The show creators have been trying to work around the production of Angelyne since earlier this year. Wells previously told Entertainment Weekly, for example, "we're so far from knowing what that would be and when that would be, and she's just started on her new project for the Peacock, Angelyne, so I'm going to leave her to that for quite some time...until I start bugging her."
Rossum, however, has previously expressed a willingness to return. Paying tribute the cast after she exited on social media, for example, she said, "I know you will continue on without me, for now."
Shameless Season 11 airs Sundays at 9 p.m. ET / 8 p.m. CT on Showtime. The season will come to Netflix in summer 2021.