Shock as Manager Tells Worker To Cancel Gym Membership Instead of Pay Raise
The internet has dragged a boss who suggested that their employee cancel their gym membership in lieu of a pay raise.
Just weeks ago, a worker revealed how their entire department quit their jobs at a multi-million firm over a pay raise refusal. Widespread dissatisfaction with wages comes after the second consecutive negative gross domestic product (GDP) reading was announced last week, and despite President Joe Biden's announcement that inflation is his "top economic priority" in June this year, he continues to receive criticism for his reaction to the rising cost of living.
Reddit user u/Substantial_Fish6717 shared the story Friday which has since received more than 16,000 upvotes where they revealed their boss had told them to cancel their gym membership instead of getting a raise—prompting them to find a new job.
Based in the U.K., the Redditor explained how they called a meeting with their boss to discuss their salary, which had not been reviewed in over a year: "[I] explained that my duties have increased considerably, as well as the cost of living has skyrocketed since my last review. My boss said, exact quote: 'If the cost of living is getting heavy, it is easier and quicker to just cancel that nice David Lloyd membership of yours.'"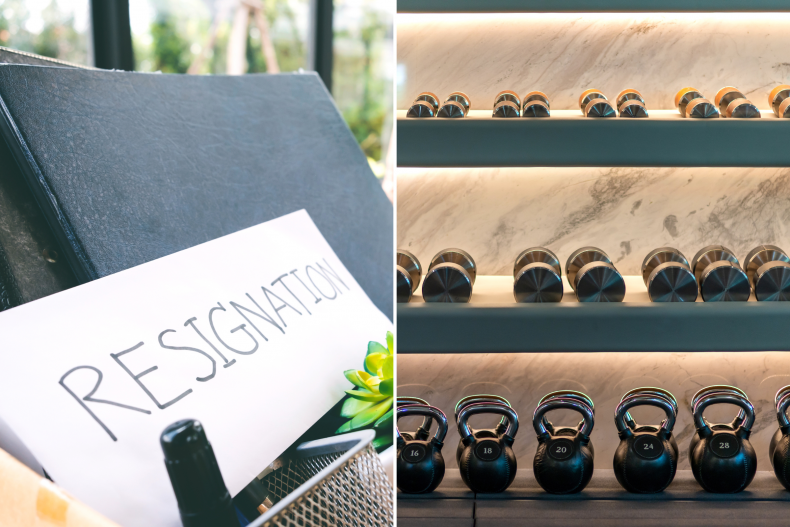 David Lloyd offers premier gyms and fitness clubs around Europe, with 100 clubs in the U.K. and several across Spain, Germany, France, and other European countries, the monthly membership costs can vary but start at around £94.50 ($115) per month for an individual adult.
"He knows I am a member because I have a few free invites every month," explained the Redditor: "[I] have invited some work colleagues on occasion, including him."
But the suggestion to cut back on bills was not met well by the employee, who recalled his response to him in the now-viral Reddit post: "My response to him [was], 'Yeah, you're right, it is easier to cancel the membership than [to] get anything out of you. So I will do you one better: I'm handing my notice, effective immediately.'"
It appeared that this was not the reaction the manager was expecting, as he swiftly offered a £10,000 ($12,200) pay increase which the Redditor says they refused.
After getting home and changing their LinkedIn status to looking for a job, the poster received dozens of calls on the same day, and after a week of interviews had signed a new contract earning £30,000 ($36,670) more than in their last job.
In a series of comments, other Reddit users praised the worker while dragging the manager for his "unprofessional" comment.
One reply said: "So literally telling you to sacrifice health for sake of company," while another wrote: "That's why we have to switch jobs as much as possible. Two years in the same place is a recipe for payment loss."
"Managers commenting on how you spend your money is ultra cringe and really really unprofessional," said another commenter.
One Redditor shared their experience after asking for a raise and said: "I once worked for a law firm and they mentioned that I could go shopping in thrift stores for office clothes instead of giving me a raise."
Newsweek has reached out to u/Substantial_Fish6717 for comment.