A Short History of the Feud Between Andrew Cuomo and Donald Trump
Simmering conflict between New York Governor Andrew Cuomo and President Donald Trump reached a new boiling point on Monday night, as the state leader denounced federal officials' response to the novel coronavirus pandemic during his Democratic National Convention (DNC) speech.
Cuomo's intermittent objections to Trump's handling of COVID-19, as well as national protests, date back to early April. But his comments at the DNC's virtual opening evening were some of the governor's most direct, with Cuomo labeling the Trump administration "dysfunctional and incompetent" in light of the United State's ongoing virus outbreak.
"In many ways, COVID is just a metaphor," Cuomo said during his remarks at the convention. "The virus attacks when the body is weak and when it cannot defend itself. These past few years, America's body politic has been weakened...In effect, our immune system and our current federal government is dysfunctional and incompetent—it couldn't fight off the virus."
He went on to target Trump's actions specifically, highlighting the president's divisiveness and ways it fueled public discord amid an extended public health emergency.
"Americans learned the critical lesson: how vulnerable we are when we are divided, and how many lives can be lost when our government is incompetent," Cuomo continued, inciting the latest spell of social media quarreling between himself and the president.
Trump Calls Cuomo's COVID-19 Response the "Worst"
Trump retaliated on Twitter Monday night, reposting sentiments that criticized Cuomo's management of the COVID-19 outbreak in New York. The president also implicated Cuomo in his state's care home crisis, which led to thousands of deaths as the coronavirus spread quickly among high risk residents.
"Now AP estimates the real Cuomo number of people killed because of his total incompetence is 11,000, not the 6000 that was originally thought!" Trump tweeted, seemingly in reference to an Associated Press story that suggested New York's nursing home fatalities were underreported.
The president's reelection campaign slammed Cuomo's COVID-19 response in a lengthier statement released Monday night, calling it "terrible" and "the worst in the country by far."
Once the epicenter of the U.S. outbreak, New York has confirmed nearly 426,000 of the country's 5.4 million COVID-19 cases as of Tuesday, according to Johns Hopkins University's data.
Cuomo Questions Trump's Executive Order
Throughout the first few months of the pandemic, Cuomo frequently expressed frustration with a lack of federal resources given to states struggling to manage their respective outbreaks. After Trump passed a series of executive orders related to COVID-19 relief initiatives near the beginning of August, the New York governor again shared concerns about funding.
"Executive Orders can't replace legislative actions," Cuomo tweeted, in reference to Trump's call for states pay a portion of the executive order's additional unemployment benefits.
"States can't pay 25% of unemployment costs," the tweet continued. "It's simply impossible."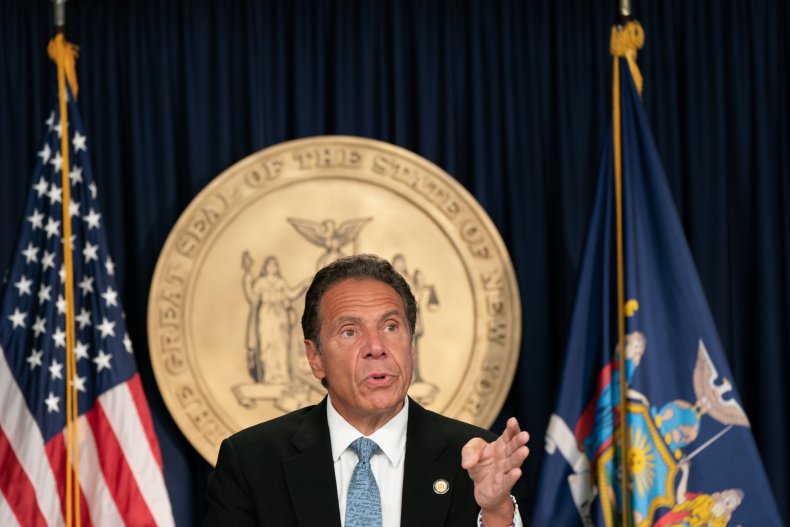 Governor Rebukes Trump's BLM Protest Comments
Cuomo openly condemned Trump's reaction to reports of police violence during demonstrations against law enforcement abuse and racism that surfaced in early June, following George Floyd's death in custody.
After the president suggested a 75-year-old protester, who was injured by Buffalo police officers during a rally, could be an "ANTIFA provocateur," Cuomo spoke out in the protester's defense.
"Do you think the blood coming out of his head was staged, is that what you're saying?" the governor said. "How reckless. How irresponsible. How mean. How crude."
Trump and Cuomo Clash Over Resources, Testing
As New York's COVID-19 cases began to skyrocket in early April, Cuomo and Trump's correspondence oscillated between contention and collaboration.
Cuomo's calls for increased federal support to expand New York's diagnostic testing procedures provoked a response from Trump about one month after the U.S. outbreak's onset.
"The federal government has passed three bills to address this crisis Of those three bills, the state governments have gotten precisely zero, zilch, nada in unrestricted aid," Cuomo said during a press conference. "We need financial resources to stabilize the states."
Trump fired back on Twitter. "Governor Cuomo should spend more time 'doing' and less time 'complaining,'" he wrote. "Get out there and get the job done. Stop talking!"
Newsweek reached out to Cuomo's office, the White House and the Trump campaign for additional comments, but did not receive replies in time for publication.