A Short History of Somali-U.S. Relations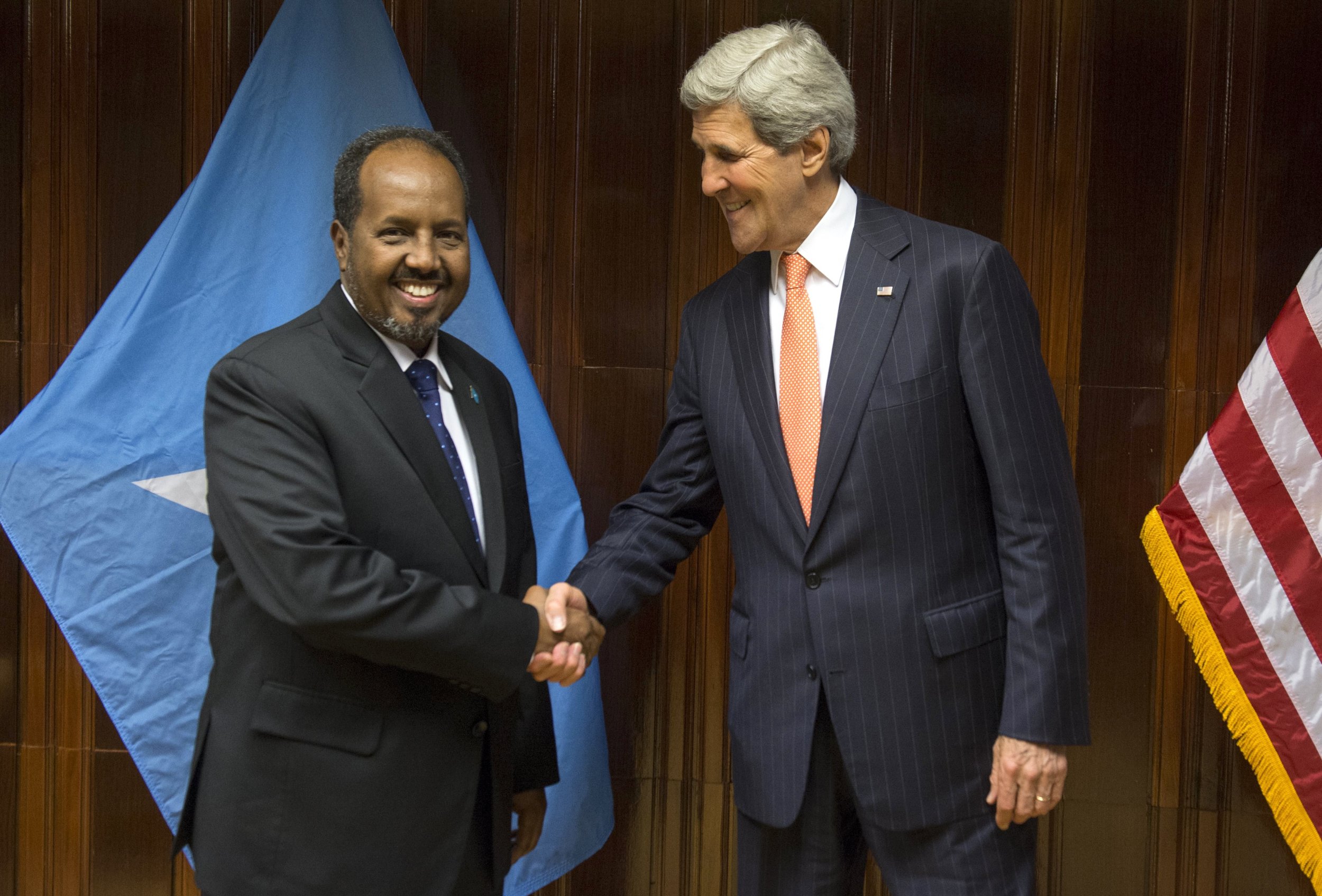 With the arrival of its first United States ambassador in a quarter-century, Somalia hopes to have embarked upon a new era in relations with the Western superpower.
Stephen M. Schwartz presented his credentials to Somali Foreign Minister Abdusalam Omer in the capital Mogadishu on Tuesday, becoming the first American representative to the troubled Horn of Africa state since a protracted civil war broke out in 1991.
Schwartz said he hoped to assist the people of Somalia to "build a peaceful nation with a stable democratic government," while Omer welcomed the ambassador's appointment and described the U.S. as a "valuable partner in Somalia's progress."
The two nations have had a sometimes difficult history in recent decades, as Somalia has struggled to recover from civil war and an Islamist insurgency has drawn the ire of American troops.
1991: The U.S. closes its embassy in Mogadishu as civil war erupts
Bilateral relations between Somalia and the U.S. were established in 1960, when the African state was created from former Italian and British colonies. Relations cooled in the following decades after Mohamed Siad Barre seized power in a coup and adopted a Socialist ideology reflected in the then-Soviet Union.
It was Barre's eventual ousting in 1991 that led to the U.S. closing its premises in Mogadishu, although the countries never officially severed relations. The collapse of Barre's regime created a power vacuum that saw rival clans compete for power, with thousands of civilians caught in the crossfire across the next several decades.
1993: Black Hawks down
U.S. marines had been deployed in Somalia in 1992, heading up a planned multinational force that had the goal of ensuring that food aid got through to the civilian population, who were reportedly dying of starvation.
The most notorious episode in the U.S.'s wartime involvement in Somalia, however, came in October 1993, in what became known as the First Battle of Mogadishu. More than 100 U.S. troops were involved in an operation aiming to capture leaders of the clan led by Mohamed Farrah Aidid, a militia leader gaining power in Mogadishu.
The intended 90-minute raid morphed into a 17-hour siege, however, when two Black Hawk helicopters were shot down by militiamen and crash-landed in the Somali capital. The U.S. scrambled its own and other foreign forces in a desperate rescue mission that culminated in 18 American casualties and a Malaysian U.N. soldier being killed, while as many as 1,000 Somali gunmen and civilians are thought to have perished.
The failed raid was recorded in Mark Bowden's book Black Hawk Down, which in turn inspired a film by award-winning director Ridley Scott.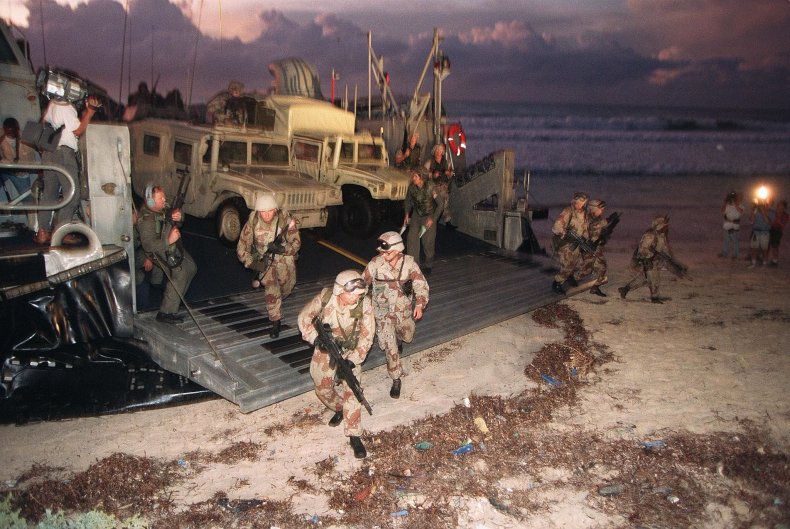 2006: Ethiopia's invasion
At the end of 2006, Ethiopia took the decision to invade its neighbor following the rise of the Islamic Courts Union (ICU), a coalition of Sharia courts that later spawned the militia known as Al-Shabab. The ICU had seized control of Mogadishu in mid-2006. Though U.S. military officials claimed to have explicitly warned Ethiopia not to go into Somalia, the country reportedly provided Ethiopian troops with assistance and even used its own gunships to try and kill senior ICU members.
2008: Terror in Somalia
The State Department designated Al-Shabab, which it claimed had links with Al-Qaeda, as a foreign terrorist organization in 2008. The extent of U.S. military operations in Somalia is shrouded in mystery, but covert activities—including drone strikes—may stretch back as far as 2001, according to the Bureau of Investigative Journalism. A 2014 report in U.S. weekly The Nation also claimed that the American military was operating secret CIA sites at Mogadishu's international airport. The designation of Al-Shabab as a terrorist organization could have been seen as legitimizing such covert operations, which were reportedly conducted with the support of Somalia's transitional government.
2014: Eliminating Al-Shabab's leader
Ahmed Abdi Godane was bad news for the U.S. Godane, who reportedly received military training in Afghanistan, assumed leadership of Al-Shabab in the late 2000s and attempted to broaden the group's outlook from within Somalia to a global jihadi perspective. This was reflected in his pledge of allegiance to Al-Qaeda on behalf of the Somali militant group. It was little surprise, then, when the Pentagon confirmed in September 2014 that Godane had been targeted and killed by a U.S. airstrike in Somalia.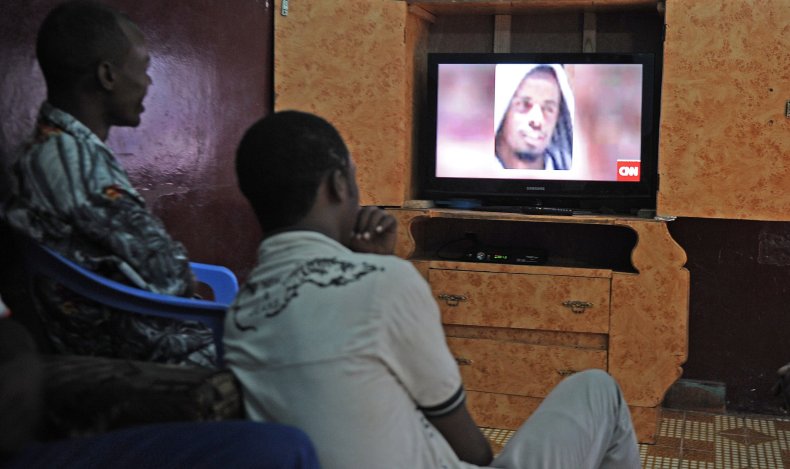 2016: The deadliest airstrikes yet
In March, the U.S. claimed to have taken decisive action following what was described as an "imminent threat" to U.S. and African Union forces stationed in Somalia. The Pentagon claimed that more than 150 Al-Shabab fighters were killed when manned aircraft and unmanned drones targeted the Raso training base of the group, around 120 miles north of Mogadishu. The militant group itself confirmed the strikes took place but claimed that the Pentagon had exaggerated casualty figures.