Should Tom Brady Have Returned From Retirement? Americans Are Divided
Whether Tom Brady should have stayed retired in the summer or whether his comeback has been justified, is still a subject that is dividing NFL fans.
The 45-year-old Tampa Bay Buccaneers quarterback has had an indifferent season so far, which has also seen him divorce Gisele Bündchen after 13 years of marriage.
Since the turmoil in his private life has been made public and his relationship is officially over, Brady has been showing signs that he might be getting back to his best.
The Bucs are now showing signs of making a late run for the playoffs despite not having a winning record yet this season, and Brady could be on the verge of yet another miracle march to the Super Bowl.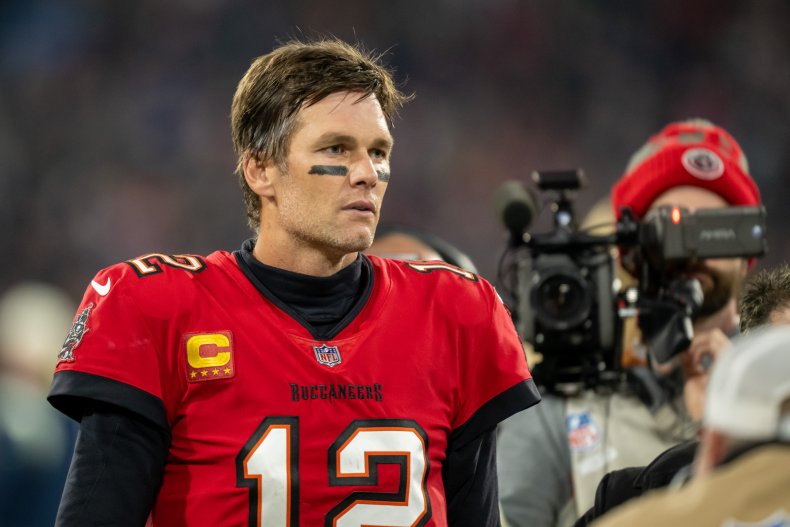 Still the question about whether he was right to return to Tampa Bay or whether he should have stayed retired continues to hang in the air.
A survey conducted by Redfield & Wilton Strategies on behalf of Newsweek found that Americans are still divided over whether Brady made the right choice.
Out of 1,500 people asked whether they are an American football fan, 68 percent indicated that they were, with 37 percent saying they "absolutely" were a fan of the sport.
Of those who indicated that they enjoyed football, when asked whether Brady was right to return to the sport, only 37 percent thought it was the right choice, while 32 percent thought he should have left the game for good in the summer.
The debate has been raging on social media for much of the season, with many on Twitter imploring Brady to go for good once this year is over.
One tweeted: "Tom Brady should retire asap."
Another had a dig, tweeting: "Tom Brady is a sore loser, and a spoiled brat. Retire already."
It didn't get much better when another added: "@TomBrady please retire oldhead. Sick of watching you on the television every week."
A fourth pointed out that Brady didn't need to play another season, tweeting: "Tom Brady will still play next season even if he still plays like s***. He should of just stayed retired I don't get why he came back. His legacy was already cemented."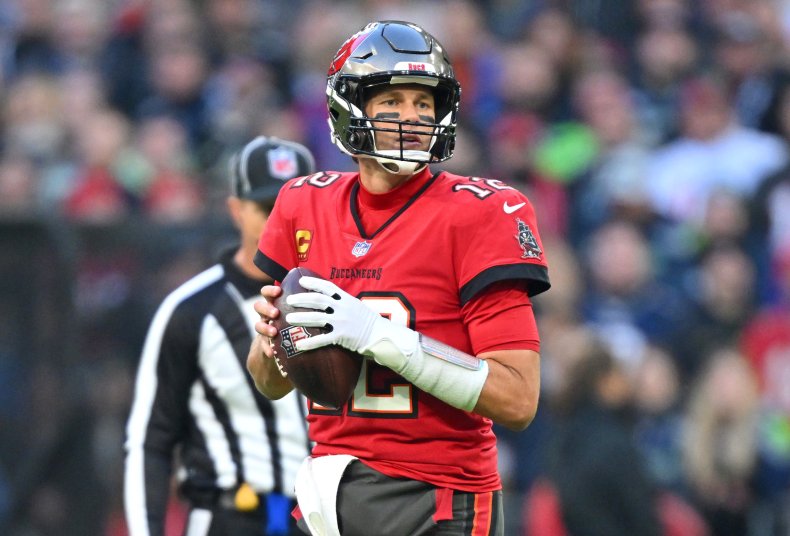 There are rumors across social media that Brady might be thinking of having one more season in the NFL, no matter how this one finishes with the Bucs.
Many fans believe that he won't be in Tampa Bay by next fall, with some tipping him to rock up in New England again and have a last hurrah with the Patriots.
What's for certain is that if Brady goes for one more season, it will continue to divide NFL fans and the quarterback will continue to ignore the haters, as he has done for much of this season.
This was until he clapped back at a comment after he slipped during the Bucs match-up with the Seattle Seahawks at the Allianz Arena in Munich for the first-ever NFL regular season game in Germany.
With the Bucs leading 14-3 in the third quarter, Brady lined up as a wide receiver and almost caught a pass from running back Leonard Fournette, when he slipped onto his back which led to an interception by Seahawks cornerback Tariq Woolen.
Twitter account Barstool Sports shared a video of the interception with its 4.5 million followers, along with the comment: "Prob not a good idea to let a 45-year-old man play WR."
Brady was not going to take this lying down, so to speak, and he shared the tweet, adding: "If I don't slip that's Randy over the top for 6..."
Do you have a tip on a sports story that Newsweek should be covering? Do you have a question about the NFL? Let us know via entertainment@newsweek.com.