Simon Helberg Reveals His Favorite 'The Big Bang Theory' Episodes
Simon Helberg says his favorite episodes of The Big Bang Theory included celebrity cameos and his onscreen wife, played by Melissa Rauch.
For twelve seasons Helberg played aerospace engineer Howard Wolowitz, who over the course of the show, went from a desperate single scientist to a devoted husband, father and astronaut.
He stars in the new family drama movie As They Made Us, written and directed by his Big Bang co-star Mayim Bialik. Ahead of his new role, he spoke to Newsweek and recounted some of his favorite moments from the sitcom, and also explained why a spin-off was never on the cards for him.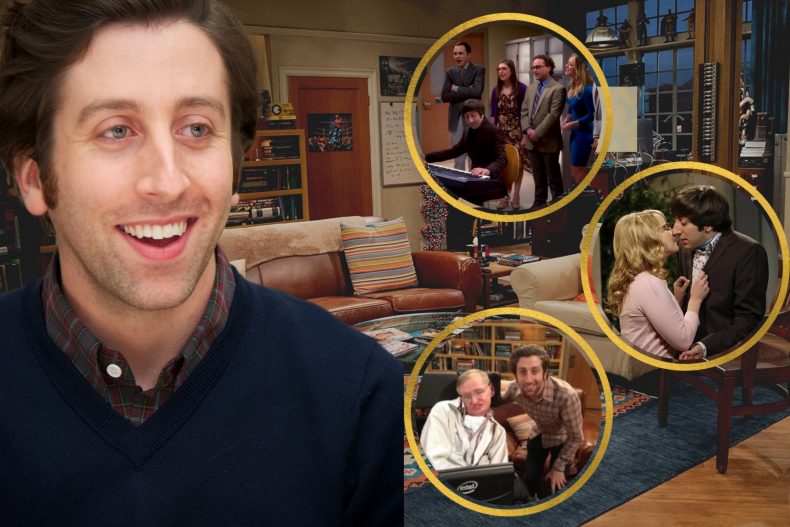 Favorite Episodes of The Big Bang Theory
"I don't have a quick answer for that," Helberg told Newsweek when asked what his favorite episode of The Big Bang Theory is. "I guess the answer is, I don't have a favorite one. The ones that come to mind and are, just some special ones like when Stephen Hawking came to set."
The late theoretical physicist Hawking first made an appearance in Season 5 Episode 21, "The Hawking Excitation," with a short cameo. He would go on to have a recurring role in The Big Bang Theory with several appearances in the later years.
Helberg continued: "I always really had a great time working with Melissa [Rauch]." Rauch played Bernadette Rostenkowski-Wolowitz throughout every season of the show.
"Whenever we had some juicy storylines, like when she finds out that she's pregnant. I really enjoyed that," Helberg said.
Howard and Bernadette had two children in The Big Bang Theory but the episode where she tells Howard she's pregnant is Season 9 Episode 16, "The Positive Negative Reaction." Bernadette reveals she's pregnant again in the Season 11 premiere "The Proposal Proposal."
Helberg also called it a "very special thing" when Howard sang to Bernadette while she was stuck in quarantine. The episode "The Romance Resonance" (S7 E6) sees Howard sing "If I Didn't Have You" as he's backed up by Sheldon, Amy, Leonard, Penny and Raj.
A recurring theme throughout The Big Bang Theory was Howard's relationship with his mother, who never appeared onscreen but was voiced by Carol Ann Susi. Susi died in 2014 and her passing was addressed in the emotional episode "The Comic Book Store Regeneration" (S8 E15).
"The episode where my mother passes away was also really something I will hold close to my heart," Helberg said. "So yeah, those are the ones that come to mind. It's been so long we did so many but that's about it."
A Howard Wolowitz Spin-Off?
Running for twelve seasons and maintaining millions of loyal viewers, The Big Bang Theory has already cemented its legacy on television. Many major sitcoms like Cheers and Friends have spawned their own spin-offs in the past, and The Big Bang Theory already has one prequel spin-off.
With Young Sheldon already on the air, Helberg joked that he could be ready to star in Old Howard in a few years time. Confirming he's never been approached about a spin-off, he said: "No, which is good. I'm happy everyone had the wits about them not to try to make more of me on television. Young Howard, Old Howard, Dead Howard, You know, Undead, whatever... Undead Howard, could have been a good one."
If there ever were further conversations about spin-offs, Helberg says he was never privy to them. "We just make the show on this stage, and we knew it was doing better and better. We didn't think too far into the future in some way. Maybe that was a recipe for a fairly healthy working environment," he said.
Helberg's latest movie sees him star alongside Dianna Agron, Dustin Hoffman and Candice Bergen in As They Made Us. The drama film is available in theaters and on VOD now.