Simone Biles Fires Back at Critics: 'I Don't Think You Realize How Dangerous This Is'
Simone Biles has hit back at critics who have attacked her for withdrawing from the Tokyo Olympics, emphasizing how dangerous her sport is.
The gymnast took to Instagram on Friday morning where she posted a Q&A to her stories discussing her current mindset, her ongoing battle with the twisties and why she can't risk doing dangerous routines if her mind and body are not in sync.
The 24-year-old's exit from the Games for mental health reasons sparked a huge media frenzy this week, and with all the support from fans backing her decision came critics like Piers Morgan and Charlie Kirk, who slammed her for leaving the competition.
"For anyone saying I quit, I didn't quit," Biles wrote. "My mind and body are simply not in sync."
She continued: "I don't think you realize how dangerous this is on hard/competition surface, nor do I have to explain why I put health first.
"Physical health is mental health."
Biles emphasized to her followers just how dangerous and "not fun to deal with" the twisties are.
The twisties are a terrifying occurrence experienced by many gymnasts who lose their spatial awareness. If it happens during a complicated routine it can have disastrous and dangerous results.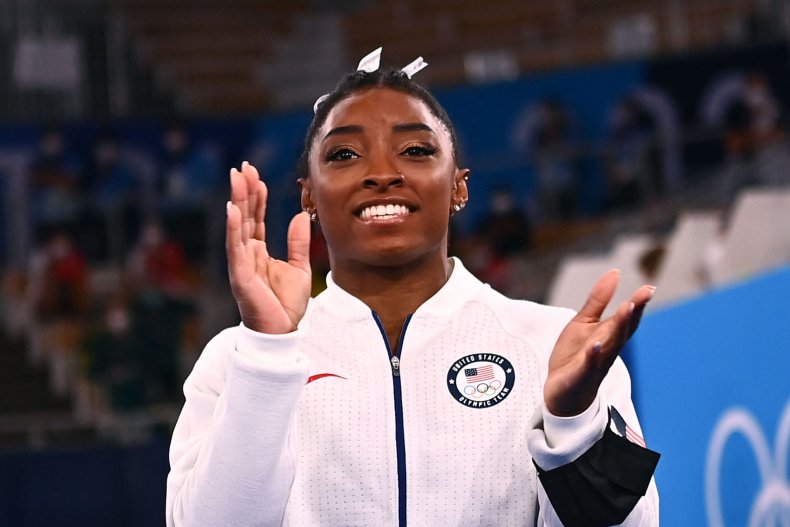 "It's honestly petrifying trying to do a skill but not having your mind and body in sync. 10/10 do not recommend," Biles said on Instagram.
"Literally cannot tell up from down," she wrote. "It's the craziest feeling ever. Not having an inch of control over your own body.
"What's even scarier, is since I have no idea where I am in the air, I also have NO idea how I'm going to land. Or what I'm going to land on. Head/hands/feet/back..."
Earlier this week, former Good Morning Britain host Piers Morgan received backlash for his comment about Biles' exit.
"Are 'mental health issues' now the go-to excuse for any poor performance in elite sport? What a joke," he tweeted. "Just admit you did badly, made mistakes, and will strive to do better next time. Kids need strong role models not this nonsense."
Meanwhile, conservative activist Charlie Kirk branded the four-time Olympic gold medalist a "sociopath" and a "shame to the country."
Former American gymnast Dominique Moceanu has backed Biles' decision, reflecting on a horrific injury she once suffered at the 1996 Olympics in Atlanta.
"Competing at such an elite, world-class level can take a toll on the mind and body. It's sometimes easy for people to forget that even a GOAT athlete like Simone Biles is still a human being," Moceanu told Newsweek.
Despite the attacks from Kirk and Morgan, Biles bounced back, telling the world she is more than just her accomplishments.
'[T]he outpouring love & support I've received has made me realize I'm more than my accomplishments and gymnastics which I never truly believed before," Biles wrote on Facebook and Twitter.