Singer With Putin Ties Met With Boos and Protests at Performance: Report
Anna Netrebko, one of the world's most famous opera singers, received an angry response last week from the audience at her first performance at the Vienna State Opera since Russia's invasion of Ukraine.
The Guardian reported that Netrebko was greeted with boos from the September 5 audience when she entered the stage for the first of three performances of Giacomo Puccini's La Bohéme at the Austrian opera house. The newspaper also wrote that a group of Ukrainians protested the Russian soprano outside the venue.
Netrebko has been criticized in recent months for her past support of Russian President Vladimir Putin. Over the years, she has been photographed with him multiple times, including in 2008 when he awarded her an honorary artist's title. She also endorsed Putin's 2012 presidential election and joked during a 2011 interview with Newsweek how she wished she could have had the opportunity to be Putin's lover while praising his "strong, male energy."
Following Russia's attack on Ukraine in late February, New York's Metropolitan Opera replaced Netrebko for performances of Puccini's Turandot in April with a Ukrainian singer. The Met said Netrebko would not be invited back to perform for the foreseeable future due to her past links to Putin.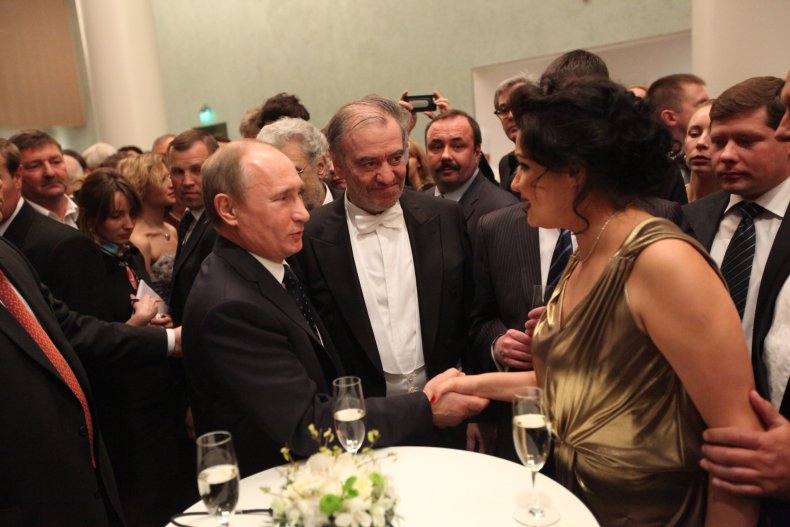 Netrebko has since tried to distance herself from Putin. She has released statements critical of the war in Ukraine, though she has not said anything that has overtly disparaged the Russian president.
"I am not a member of any political party nor am I allied with any leader of Russia," Netrebko said in a March statement on Facebook. "I acknowledge and regret that past actions or statements of mine could have been misinterpreted."
Netrebko's statement also said she had never received financial support from the Russian government and added that she is a resident of Austria.
"I love my homeland of Russia and only seek peace and unity through my art," Netrebko wrote.
The Guardian reported that following the angry response Netrebko received during opening night of La Bohéme, she got a much more positive reaction from the September 11 audience for her second performance. Her final date as the character Mimì in the Puccini classic is scheduled for Sunday.
Bogdan Roščić, the Vienna State Opera's director general, defended the casting of Netrebko to The Guardian.
"Nobody can exist outside politics. I also reject the notion that especially gifted people should be forgiven things lesser mortals are held accountable for," he said. "But that is not the same thing as construing a duty for artists to pontificate on morals or to have those morals approved by pitchfork mobs on Twitter," he told the outlet.
Netrebko's general manager, Miguel Esteban, told Newsweek in a statement, in part:
"Anna is sensitive to the fact that Russia's invasion of Ukraine has given rise to strong reactions around the world. Anna defends everyone's right of free speech. She sees why people choose to demonstrate outside of the venues in which she performs or boo inside of them. She realizes why prominent arts professionals terminate her legally binding agreements or otherwise attempt to cancel her, going so far as, in the case of one opera house, erasing her performance history with them from their website. She does not judge them.
"Anna's statements—particularly the use of the word 'war' in connection with the Ukraine invasion—could land her in jail if she were to return to Russia, which she has not done since the beginning of the conflict. Her statements also put her family and friends living in Russia at risk. To ask her to outright condemn Vladimir Putin is a bridge too far.
"Anna does not hold political views; she sings."
Update 9/13/22, 4:45 p.m. ET: This story has been updated to include comment from Netrebko's manager.