SNL Skit Has 'Ted Cruz' Telling Donald Trump: 'Hit Me, Choke Me, Spit in My Face'
Saturday Night Live kicked off this weekend's show with its fictitious version of Senator Ted Cruz telling former President Donald Trump to "hit me, choke me, spit in my mouth."
Cruz, a Republican from Texas, had made an appearance on Fox News' The Ingraham Angle on Saturday night.
Shortly afterwards, SNL opened with a parody of the show, with Kate McKinnon as host Laura Ingraham.
McKinnon's Ingraham brought on Cruz, played by Aidy Bryant, as her first guest and noted that the senator's beard was "still going strong."
Bryant's Cruz replied: "Oh yeah, my beard is like Jan. 6. Shocking at first, but sadly it's been normalized."
McKinnon's Ingraham then brought up that Cruz had recently apologized on another Fox News, Tucker Carlson Tonight, for calling Capitol rioters "terrorists."
Cruz had called the deadly riot at the U.S. Capitol on January 6, 2021, a "violent, terrorist attack" on the eve of its one-year anniversary.
Carlson, who has consistently downplayed the severity of the January 6 attack, slammed Cruz over the remarks, prompting Cruz to backtrack and claim his phrasing had been "sloppy" and "dumb."
On SNL, Bryant's Cruz went further, saying: "I never should have called them terrorists. The truth is they are big, burly men with big D energy. I like them a lot. They're my cool friends."
Then in a message to Trump, she added: "Donald, if you're watching, I love you, baby. You are the king. Honestly, hit me."
McKinnon's Ingraham then asked Bryant's Cruz if she really wanted Trump to hit him. "Oh, I don't know. Hit me, choke me, spit in my face," she replied. "I just want to stay in the mix."
Before the end of her appearance, Bryant's Cruz had a message for constituents in Texas.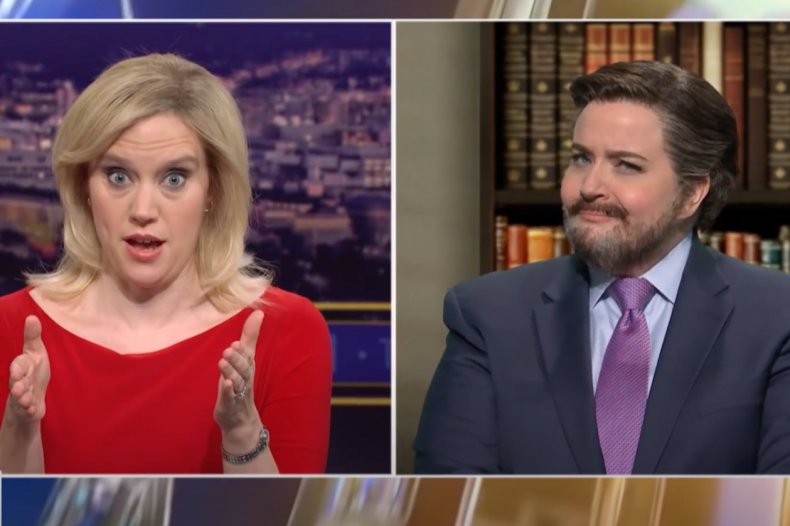 "I'd like to remind all my fellow Texans watching at home that February is going to be cold one, so you might want to book your vacay to Cancun now," she said. "Live más, everybody."
Senator Cruz's representatives have been contacted for comment on the episode.
Earlier, McKinnon's Ingraham began by blasting President Joe Biden's first year in office.
"Can we all admit it's a disaster?" she said. "Inflation's out of control, gas is at $19 a gallon and the green M&M has been canceled just for being a wh*re!" McKinnon's Ingraham said. She added that the nation "is still mourning from the sudden loss of America's dad, Robert Durst"
McKinnon's Ingraham later welcomed Pete Davidson's Novak Djokovic, Ego Nwodim's Candace Owens and then James Austin Johnson's Donald Trump as guests.
"It's wonderful to be here," Trump told her. "I'm back just like Tiger King 2. You had fun the first time, and now you're like, 'How are more people from this not in jail yet?'"