Some Tennessee Walmart Stores Implementing Cash-Only Policy as AT&T Works to Fix Outage
Some Tennessee Walmart stores have transitioned to cash-only, after experiencing an AT&T internet outage caused by a massive explosion in downtown Nashville on Christmas morning.
"Due to an AT&T outage in the area, some of our stores are experiencing temporary internet outages. We are actively working with local personnel to get our stores back online and apologize for any inconvenience this may cause" a Walmart spokesperson confirmed to Newsweek on Saturday.
Though it is unclear how many stores have been affected, those that are experiencing a service disruption have switched to cash-only transactions, local Tennessee outlet WKRN News 2 reported.
The internet outage was caused after an RV exploded outside of an AT&T building in Nashville at 6:30 am on Friday. By noon that day, AT&T users in Nashville and Middle Tennessee reported widespread service disruptions.
The outage has reportedly affected local 911 and non-emergency line access, hospital systems, and caused issues with ATMs and card readers.
AT&T spokesperson Jim Greer told Newsweek Friday that the company was "in contact with law enforcement and working as quickly and safely as possible to restore service."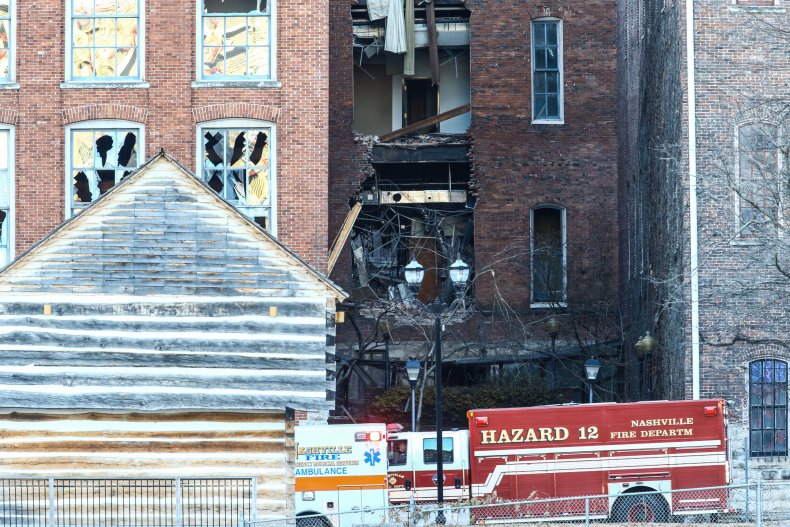 By Saturday, the company released an update saying that they are continuing to working nonstop to recover service for those affected.
"Our teams continue to work around the clock on recovery efforts from yesterday morning's explosion in Nashville. We have two portable cell sites operating in downtown Nashville with numerous additional portable sites being deployed in the Nashville area and in the region," AT&T said in a statement on Saturday.
The company added that "challenges remain," to getting power restored, and said that a fire reignited overnight and caused the AT&T building to be evacuated.
"Currently, our teams are on site working with safety and structural engineers. They have drilled access holes into the building and are attempting to reconnect power to critical equipment. Technical teams are also working as quickly as possible on rerouting additional services to other facilities in the region to restore service," the company said.
The explosion is being investigated by Nashville police and federal authorities including the Federal Bureau of Investigation (FBI) and Bureau of Alcohol, Tobacco, Firearms and Explosives (ATF).
By Saturday afternoon, officials had confirmed that they believe the explosion was "intentional" but had not yet named any suspects in the case. Authorities said the RV exploded after an eerie computerized voice from the parked motor home warned people to evacuate due to a bomb just moments before the explosion.
On Saturday, Nashville Chief of Police John Drake declared that the city is "safe" after police sent bomb-sniffing dogs to sweep the downtown area as a precautionary measure.
So far, three people have been hospitalized with injuries and at least 41 buildings in the city center have been damaged. Authorities do not yet know if the explosion was meant to target AT&T specifically.
"We continue to be grateful for the work of first responders as they respond to this event and help protect our team working to restore service for our customers," AT&T said Saturday.