Sotomayor Says Majority of Justices Buried 'Their Heads in the Sand' Over Texas Abortion Ban
Justice Sonia Sotomayor has condemned the Supreme Court's refusal to block a law in Texas banning abortions in almost all circumstances, accusing those who voted against the move of opting to "bury their heads in the sand."
Sotomayor was one of four judges to write a dissent against the decision after the court voted 5-4 on Wednesday night to refuse to block the extremely restrictive abortion law in the state, which would prohibit the procedure if a "fetal heartbeat" is detected. This typically occurs after around six weeks in to a pregnancy and before most women are unaware that they are pregnant.
"The Court's order is stunning," wrote Justice Sotomayor. "Presented with an application to enjoin a flagrantly unconstitutional law engineered to prohibit women from exercising their constitutional rights and evade judicial scrutiny, a majority of Justices have opted to bury their heads in the sand."
"The Court has rewarded the State's effort to delay federal review of a plainly unconstitutional statute, enacted in disregard of the Court's precedents, through procedural entanglements of the State's own creation," Sotomayor added.
"The Court should not be so content to ignore its constitutional obligations to protect not only the rights of women, but also the sanctity of its precedents and of the rule of law," she wrote.
Justice Elena Kagan also criticized the Court's use of a so-called "shadow docket"—a practice where decisions and rulings are made without hearing any oral arguments.
"Today's ruling illustrates just how far the Court's 'shadow-docket' decisions may depart from the usual principles of appellate process," Kagan said.
"That ruling, as everyone must agree, is of great consequence. Yet the majority has acted without any guidance from the Court of Appeals—which is right now considering the same issues. It has reviewed only the most cursory party submissions, and then only hastily," she added.
"And it barely bothers to explain its conclusion—that a challenge to an obviously unconstitutional abortion regulation backed by a wholly unprecedented enforcement scheme is unlikely to prevail.
"In all these ways, the majority's decision is emblematic of too much of this Court's shadow-docket decisionmaking—which every day becomes more unreasoned, inconsistent, and impossible to defend."
Justice Stephen Breyer said that women in Texas now face "imminent and serious harm" because the law has not been blocked.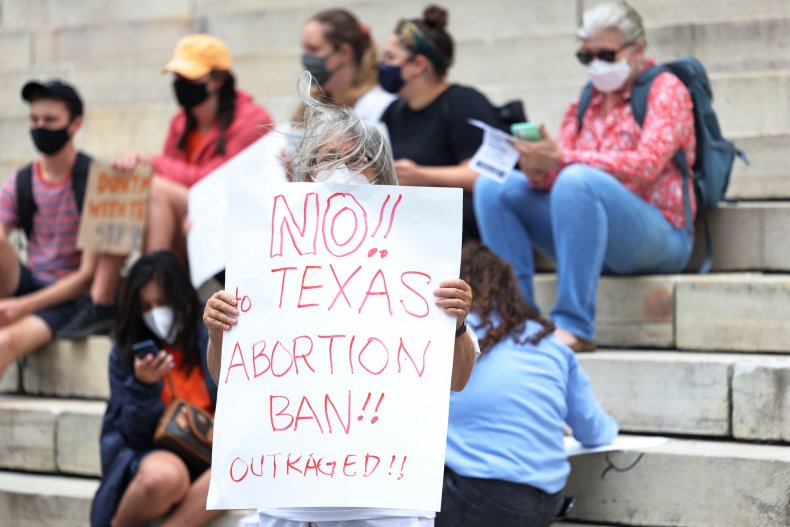 All liberal judges at the Supreme Court—Justice Stephen Breyer, Justice Sonia Sotomayor and Justice Elena Kagan—voted against the law known as Senate Bill 8 being implemented. Chief Justice John G. Roberts joined in dissent. Conservative judges Clarence Thomas, Samuel Alito, and former President Donald Trump's appointees, Neil Gorsuch, Brett Kavanaugh and Amy Coney Barrett, voted to refuse to block the abortion law in Texas.
Researchers have said that more than 85 percent of abortions in Texas occur when the woman is already at least six weeks pregnant.
President Joe Biden has also condemned Texas' six-week abortion ban, which was signed into law by Republican Governor Greg Abbott in May.
"This extreme Texas law blatantly violates the constitutional right established under Roe v. Wade and upheld as precedent for nearly half a century," Biden said in a statement.
This graph, provided by Statista, shows the decline of the abortion rate in the U.S. according to the Centers for Disease Control and Prevention.