Anti-Abortion Republican Says Girls Raped by Dads Should Just Get Plan B
A South Carolina state representative has argued that child victims of rape and incest have "choices," such as taking an ambulance and buying Plan B.
"There are options for rape victims, the way I understand it, if a rape victim goes to a hospital," Republican Representative Doug Gilliam told Newsweek on Monday.
On August 30, the most conservative Republicans in the South Carolina House attempted to pass a total abortion ban with no exceptions for rape or incest. The measure failed by eight votes, but a revised version passed and headed to the state Senate.
The updated bill outlaws all abortions except in pregnancies from rape or incest—which must be reported to doctors within 12 weeks. Abortions that save the life of the pregnant person are also permitted.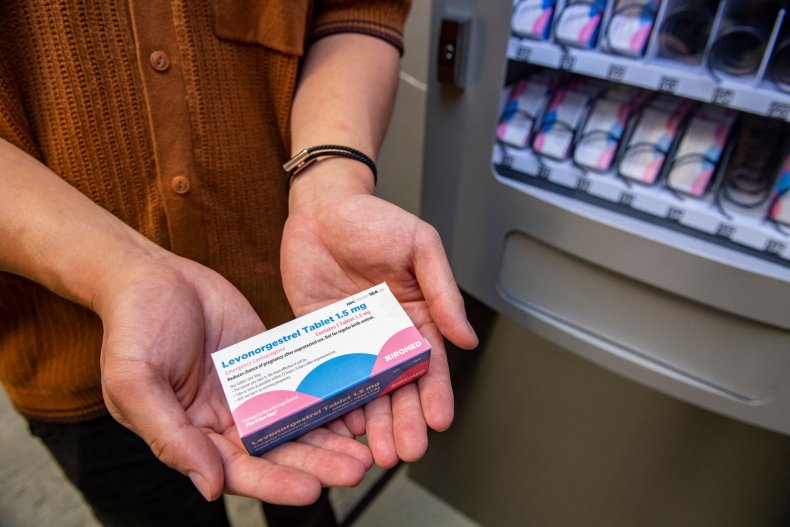 Gilliam fought with another member of his own party, Representative Gil Gatch, over the exception for minors.
In footage from Tuesday's hearing, Gilliam argued that a hypothetical child who was raped by her father "had choices."
"There's a morning-after pill that starts probably before conception," Gilliam said. "And you know, that's available in Walmart, you don't have to have a prescription to do that."
"So if her dad rapes her and she's carrying the child, who drives her to the store to get the morning-after pill?" asked Gatch.
"The ambulance," replied Gilliam. He later clarified that an ambulance would transport the girl to a hospital, not to a Walmart store.
In an interview with Newsweek, the representative admitted that it might not be realistic for a 12-year-old girl to pay for her own ambulance bill.
"The intent is to get her help," Gilliam said. "You know, 911's pretty easy to dial to get help. I would hope there's somebody she could call."
Although Gilliam does not support the bill's amendments with exceptions for rape or incest, he still voted for the updated law, believing it is necessary to "save babies' lives."
"The only exception that I would support is the mother's health," he said.
A growing divide over the severity of abortion bans has emerged in the Republican Party, particularly as polling has demonstrated that many restrictions are unpopular with American voters.
After the Supreme Court's decision to overturn Roe v. Wade, a June survey from the Public Religion Research Institute found that 65 percent of Americans believe abortions should be legal in most or all cases.
Various Republicans have backtracked on some of their more extreme positions. In a committee hearing last month, South Carolina Representative Neal Collins tearfully regretted voting for the state's 2021 "heartbeat bill," which led to a 19-year-old woman in his district nearly losing her uterus and facing the loss of her life.
Meanwhile, Arizona Senate candidate Blake Masters recently scrubbed his website, removing a line that read "I am 100% pro-life" as well as his support for a "federal personhood law," which grants a fetus the same rights and protections as any person. He also deleted language claiming that a legitimate election would have resulted in former President Donald Trump still holding office.