Unbelievably, That 'Spencer' KFC Scene Is Based on a True Story
Spencer ends with what seems like the biggest bit of KFC product placement since that weird Mario Lopez Colonel Sanders Lifetime movie.
At the end of the film (spoiler alert for the movie, in theaters now), Princess Diana (played by Kristen Stewart) finally manages to escape the Sandringham estate. She takes the young William and Harry and they go on an adventure in what for normal people is everyday life.
Their first stop on this day trip? A British branch of KFC, where the princes get their first taste of that secret blend of 11 herbs and spices.
Of course, much that happens in Spencer is the writer's fantasy—as far as we know, for example, Diana was not haunted by the ghost of Anne Boleyn.
However, this little drive-in diversion is actually based on some real stories from the Princess of Wales' life, as revealed by some members of the royal household close to her.
Speaking to Marie Claire, for example, former royal chef Darren McGrady (played by Sean Harris in Spencer) revealed that Diana would take her two boys away for trips to a fast food restaurant. However, in reality, this was McDonald's, and not KFC as seen in the movie.
"I remember the Princess came into the kitchen one day," the chef told the magazine, "And said, 'Cancel lunch for the boys I'm taking them out, we're going to McDonald's.' And I said, 'Oh my god—your Royal Highness, I can do that, I can do burgers.' And she said, 'No, it's the toy they want.'"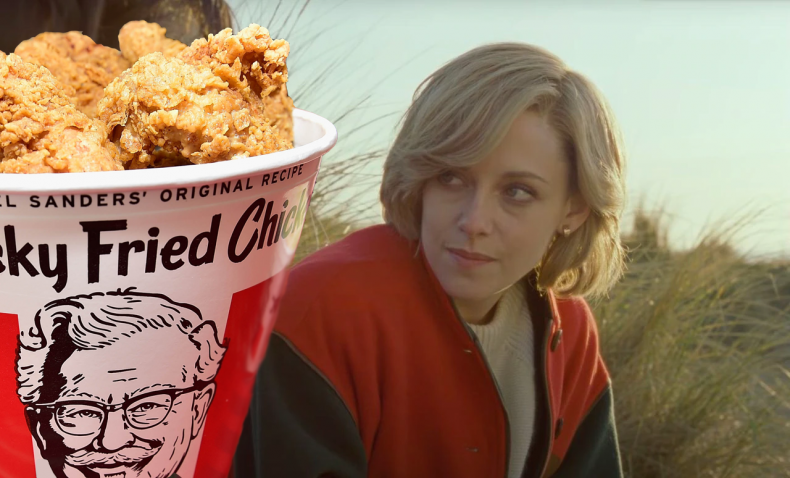 Former royal butler (and frequent royal commentator) Paul Burrell corroborated this in The Mirror, saying: "The three of them would nip to McDonald's for a Big Mac and fries before coming back to watch Blind Date [a U.K. game show similar to American show The Dating Game]."
Though McGrady does not reveal exactly which branch of McDonald's Diana frequented, the closest branch to Diana's home in Kensington Palace is on Kensington High Street, about a 10 minute drive away.
As for why their fast food outlet of choice is changed into KFC in the film, no one from the film has detailed the change. However, there are multiple factors that could be in play, from KFC out-bidding their rival to appear, to McDonald's denying the production rights to use their branding. KFC may have also been more amenable to closing a branch to film the movie—after all, the restaurant we see is a real one, located on London's Old Kent Road.
This could also be a reference to an October 2020 image of Prince William peeking into the window of a KFC that went viral, and saw the fast food chain's Twitter dub the second heir to the throne "His Royal Thighness."
Diana's fast food trips with her boys have been seen by many as Diana's attempt at giving her sons a taste of normal life, similar to the day in 1993 in which she took William and Harry to Thorpe Park, a British water park.
Spencer is in theaters now.