Spider-Man Fans Spot Charlie Cox As Daredevil in New 'No Way Home' Trailer
Internet theories went into overdrive once the Spider-Man: No Way Home teaser trailer dropped online. Among them, fans think they've spotted Charlie Cox reprising his role from Netflix series Daredevil.
Spider-Man: No Way Home is shaping up to be one of the most ambitious Marvel movies yet with rumors of casting throwing back to previous Spider-Man movies. The trailer alluded to a number of classic villains and confirmed the return of Alfred Molina as Doctor Octopus from Spider-Man 2.
Tom Holland, Zendaya, Marisa Tomei, Benedict Cumberbatch, Jon Favreau and Benedict Wong are all confirmed to reprise their roles from previous Marvel Cinematic Universe movies.
The new trailer has already been viewed millions of times online, with fans are scouring each frame of the trailer to look for clues and hints as to what else is to come in the upcoming MCU movie.
Where Was Charlie Cox in the Spider-Man Trailer?
Although it's only the teaser trailer, there's a lot of information given about the plot and the set-pieces involved in the new movie.
One scene that seems to take place in an interrogation room peaked the interest of some viewers who think they spotted some familiar forearms.
According to multiple sources Charlie Cox, who played blind lawyer Matt Murdoch in Daredevil, is rumored to star in the new Spider-Man movie, though his exact role hasn't been specified.
In a clip showing Peter Parker at a police station, a man wearing a white shirt and dark tie slams his hands on the desk next to him. Thousands of Twitter fans are convinced that those arms belong to Cox, with many other hoping he's playing Matt Murdock, Daredevil's alter-ego.
Many Twitter-users have started their own detective work, freezing the trailer on the image of the mystery forearms, and comparing them to previous pictures of Cox's. The rolled up sleeves of this unknown character have also being compared to the rolled up sleeves of Murdock.
@kelseyjbarnes said "If we get charlie cox as matt murdock in the MCU... I swear I will never ask for anything ever again for the rest of my life (!!!)" while podcast host Jackson Gatlin wrote "Manifesting Charlie Cox back as Matt Murdock until December 17."
Others Rumored to Be in Spider-Man: No Way Home
While Molina's Doctor Octavius is shown in the trailer, many other characters are hinted at.
A small green spherical object appears which could be one of the Green Goblin's pumpkin bombs. This could mark a return for either Willem Dafoe or James Franco from their roles as Norman and Harry Osborn from the Toby Maguire's Spider-Man movie.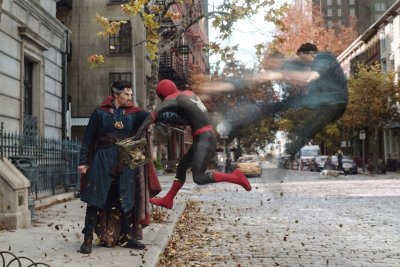 Lightning plays a big part in one set piece in the trailer which fans speculate could be a return for Jamie Foxx's character Electro from The Amazing Spider-Man 2.
The creation of a multiverse in the MCU (courtesy of Loki) and the upcoming Doctor Strange in the Multiverse of Madness is paving the way for these franchise crossovers. Rumors have circulated for months that previous Spider-Men Tobey Maguire and Andrew Garfield could be set to reprise their roles as the webslinger. These rumors have never been directly addressed by Sony and Marvel and even the current Peter Parker, Holland has denied it.
Spider-Man: No Way Home is scheduled to arrive in movie theaters on December 17, 2021.