7 Spoilerific Questions 'Spider-Man: No Way Home' Needs to Answer
Spider-Man: No Way Home is almost here, so after months of speculation, fans will finally find out if all the rumors are true.
Despite poring over trailers, Marvel aficionados still want to know who else might appear in the movie and how all the former franchise villains made it back for Spidey's latest adventure.
Although some rumors and the odd online leak have emerged, Tom Holland, Marvel and the rest of the team have managed to prevent much of Spider-Man: No Way Home from being spoiled.
The movie is out now internationally, but opens in the United States on Friday, December 17. Ahead of its release, here are seven questions fans want answered in Spider-Man: No Way Home.
Is Charlie Cox in 'Spider-Man: No Way Home'?
This rumor started when Daredevil fans thought they spotted a familiar pair of forearms in the first trailer for Spider-Man: No Way Home, but Cox himself told Newsweek they were not his appendages.
The actor, who played Daredevilin the Netflix show that ran for three seasons, will be returning to the MCU as Matt Murdock, however. This has been confirmed by Kevin Feige, who said during the press tour for No Way Home that Cox is still the MCU's Daredevil. When he'll appear, though, is a mystery.
Who Completes the Sinister Six?
We already know that many villains from Spider-Man's past return to battle Holland's Peter Parker in No Way Home, but are there more on the way?
From the Tobey Maguire Spider-Man trilogy, we know that Willem Dafoe is returning as Green Goblin, Alfred Molina is back as Doctor Octopus and Thomas Haden Church appears as Sandman. From Andrew Garfield's The Amazing Spider-Man films, we'll see Rhys Ifans as Lizard and Jamie Foxx as Electro.
In the Marvel comics, the Sinister Six is a group of villains from Spider-Man's past. Five have already been confirmed, so we need one more to complete the set.
Do Tobey Maguire and Andrew Garfield Return?
This is the biggest rumor of them all. Multiple reports have suggested that the two previous Spider-Men from Sony's films—Tobey Maguire and Andrew Garfield—will return alongside the villains from their movies. However, Feige, Holland and the rest of the No Way Home cast have denied the rumor.
Garfield himself has told Newsweek that he's afraid fans expecting to see him in the new Spider-Man movie may be left "disappointed."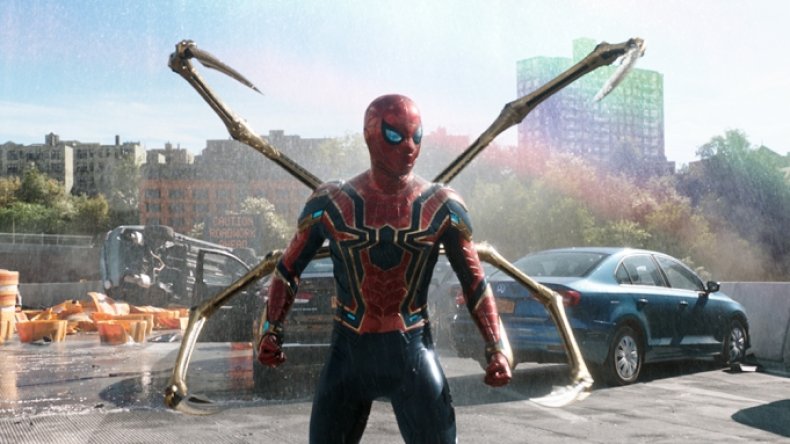 Does Doctor Strange Go Evil?
This is another question raised by the trailers for Spider-Man: No Way Home. Benedict Cumberbatch is seen reprising his role as Doctor Strange, but in one scene he appears to be pitted against Peter Parker.
So, are the two having a disagreement or has Doctor Strange turned evil? Or could it even be a different Doctor Strange from an alternate universe? In the comics, the Necromancer is a villainous version of Stephen Strange from a parallel world.
Will Venom Appear?
The post-credits scene of Venom: Let There Be Carnage showed Tom Hardy's Eddie Brock being transported unexpectedly to another world where Holland's Peter Parker exists.
Of course Venom is a long-time foe of Spider-Man and there is a possibility that Sony and Marvel's two franchises could cross over in the long term.
Who Will Die?
Some of the cast interviews and early reviews suggest this is an incredibly emotional film, in which Holland really shows off his acting abilities. A spoiler-free New York Post review claims he has "emotional oomph, brutality and believable love" in Spider-Man: No Way Home. What would lead to such a performance other than a death?
Will 'Spider-Man: No Way Home' Set up Another Trilogy?
In a November 2021 interview for No Way Home, producer Amy Pascal seemed to suggest that Sony and Marvel were working on another Spider-Man trilogy to follow this one. Although Sony insiders had to backtrack on those comments and confirm there were no "official" plans to continue the Holland films, Pascal did tell Variety that as long as the British actor wants to be in Spider-Man movies, they will make them.