Exclusive: Nick Faldo on America's Long Ryder Cup Struggle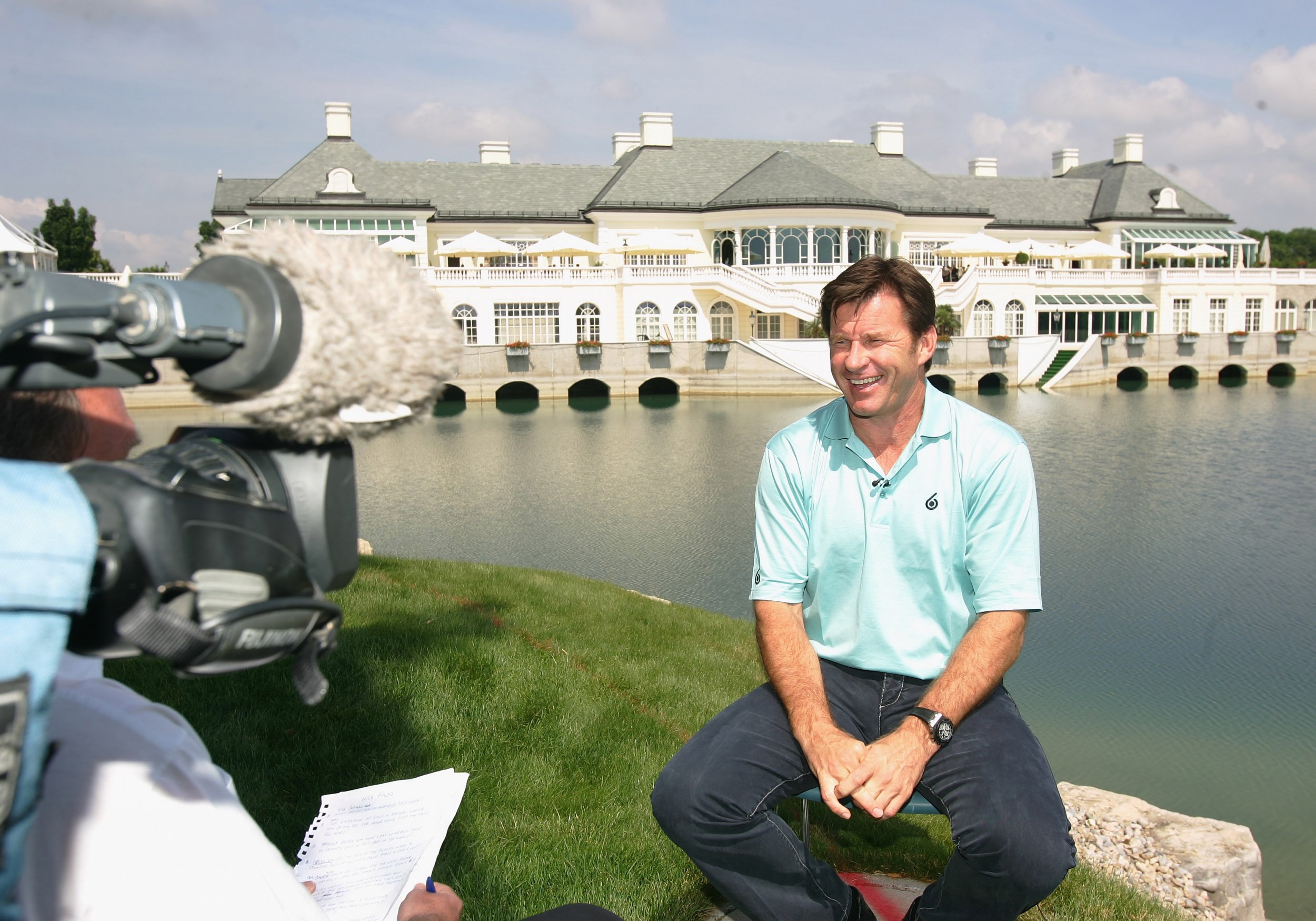 In the week leading up to Nick Faldo's debut appearance at the Ryder Cup, something was seriously wrong. It was September 1977 and the Englishman was set to become the youngest player to appear at the biennial competition, having qualified eighth through the Order of Merit. But his preparation was troubled. Beads of sweat were pouring down the fresh face of a 20-year-old Faldo.
"I was running hot and cold," he tells Newsweek. "I would shoot 32 on the front nine and 42 on the back nine. I was wondering what it was. My parents kept it a secret from me and I ended up having blood tests. The doctor said, 'You've got glandular fever.' Typical Faldo thing: Someone's leg falls off and: 'Didn't want to tell you and concern you.' Who knows if I'd worked myself into a frenzy thinking about it but I had a great week."
Despite his body battling a high temperature, sore throat and severe fatigue, Faldo won all three points available at Royal Lytham & St Annes Golf Club in Lancashire. With Peter Oosterhuis as his partner, the pair won their two matches on the Thursday and Friday before Faldo stunned Masters and British Open champion Tom Watson in the Saturday singles. Great Britain and Ireland—it was expanded to Europe in 1979—lost the competition by five points, a 10th consecutive defeat, but Faldo imbued the team with optimism.
Over the next six years, that expectation would be fulfilled. Faldo gained eight points in the next three Ryder Cups to turn the tide in favor of the Europeans with three straight victories.
"I'm proud to be part of that transition from '83," Faldo says. "When I first made the team in 1977, I hadn't even won a 72-hole tournament yet. That was the goal of every odd year. I'm sure I was one of many who called it a Ryder Cup year. You tried your best at every tournament knowing that if you're heading for 20th, it could make a difference for qualifying if you can make 15th, so it was a huge motivator."
And it was the team format that Faldo thrived upon. "For one week every couple of years, you genuinely have 12 guys pulling for you," he explains. "There's a huge difference between winning a point and losing it. If that happens, it's like two points on the scoreboard—that's the value. If you save it and turn it around then it's huge and you get all that momentum, so to do it for the gang, for the lads, for a victory, is such a great feeling at the end of the week."
Elation was a feeling Faldo experienced frequently on a golf course. The six-time major champion excelled as an individual but, also, as part of a team, eventually becoming the greatest player the Ryder Cup had ever seen. He holds the record for most points won (25), the most matches played (46), and has won more matches than any other player (23). Faldo has set the bar.
Although he enjoyed being part of a group, the 59-year-old stresses the importance of finding a successful partnership. "One of those two is the wingman, as I call them," Faldo explains. "So one's got to look after the other or vice versa—and that's how I started.
"I was very fortunate to have great partners. I started with Peter Oosterhuis, who was my wingman, and then I had Bernhard Langer for a couple, then Woosie [Ian Woosnam]. Then I had Monty [Colin Montgomerie] for a couple and then Lee Westwood. It's always fun to have a great partner that you get on with and you dovetail, so you play good together.
"Oosterhuis was my wingman when I started and I was Lee Westwood's wingman when I finished. I think that's an important thing to designate. It allows one man to handle everything that's going on and allows the other to just play."
This, Faldo believes, is an issue America has struggled with for years. "They have one great partnership with [Phil] Mickelson and Keegan Bradley, after that you look at the record books and Arnold Palmer and Gardner Dickinson are still up there as one of the best partnerships," he says.
"You look at Europe and we have so many good partnerships, starting with Seve [Ballesteros] and [Jose Maria] Olazabal, and then I hope I'm there with a Monty, Langer or Woosie, and then there's others from modern times like [Rory] McIlroy [and Sergio] Garcia racking up points. On the American side, they're struggling. They have been scattergun. They have not found rock-solid partnerships, and that's key."
Akin to when Faldo entered the team in 1977, Europe is in a stage of transition. Half of the team—Danny Willett, Chris Wood, Rafael Cabrera-Bello, Andy Sullivan, Matthew Fitzpatrick and Thomas Pieters—are rookies, compared with America having only one, in Brooks Koepka.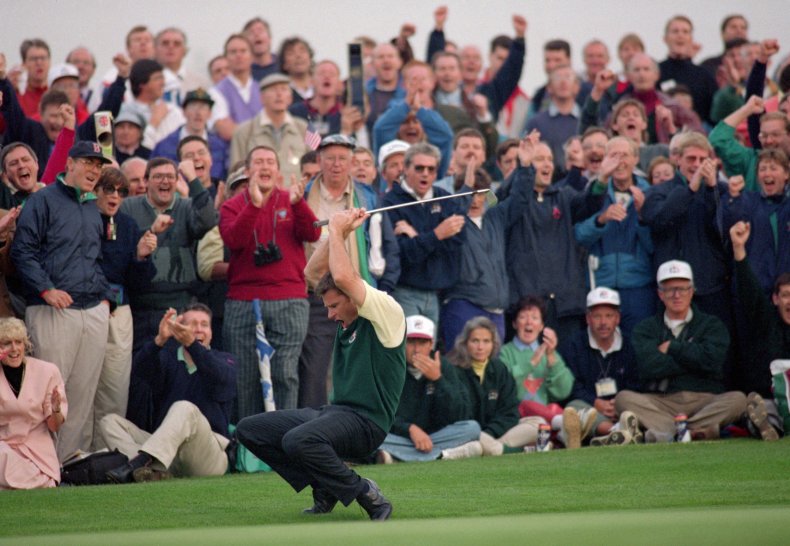 But the decision of American captain Davis Love III not to select world number seven Bubba Watson, choosing instead to make him a vice-captain, is one that will be problematic, according to Faldo.
"That will cause quite a drama," he reasons. "The Americans are hell-bent on this team spirit, and the bottom line is, I did the calculations last year and America was 74 under par in total and Europe was 110 [under par]. So if you want to look somewhere where the problem is, you might want to start with that.
"America's got to win now. They feel they've got a happy camp now and Europe has got six rookies. Maybe we're at a transition stage [with Ian] Poulter injured and pulled out, Graeme McDowell not there."
Darren Clarke's team lacks experience, laying the burden of success this weekend at Hazeltine Golf Club in Minnesota on those who have competed at the Ryder Cup before. Those who face that pressure, Faldo says, include Olympic gold medalist Justin Rose, British Open champion Henrik Stenson and his old "wingman" Westwood. He has challenged them to win at least three points.
"We've got a pretty good backbone with Rose, Stenson, Westwood, but six rookies is important," Faldo observes. "If the captain can pull out a rookie pairing which has a great week then that will be huge. The big boys have got to do their bit. Rose and Stenson have got to go out there and get three or three-and-a-half points. Get a couple of rookie pairings that have a fantastic week, and then you get close to that 14 points—and that's the goal."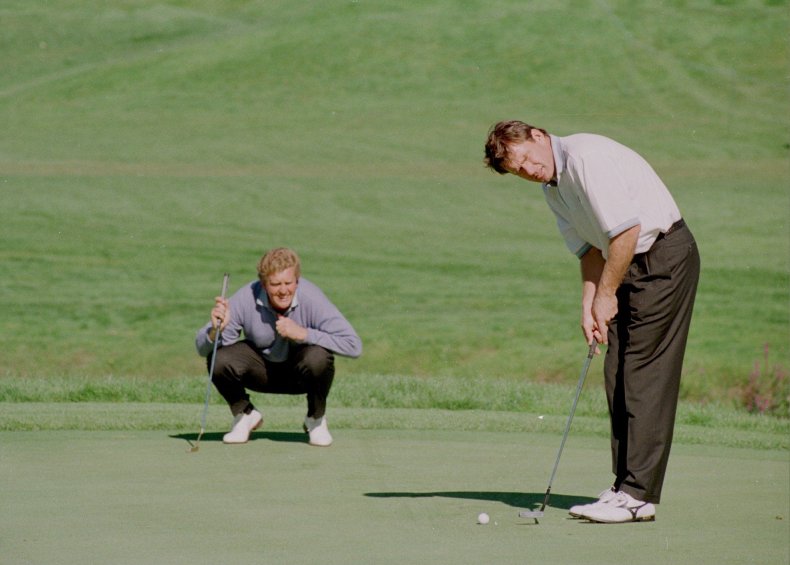 Faldo recognizes the challenge Clarke faces having captained Europe in opposition territory in 2008. This is the only blot on Faldo's Ryder Cup record. At Valhalla Golf Club in Kentucky, Europe was beaten by five points, the only time America has won since the turn of the century. It is a feeling of helplessness that a Ryder Cup captain feels when the players are out, Faldo says, but he insists their role should not be as motivator.
"Once the players are on the golf course it's all about their steel and determination to go and get a point," he explains. "There's nothing anybody can do, let alone the captain. He can have the best support from his partner, caddy, he knows his wife or girlfriend is watching and tens of thousands of fans, but you're the guy facing the putt, and guess what, you're the one who has to hit the darn thing.
"I come from an era when we never needed motivating. We had Seve, Ollie, Langer, Woosie, myself in the team, we didn't need any motivation. Guys go on about, 'Oh, we need the captain to motivate us.' But I honestly don't get that. If you're not motivated about the Ryder Cup or for your own pride, then you don't deserve to be there."
He fondly remembers the way it used to be, playing under four-time European captain Tony Jacklin. "I'm old school," Faldo asserts. "Back in our time Tony used to say, 'You alright?' I'd say: 'Yep.' He'd say, 'Do you have your bits?' and I'd say: 'Yep.' And off you go. That was my motivation talk."
Similarly, he recalls sitting with the team in 1995 at Oak Hill Country Club in Pittsford, New York. It was the Saturday and America led by two points. "The minute we turned it round, his motivation speech was, 'Well, you know what you've got to do tomorrow, you've got to win your point. Great, now here's your dinner.' And that was it. I get that. I'm on that side."
Faldo may describe himself as "old school" but his Ryder Cup achievements will stand the test of time.