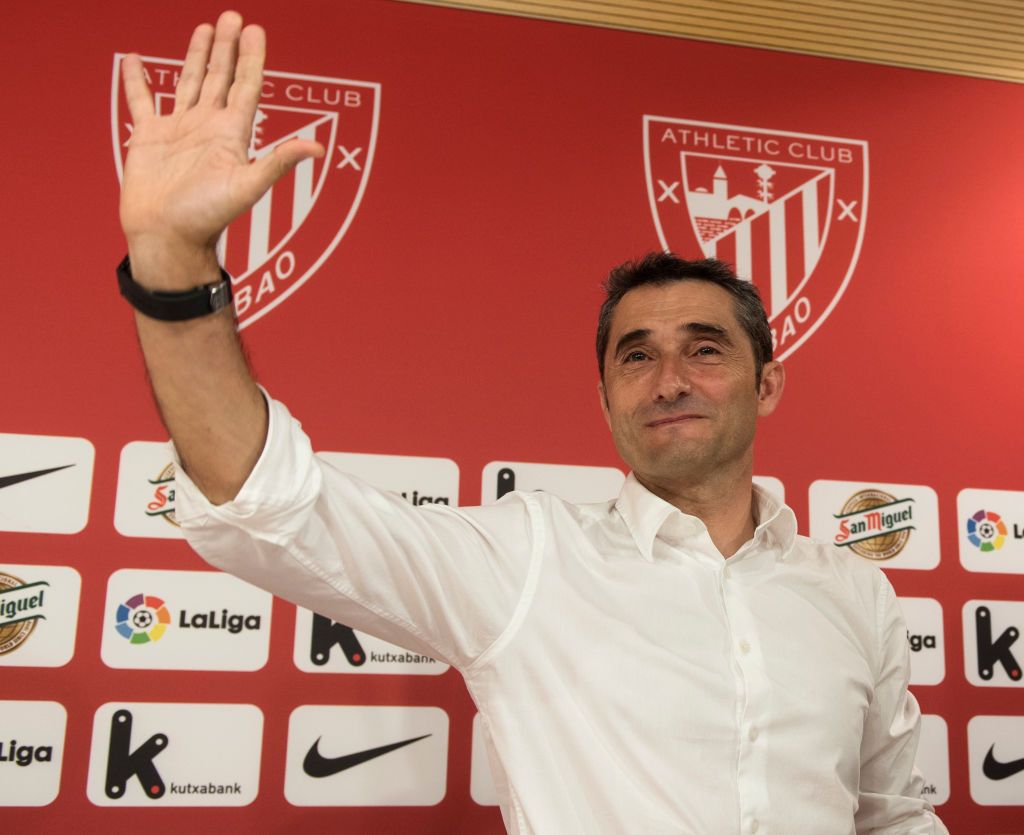 On Monday evening, Barcelona president Josep Maria Bartomeu revealed Ernesto Valverde as the new manager at the Camp Nou.
Valverde succeeds Luis Enrique, who confirmed in March that he would be vacating the manager's seat after three years in charge of Barcelona.
Enrique's team won the Copa del Rey this year but lost out to Real Madrid in La Liga and was knocked out of the Champions League by Juventus at the quarterfinal stage.
Valverde is charged with guiding Barca back to the top in both Spain and Europe, but how qualified is he for the position? Here, Newsweek takes a look at the new man at the Camp Nou:
Where is he joining from?
Valverde announced last week that he would be leaving Athletic Bilbao after four years in charge at San Mames. Before that he had managed several Spanish clubs, including Valencia and Villarreal.
Was he successful at Athletic Bilbao?
This was Valverde's second stint as manager at the club. In his first, from 2003 through 2005, he saw the club qualify for the UEFA Cup, now known as the Europa League. He then led the club to its first trophy in 31 years when he returned in 2013, when Bilbao won the 2015 Spanish Cup. He did this at a club that has a strict transfer policy that prevents it from signing certain players.
What's that policy?
Technically, it's an unwritten rule. But it is widely known that Athletic Bilbao only signs players who were born in the Basque Country, or learned football within the region in northern Spain. This requires the likes of Valverde to promote and nurture youth players rather than looking to the transfer market.
Does that mean Valverde is from the Basque Country?
No, Valverde was born in Viandar de la Vera, in central Spain, in 1964—but he moved to the Basque Country as a child, and it was here that he learnt his trade. He began his playing career at Deportivo Alaves and Sestao in the second tier of Spanish football in the early 1980s before moving to Espanyol in La Liga.
What position did he play?
Valverde was a forward in his playing career, scoring 77 goals in 320 appearances at the professional level. He represented Spain just once in the first team, when he played 19 minutes of a Euro '92 qualifier against Iceland.
So, does he have any links to Barcelona?
After two years at Espanyol, Valverde moved over to Barcelona in 1988 and played at the Camp Nou for two years, where he won the Copa del Rey and a UEFA Cup Winners' Cup. Valverde was part of a squad managed by Johan Cruyff that included the likes of Gary Lineker, Julio Salinas and Andoni Zubizarreta Urreta, but injuries limited his first-team action. He played just 22 times for the club and scored eight goals. But his impact on Cruyff was positive. In January 2007, Cruyff wrong in Spanish newspaper La Vanguardia: "Valverde always gives fans reasons to be proud of their team."
Where else did he play?
Valverde moved on to Athletic Bilbao in 1990 where he spent the majority of his career and where he is most linked with. He scored 44 times for Bilbao in 170 matches over six years, and then spent one season with Mallorca before retiring.
What's his management record like?
A 15-year career has seen Valverde manage in Spain for the majority of his career, with two stints at Bilbao and two years at Espanyol, as well as stints in charge at Villarreal and Valencia before being appointed at Barcelona this summer. The only club he managed outside Spain is Greece's Olympiacos, which he managed twice, from 2008 through 2009 and 2010 through 2012. He won the league in each season with Olympiacos as well as two Greek Cups. Valverde's other standout moment in management came when his Espanyol team lost the final of the 2006-07 UEFA Cup on penalties to Sevilla.
How do his peers see his management style?
Valverde has an intelligent management style, with the ability to play swift football, but his arrival at the Camp Nou hasn't been met with a great deal of excitement. This is due to his Bilbao team finishing seventh in La Liga and its meek performance in the Europa League—it was eliminated by Cypriot club Apoel Nicosia, a minnow in the European leagues.
Will he be a success?
Valverde's task is great. Barcelona is in a transitional phase—it is far too reliant on the aging Lionel Messi, and opposition teams are not as intimidated by the red and yellow stripes as they once were. Barcelona lost the first leg of its Champions League last 16 tie with Paris Saint Germain 4-0. Though it made a miraculous comeback to make it through, it lost 3-0 to Juventus in the next round and went out. Valverde will have to strengthen the defense at the Camp Nou and ease Neymar into the main role as Messi heads toward his 30s. It is certainly the biggest job of Valverde's life.