NFL: Odell Beckham Jr. Attempts to Explain Bizarre Celebration, Fails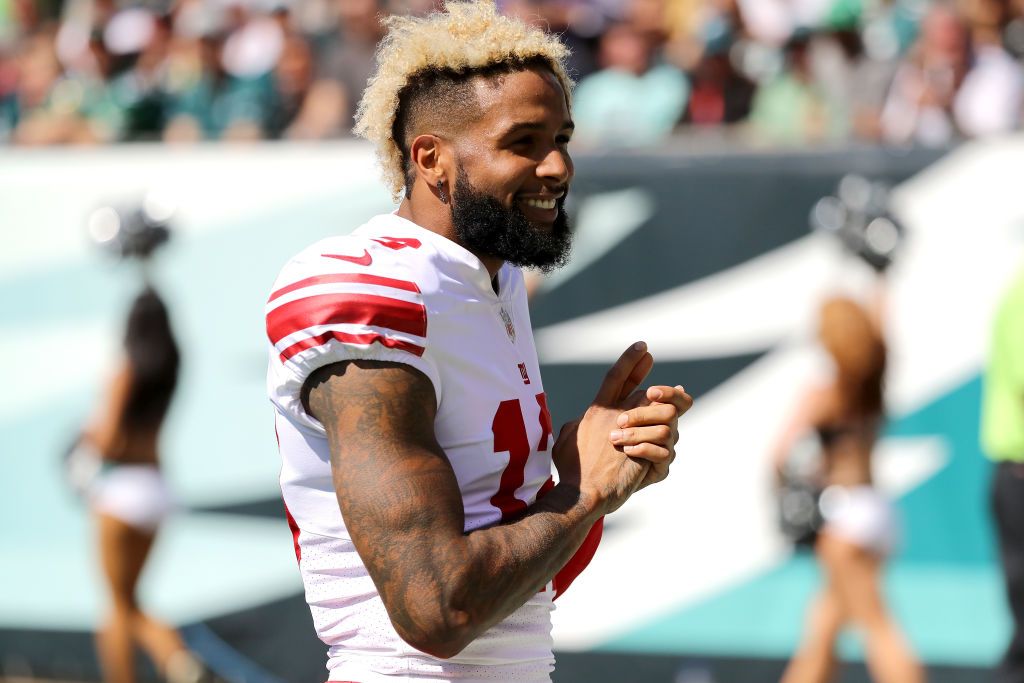 Over the years, footballers' celebrations have become as choreographed as the plays that produce touchdowns. From the Redskins' fun bunch celebration to the Falcons' dirty bird, players have continually reacted to TDs in entertaining ways.
But Odell Beckham Jr. produced one of the more bizarre celebrations after his first score on Sunday, in the Giants 24-27 defeat to the Eagles in Philadelphia. The 24-year-old wide-receiver fell to all fours and crawled along the floor before simulating the act of peeing like a dog.
Inevitably, Beckham was asked after the game for the meaning behind his celebration, but gave little explanation. "I don't know," he said. "I'm in the end zone, I'm a dog, so I acted like a dog."
Take a look at the celebration:
When Beckham hit the end zone for a second time, he raised his first to the sky. This act seemed more in tune with a theme running throughout the NFL this weekend, with teams defying the words of President Trump.
On Friday, Trump said NFL owners should fire players who took a knee during the national anthem. "Wouldn't you love to see one of these NFL owners, when somebody disrespects our flag, to say, 'Get that son of a bitch off the field right now, out, he's fired. He's fired,'" Trump said.
"You know, some owner is going to do that. And that owner, they'll be the most popular person in this country."
On Sunday, before the Baltimore Ravens and Jacksonville Jaguars met at Wembley Stadium in London, the players defied the words of Trump and took a knee during the national anthem.
But Beckham wouldn't reveal whether his fist to the sky was a message to Trump. "Did it look like it [meant something]?" he said. "Then it might have meant something."
NFL: Odell Beckham Jr. Attempts to Explain Bizarre Celebration, Fails | Sports