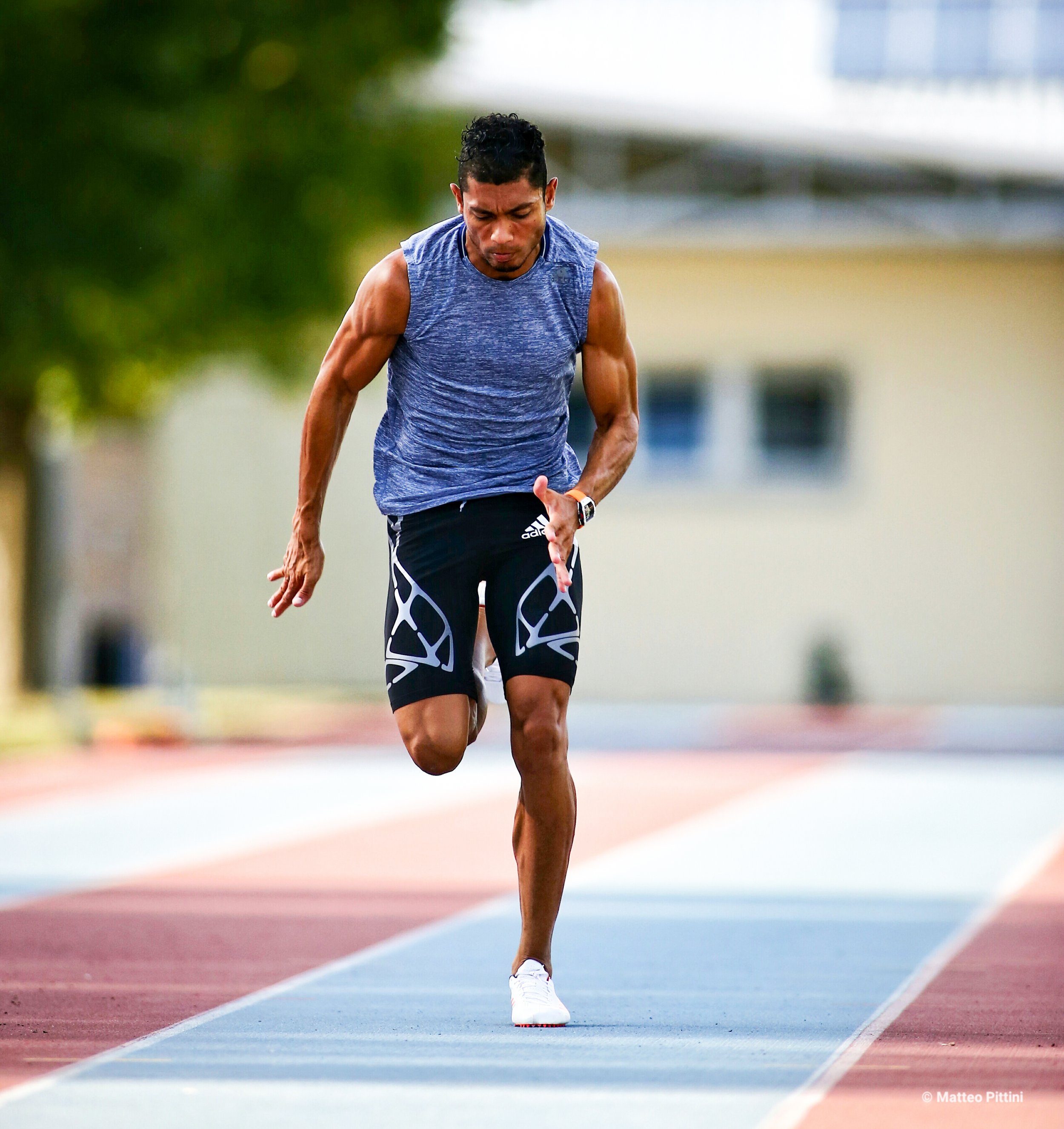 Up until the moment Wayde van Niekerk crossed the finish line in the Olympic Stadium, when the clock stopped sooner than it had ever done before in the 400 meters, his day had been fairly uneventful.
But for a brief catch-up with family, including his mother Odessa and father Wayne, van Niekerk remained in his room in the Olympic village. He lay on his bed. He watched movies and "whatever random thing" he could find. He was conserving energy for what would be the greatest night of his career so far; a night that would exceed his hopes and expectations.
Speaking little under a month since he broke Michael Johnson's world record—a record which stood for 17 years—van Niekerk reveals to Newsweek that injuries and a lack of self-confidence had left him aiming for third that night.
"The way I felt physically and my self-belief in that moment, I would have been happy with a bronze medal," van Niekerk tells Newsweek . "It just goes to show how great the Lord has been in my life, and how powerful believing in his presence is, because he has blessed me with way more than what I believed I deserved on that day."
Van Niekerk was not blessed with the lane he was allocated, however. A run of 44.45 seconds in the semi-final had seen the South African positioned on the outside of the track, facing a battle with the extended curve of the Olympic Stadium. The fastest time ever recorded in lane eight at an Olympics came in 2004, with a 44.66s from Grenada's Alleyne Francique. Van Niekerk beat that by more than a second-and-a-half.
"Once I got drawn into lane eight I wasn't really too fazed about it," he says. "I just saw it as another race. I was way too focused to think that [because] I was in lane eight it was a disadvantage or whatever. I was really just focused on going out there and giving it my best effort."
Before the race, the cameras were focused on two contenders: Kirani James, the defending champion from Grenada, and LaShawn Merritt, the gold medalist from Beijing 2008, who stood shoulder-to-shoulder in the middle lanes. Although van Niekerk was far from an unknown, having won the world championships in Beijing last year, it was James and Merritt deemed to be jostling for gold. In the end, however, the duo would be mere witnesses to a piece of history.
Van Niekerk was quick out of the blocks with what initially appeared to be an unsustainable pace. He was fast round the first bend. Faster still round the second. His long legs drove him round the final bend, retaining the speed over the finish line: 43.03s. A world record. "A massacre," Johnson said in television commentary.
But the elation quickly subsided when he left the track. Speculation over how the 24-year-old had managed to break Johnson's record was raised immediately in interviews and on social media.
"It definitely did bother me," he says. "Knowing I've put in so much hard work and tried to be as obedient and disciplined as possible in the sport, and the first thing when you cross the line, open your phone and you see people speculating about you doping."
But van Niekerk, ever the optimist, has managed to transform his upset into a positive. "If you look at it in a different way," he says, "it can actually be a compliment as well. If you look at it and people compare you to people who have been doping, it means you have achieved something greater than what people expected you to do.
"You can definitely get positives out of it and actually feel good about yourself, and positive about what you've achieved because people think it's not possible doing it clean. I know I've done it clean, so it's a good feeling and a confidence-booster."
Despite turning just 24 in July, van Niekerk already has his sights set on improving his world record time, as well as attacking other events. He currently holds the record as the only man in the world to set a sub-10s in the 100m, sub-20s in the 200m and sub-44s in the 400m. And that was a running spike away from being sub-43s in Rio.
It will be possible, van Niekerk says, to break his record—but he wants to be the one to do it. "As a person doing the sport, you always would love to improve yourself and I always believe I can do better," he says, "so I would love to believe that I can be the next person to smash the record again. I'm only 24 years old. I've got so much more I need to do, so much more growing to do. I'm actually still a baby when it comes to the 400 meters. I've only been doing it three years now and I still feel like I've got so much more to prove. I can gain so much more consistency and strength within the event."
And other events? "I'm so eager to get back to the 100m and 200m as well to improve on those areas. I'm not totally satisfied with those times either. So I'm continuously just seeking to better myself and improve myself every time I get onto the track."
A switch to the 100m and 200m could see van Niekerk line up against his friend, the nine-time gold medallist Usain Bolt. Van Niekerk met Bolt in July on a training trip to Jamaica. He describes "rub[bing] shoulders with the big dogs" as their friendship developed.
"Usain Bolt is motivating and inspiring me to want to try and do what he's done," van Niekerk says. "He's set out such high goals for us to chase. He's definitely someone I look up to to feed off and try and achieve what he's achieved, and obviously, on that journey, if I have the opportunity to run against him, it would be more than just a blessing and an honor. He has single-handedly taken track and field to a different level and I will always have respect towards him and look up to him as someone who has been an idol to the sports —and a clean idol."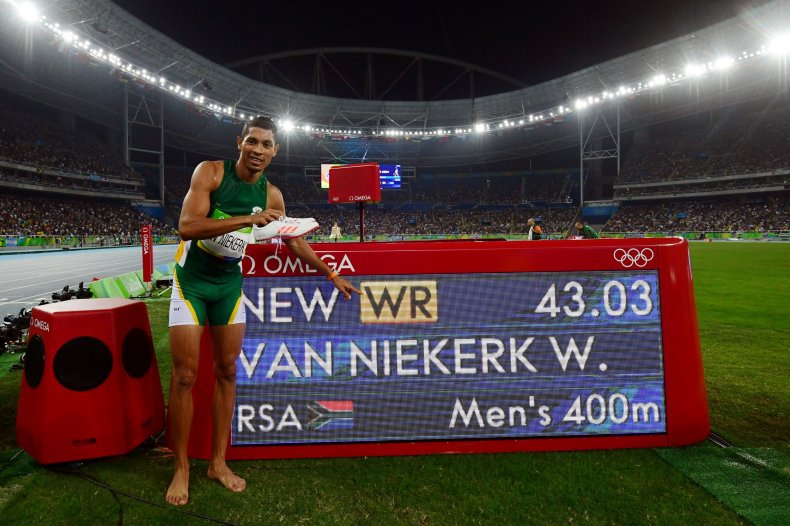 With Bolt bowing out of the Olympics in Rio this summer, van Niekerk may emerge as the Games' new poster boy. A man he has succeeded for certain, however, is Oscar Pistorius, as the face of South African athletics. Pistorius, the disgraced Paralympian and Olympian, who holds six gold medals, is currently serving six years in prison for the murder of his girlfriend Reeva Steenkamp in 2013. A year earlier, van Niekerk had trained with Pistorius in Italy.
"We were based at the same training camp in Europe and I got to learn from him and see his work efforts and discipline, and I really picked up a lot," he says. "Oscar was definitely someone that had a positive influence on us believing in making it on the international stage. Watching him compete against and rub shoulders with the world's best made us believe that a South African can do that as well. That's the same thing [for me], I want more South Africans to get involved because we've got so much potential and talent, and if I can be an example and inspiration to them, I accept that responsibility totally."
But does van Niekerk believe that idol-image now been tarnished by Pistorius' actions? "No," he says. "That's been his journey and his life. That has nothing to do with me. I'm still focused on improving myself, becoming a better athlete. I have a lot of sympathy for the situation, but I'm not someone to judge."
Another African influence, from Namibia, on van Niekerk's career is his coach Ans Botha, known affectionately as "Tannie Ans" by her athletes—Tannie meaning auntie in Afrikaans. The 74-year-old great grandmother teamed up with van Niekerk while he was still at university and has guided him to Olympic champion.
"She had two or three quite quality South Africans and they were the best at that moment," he says. "To me, it was all about going out there to train and compete against the best in South Africa, to learn from them and pick up from them. That was my main motive when I approached coach.
"So far what we've done is history, but there's so much more we can achieve as a team." His words and confidence ring out as a clear signal: keep your eyes on van Niekerk.
Uncommon Knowledge
Newsweek is committed to challenging conventional wisdom and finding connections in the search for common ground.
Newsweek is committed to challenging conventional wisdom and finding connections in the search for common ground.