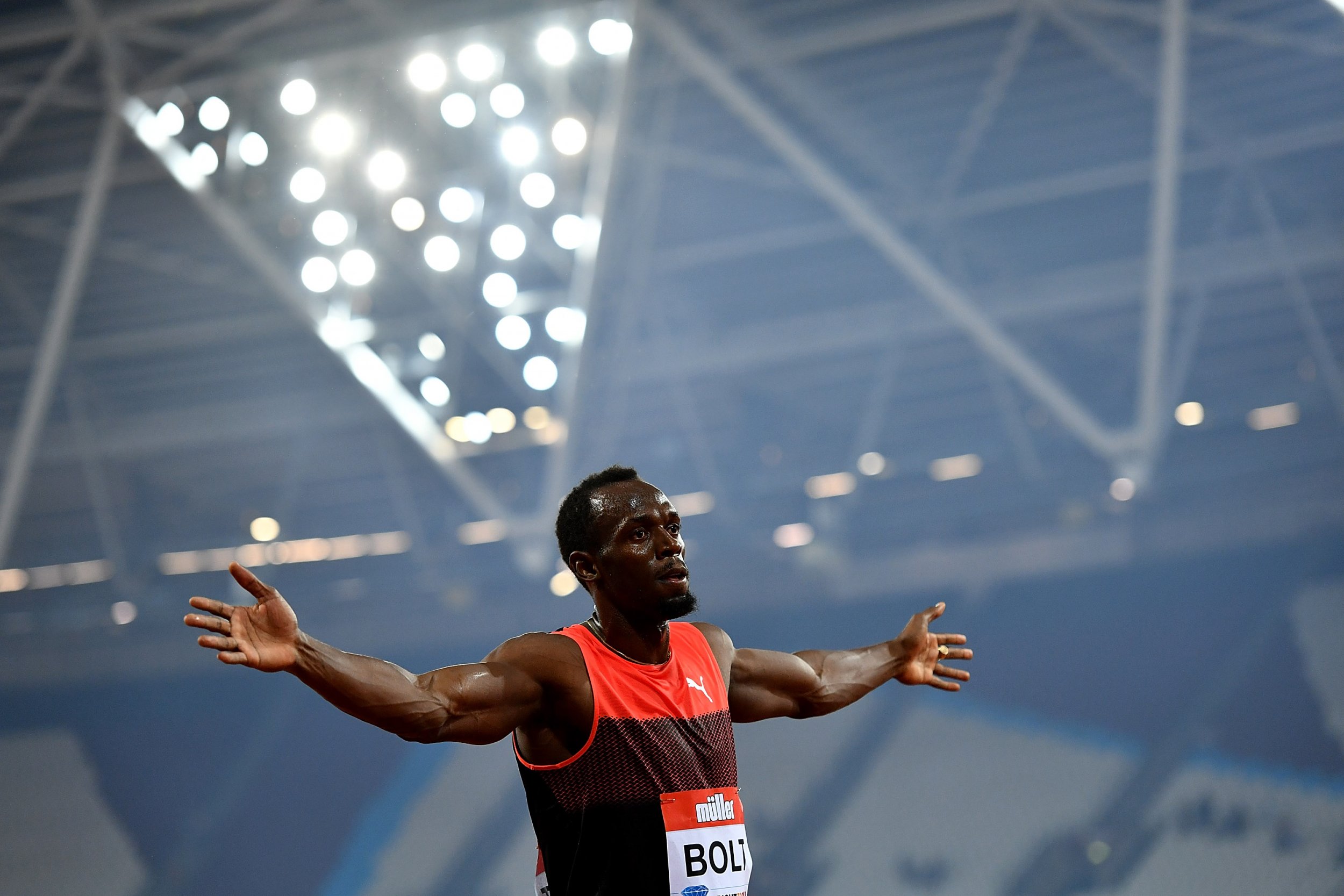 British sprinter Linford Christie has backed Usain Bolt to claim his seventh Olympic gold medal this summer in Rio when he lines up for the men's 100 meters.
Bolt, the most decorated sprinter of all time, is preparing to compete in his fourth and final Games, having promised to entertain the world as he bows out aiming for another gilded treble.
Despite strong competition to the Jamaican in Brazil, Christie believes Bolt, 29, has the ingredients to put him at a significant advantage before the trigger of the starting gun is even pulled.
"We always say the race is won before you get onto the track," Christie tells Newsweek. "Everybody now is thinking who's going to come second, or that we have to run 9.5 [seconds, the world record Bolt set at the World Championships in 2009] to beat him.
"Bolt has this way of taking people out their comfort zone. He'll stand on his line and he'll do his hair and the lightning bolt thing, and now everybody is trying to have some sort of gimmick."
It is a psychological edge. Christie says the "aura" of Bolt, his charisma, height, stature, and world record status are intimidating for opponents before they even approach the white line. But the gold medallist sprinter from Barcelona 1992 also believes the mechanics of Bolt's style and his training background make him such an indomitable figure.
"I don't think you can ever write off Bolt," the 56-year-old said. "His presence alone is part of that. He's tall and on top of all that height the speed at which he can turn his legs over is like that of a short person—a freak of athletics in the nicest sense of the word.
"Of course, he is incredibly fast and that is the first component. When he came on the scene he was a 400-meter-stroke-200-meter runner. I always say it's a mistake a lot of people make because they think it's all about speed, but speed without strength is absolutely no good at all. Everybody wants to specialize and run one event, but the 200-meter gives you the strength and the 100-meter gives you the speed, so they both go hand-in-hand.
"Bolt trains the old way with a lot of longer runs. Anyone else wants a shortcut, running 150 meters and a lot of 60 meters. They're quick but when it comes to putting it out there they are not strong. They haven't got the same speed and strength endurance that Usain has, and that's why he's so much better than anybody else."
Christie will have a particularly keen eye on the 100 meters this summer as James Ellington, the British sprinter, is among the athletes he coaches. Ellington's rise saw him set a time of 9.96 seconds in Birmingham at the end of June in preparation for Rio, although the wind was too strong for it to count in the record books. But Christie says the experience of sprinters in Brazil will be a tough hurdle for the 30-year-old to overcome.
"This year is the first year he's made his breakthrough and he's run incredibly over 100m, but it's a learning curve," Christie said. "He is pretty confident but these guys are seasoned and more experienced. James is a 200m runner who's come down to 100m. For him, we will take it one yard at a time, but I do believe Bolt's major rival will come from the Americans."
Trayvon Bromell and Justin Gatlin, to be exact. At 21, Bromell looks set to be a star of the future but Gatlin will be looking to avenge the defeat he suffered at the World Championships in Beijing in 2015, when Bolt ended his 29-race unbeaten run with a 0.01-second gap for victory.
Gatlin was the favorite in Beijing but appeared to tighten up in the home straight, handing Bolt a victory that was a surprise despite his pedigree.
"After what happened last year at the World Championships he's [Gatlin] going to be up there to correct his mistakes and try to be more of a competitive force," Christie says. "People in the [athletics] circle say, 'Bolt didn't win, Gatlin lost,' because they are looking at his dominance over the year, and I think exactly the same thing can happen again."
Christie doesn't see a repeat of the time set by Bolt in Berlin seven years ago, though he does believe the world record can be broken. "Nothing is unbeatable," he says, "and as an athlete you've always got to be thinking that you can do the same thing again. You are always going to think you can run faster because this is what keeps you motivated and training, but I don't think you're going to need to run 9.5 to win."
Bolt may not need to set another world record. But the sport's incorrigible icon may yet provide an Olympic farewell to remember.
Linford Christie is an Olympic, World, European and Commonwealth 100 meters champion and co-founder of Street Athletics. He is on Twitter @ChristieLinford.