Mazie on How Spotify Wrapped Is a Game-Changer for Indie Artists
Spotify Wrapped is an invaluable tool for emerging artists and bands, according to rising star Mazie (Stylized as "mazie").
The platform's annual recap is quite well established at this point, with music fans eagerly awaiting (or dreading) its release each year. In case you are unfamiliar with the concept, it basically gives an overview of your Spotify activity from within a specific time window (a couple of months from the calendar are missed out for reasons that are explained in depth here).
When it arrives in your email inbox at the beginning of December, Wrapped will collate all of your data into one easily digestible (and social media friendly) snapshot. Among other things, it will tell you which artists you have streamed the most, what your favourite genres have been and if there were any massive trends that happened to pass you by. It's a fun roundup, or a deeply embarrassing one depending on the nature of your results.
While all of this is common knowledge by now — given that the number of people who use the feature has grown exponentially since it was introduced — you might be surprised to learn that there is a separate Wrapped just for artists. Functioning almost like an inverse of the consumer version, this provides creators with an opportunity to see what their core demographics look like, find out how many hours their music was streamed for in total, and discover who their top listeners of the year were. All of which is information that can be made available publicly via "sharecards".
This data can be interesting for fans, as it enables them to compare how their favourite bands and vocalists are faring, but it's especially useful for independent artists who are just getting started in the industry. To explain this in more detail, Grace Christian (better known as mazie) spoke with Newsweek in an exclusive interview.
mazie on how Spotify Wrapped democratizes music data
For a bit of background about mazie herself, the 22-year-old from Baltimore first came to the attention of music fans in April last year, after debuting her first single "no friends". Arriving at the start of lockdown, the song struck a chord with a lot of members of Gen-Z, thanks to its relatable lyrics and themes of anxiety, disillusionment, and angst (all which were playful juxtaposed with an upbeat melody).
She released a couple more tracks in the intervening months, but truly rose to prominence in 2021 with the release of her album "the rainbow cassette". She has been likened to both Billie Eilish and Gwen Stefani (the latter of whom has been cited as an influence), but has her own unique voice that sets her apart from the crowd.
It's been a banner-year for the newcomer and so she is particularly excited to see how this will be reflected in her Artist Wrapped. Speaking about this, mazie said: "Yeah, I feel like the day that Spotify Wrapped comes out has been a bit of a cultural moment for the last couple of years. As soon as I see one person's story, I'm like: 'Oh shi*t, it's out'!"
"In my case, it'll be in my inbox as a regular consumer, but also as a separate email for me as an artist. So, there is two different sides of it, which I love. If you have experienced the consumer side, it's literally the exact same thing, but just with different data points. It's got your demographics, information on where you've been listened to the most, and your cumulative listeners. So, it's pretty awesome!"
It's worth pointing out that mazie has only experienced the Artist Wrapped microsite once so far (given that her career only took off in 2020). Yet, despite this, she is incredibly knowledgeable on the subject and has deep insights into what it means for burgeoning talent.
She continued: "I think the thing that's the most interesting for me is that these major corporations have access to so much metadata, right? Whether it's Spotify, Apple Music or a major label's system. The difference is that Spotify has democratized that access to metadata and made it freely available, which I think is so sick!
"You know, I don't have access to a large infrastructure within a major label system. Established artists can use their resources to access various data points and analytics, but I can't do that. Yet by just putting music out on the Spotify platform I can now get those things. It provides so much more transparency.
"I would say the most useful part is probably getting to see your overall number of listeners because that ebbs and flows from month to month. So, it's really nice to actually see what it looks like throughout an entire 12-month term. The other thing too is that you're able to see which fans have listened to your music the most. So, you're able to actually connect with the people who have been quietly listening to your work. I think that is single-handedly the most important feature of Spotify Wrapped."
mazie on dropping out of university after her Spotify success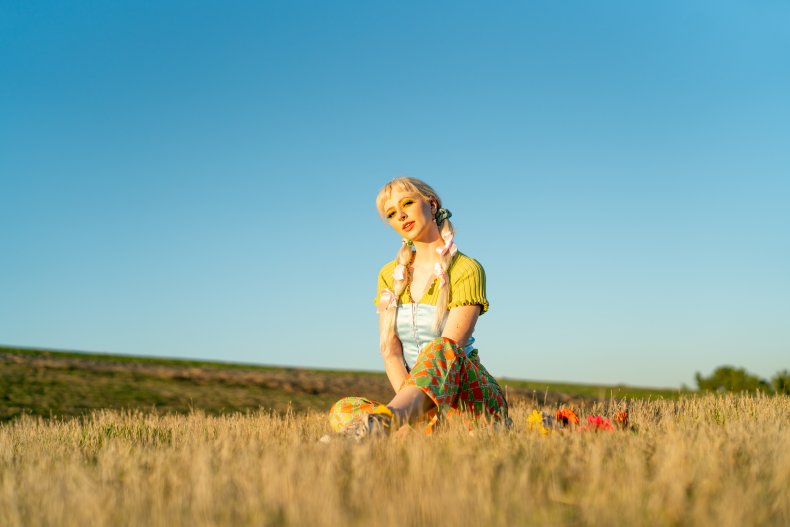 If you were wondering how somebody so new to the industry could be so well-versed in its intricacies, that's because mazie actually studied them at Drexel University. Having enrolled in a music program, which focussed a lot on how the business side of things worked, she really knows her stuff.
"I eventually dropped out, but I did study for a little bit. I think my interest in the topic stems from the fact that my producer started the label that I'm now signed to. So, I feel like I have seen the development of a brand-new business in the last two years. I guess I've been very involved in that side things.
"I'm sure I could have finished if I really wanted to, but my first song ended up on the Lorem Spotify playlist and then the A&R (Artists and Repertoire) for pretty much every single major label was reaching out to me all of a sudden. So, it just accelerated my first steps so drastically and I had to leave my regular life behind. "
In that sense, mazie directly credits her big break to Spotify, as it gave her a large enough platform to drop out of her course and pursue a singing career full-time. When asked if she could envision being in the same position without online streaming, she said: "Absolutely not. If it weren't for those sites, we would have to go back to the days of us relying on major labels to get our music out there.
"There are still so many flaws with streaming platforms in general, but I would not be in the position I'm in right now without Spotify. I mean, when I got my first Artist Wrapped, it blew me away that there were people who had me within they're top five Artists of the Year! Especially considering that I only had three songs out at the time. So yeah, it just removes that wall".
When asked if the information gleaned from Wrapped could potentially influence the direction she takes with her music or future tours, mazie said: "1,000,000,000%! For instance, if I find out that Australia has been disproportionally streaming my stuff compared to other markets, then I would obviously be keen to tour over there. That kind of insight is so beneficial to smaller artists who don't have major record labels to figure out that kind of stuff for them."
The 2021 iteration of Spotify Wrapped is available now. To see your own recap, follow the instructions laid out here. Meanwhile, you can find mazie's share card on Spotify below.