Netflix is cashing in on the popularity of hit South Korean show Squid Game by launching its own reality competition program based on the series.
Squid Game: The Challenge will give 456 English-speaking contestants from around the world the chance to compete to win a life-changing amount of money, just like in the show.
The drama, which starred Lee Jung-jae as main protagonist Seong Gi-hun, saw 456 debt-riddled people try to win a cash prize—the only small catch is it's a game of survival and they have to do everything they can not to die in the process.
What Is The Prize Money for 'Squid Game: The Challenge'?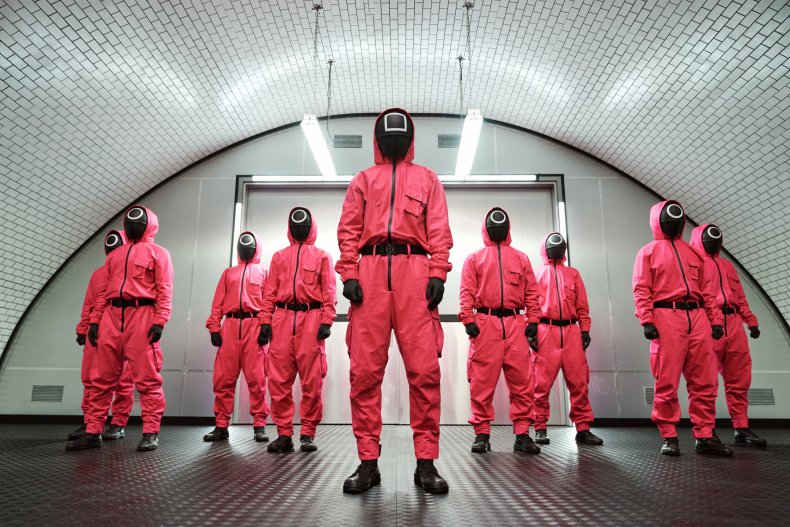 Similarly to the show, Squid Game: The Challenge offers competitors the chance to win $4.56 million.
In Squid Game the competitors were vying for a prize of 45.6 million won, which amounts to approximately $38 million.
Netflix revealed in its announcement about the new show that the money was the largest lump sum cash prize in reality TV history.
The prize money will go to one lucky winner after they have beaten their 455 fellow players to the top spot, though the losers will not die as their onscreen counterparts did in Squid Game.
How the Games Work in 'Squid Game: The Challenge'?
Netflix confirmed that Squid Game: The Challenge will feature a series of games that are inspired by the deadly children's games in the show.
The games in the drama included Red Light, Green Light which saw competitors try and get to the other side of a field and avoid being seen moving by a giant robot girl whenever she turned her head around.
A second game in the show saw competitors play the Dalgona candy game, where they had to cut out the shape from the sugar candy treat without breaking it.
The marble game is the feature of episode 6, and it saw competitors try and win their partner's marbles within a set time limit.
Another game saw competitors play tug-of-war and beat the other team by pulling them off a tall platform, and one sees players jump from one glass panel to the next above a steep drop with some panels breaking upon impact.
Squid Game's final challenge was the one it's named after, which sees competitors try to reach and dominate the home base on a squid-like diagram.
While Netflix has not elaborated on which of these games from the show will feature in the reality competition show, it seems likely that most if not all will be recreated in some way as non-deadly challenges—at least for nostalgia's sake.
Netflix has also confirmed that the reality competition show will feature "surprising new additions" to the game, suggesting there will be other non-show based challenges for players to compete in.
Squid Game is available to watch on Netflix now.