Stacey Abrams Gets Past Mask Scandal to Qualify for Georgia Gov.'s Race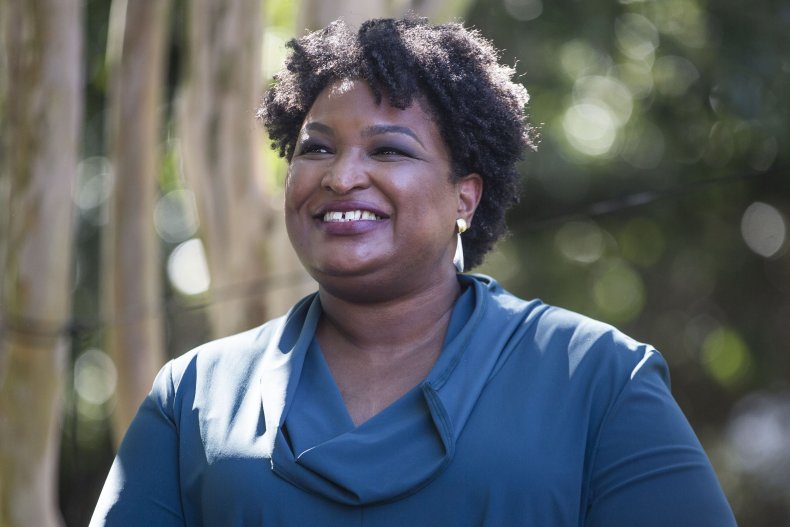 Democrat Stacey Abrams has officially qualified for another run at becoming Georgia's governor after leaving behind a scandal over her appearing maskless with elementary school students.
Abrams signed her qualifying papers on Tuesday, according to the Associated Press. If Abrams becomes the Democratic nominee, she could be set for a rematch with Republican Governor Brian Kemp, who narrowly defeated her in 2018, or face off against former GOP Senator David Perdue, who is mounting a primary challenge to Kemp and backed by former President Donald Trump. Regardless of her opposition, Abrams' campaign is set to focus on many of the same issues as in 2018.
"When I ran for governor in 2018, I ran on a platform of opportunity for all wanting to ensure that we expand Medicaid, that we fully and permanently fund education, that we build economic development plans that work for every Georgian," Abrams reportedly said after the papers were signed. "Sadly, those are still the issues we need to focus on."
Abrams also posted photos of her signing the papers to Twitter on Tuesday, describing the action as "an important moment" while touting her campaign of "real plans to build a brighter future for all."
The qualifying period ends at noon Friday, with names on primary ballots being finalized after that point. Abrams is facing no serious Democratic opposition and would likely be the heavy primary favorite even if another candidate officially files to qualify, although none yet have.
On the Republican side, Perdue filed his qualifying papers on Wednesday, while Kemp is expected to file later this week. Although the Republican race has been particularly heated due to the involvement of Trump, who has at least partly blamed Kemp for his 2020 loss to President Joe Biden, the current governor appears to have a primary edge.
Financial reports released this week showed that Kemp's campaign had raised far more money than Perdue's, while a Fox News poll found the governor with a double-digit lead. Polls also suggest a close general election involving Abrams, regardless of whether she faces Kemp or Perdue.
Kemp has argued that Perdue increases the odds for a Democratic takeover of the Georgia governorship, calling his campaign "Stacey Abrams' surest path to victory." During a rally in Georgia last fall, Trump said that Abrams "might very well be better" than Kemp.
Abrams announced her candidacy in December. She would become the first woman and the first Black person to become Georgia governor if elected.
One month before officially filing to run, Abrams faced backlash, largely from conservatives alleging hypocrisy, after she appeared maskless in a photo with masked students at an elementary school in Decatur.
Abrams apologized for the photo during an appearance on CNN's Erin Burnett OutFront, calling it "a mistake" while explaining that "the kids were socially distanced from me."
Newsweek reached out to the Abrams campaign for comment.