Stacey Abrams Says Police Accountability 'in Question' Over Rayshard Brooks
The decision not to charge two officers, who are both white, over the death of Rayshard Brooks, who was Black, means accountability is "in question," Stacey Abrams has said.
On Tuesday, specially appointed prosecutor, Pete Skandalakis, announced officer Garrett Rolfe, who shot Brooks in June 2020, and colleague, officer Devin Brosnan, will not be prosecuted. Skandalakis, who heads the Prosecuting Attorneys' Council of Georgia, concluded the use of deadly force was "objectively reasonable" given the circumstances.
Abrams, the Democrat governor candidate for Georgia, tweeted shortly after the decision was announced, writing that her prayers were with the Brooks family.
She added: "Accountability is an essential component for community trust and public safety — a component that is in question today.
"Deescalation, co-responders and transparency must become the expected standards."
Bodycam footage of Brooks' death in Atlanta sparked mass protests in the U.S., following earlier demonstrations over the police killing of George Floyd.
Police were called to a Wendy's drive-thru in Atlanta on 12 June 2020 following reports of a man asleep in a car.
Officers spoke to Brooks for about 30 minutes, during which time he was cooperative and undertook several cognition tests.
However, when police concluded Brooks had drunk too much to be driving and attempted to arrest him he resisted, and managed to seize a taser from one of the two officers.
Brooks fired the taser towards Officer Rolfe, who responded by shooting Brooks twice in the back.
Abrams, who is hoping to unseat Republican Governor Brian Kemp, raised her concern about the prosecutor's decision on Twitter.
Her tweet received more than 1,750 likes and 350 retweets.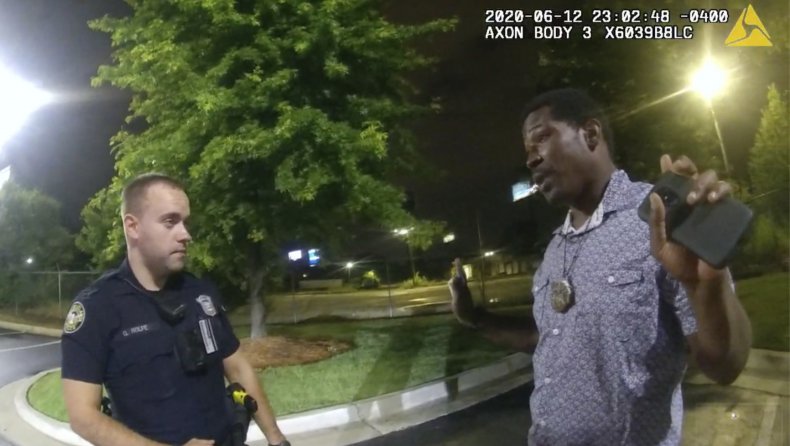 Brooks' killing took place during a time of intense national focus on racism and police violence, following the murder of Floyd by a police officer in Minneapolis.
Protesters gathered in Atlanta where the Wendy's restaurant near where the shooting took place was burned down, and later demolished.
During one demonstration an eight-year-old girl, travelling in a car, was shot and killed. Her family later launched a lawsuit against a number of prominent Atlanta officials.
The day after the shooting Rolfe was fired, though this decision was later reversed by the Atlanta Civil Service Board.
Within a week Paul Howard, then Fulton Country District Attorney, announced warrants against the two officers including one for felony murder against Rolfe.
However, two months later Howard lost a democratic primary to Fani Willis, who asked Georgia Attorney General Chris Carr to reexamine the case after being elected.
Skandalakis concluded the police shooting was "objectively reasonable" in the context of "the quickly changing circumstances".
He admitted relations between the police and the African-American community in Georgia can be "very volatile" but insisted this wasn't a factor, commenting "this isn't one of those cases".
Skandalakis added: "This is a case in which the officers were willing to give Mr. Brooks every benefit of the doubt and, you know, unfortunately, by his actions, this is what happened."
As a result of his findings Skandalakis said he would file paperwork dismissing the warrants against Rolfe and Brosnan.
Abrams has been contacted for comment.