'A Star': Fans Praise Quincy Isaiah for Magic Role in HBO's 'Winning Time'
HBO's Winning Time: The Rise of the Lakers Dynasty is only two episodes old, but that hasn't stopped fans from predicting the future for Quincy Isaiah.
Isaiah, starring as NBA legend and 1980s Los Angeles Lakers superstar Magic Johnson, was a Hollywood newcomer prior to landing the iconic role.
"I did have an IMDb page, it was just blank," Isaiah told Newsweek earlier this month.
"But that's part of it, you know? It's like, creating your own opportunities and really trying to speak it and push things into existence before they're there, and inventing yourself," he added.
Now, after just two weeks, the 26-year-old actor has quickly captured the hearts of Winning Time fans.
Following the series' second episode, which aired last Sunday and earned 1.2 million viewers across HBO and HBO Max (per Deadline), viewers took to social media to sing Isaiah's praises.
"Quincy Isaiah is a star #WinningTime," one Twitter user assured.
"[The] guy who plays Magic Johnson on this Winning Time Show is a f*****g star," another user added, echoing the sentiment.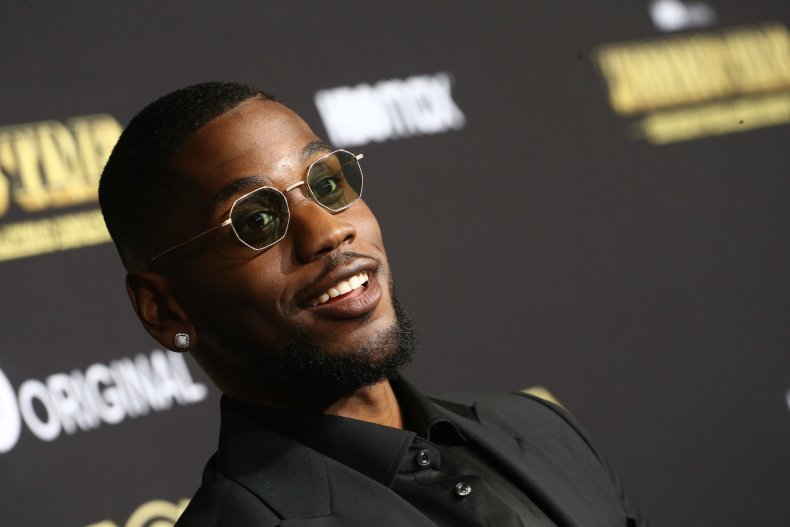 Episode 2 of Winning Time: The Rise of the Lakers Dynasty, titled "Is That All There Is?," follows a 20-year-old Magic Johnson as he leaves his hometown of East Lansing, MI for the bright lights of Los Angeles, CA.
Throughout the episode, Johnson battles for the attention of his future wife, Cookie, who recently entered into a relationship with a put-together store manager from the area.
In one of the episode's most-talked-about scenes, Johnson schools Cookie's boyfriend on the basketball court (with some NSFW trash talk added in), showcasing the dominance that made him the Lakers' number-one overall pick in the 1979 NBA Draft.
In a recent interview with GQ, Isaiah, who played college football for three years at Kalamazoo College, detailed the process of transforming from a collegiate offensive lineman into the TV version of one of the greatest basketball players of all time.
"First things first, I had to lean out," Isaiah told GQ. "I was still big, but I had to get lean.
"I've been playing pickup basketball my entire life, but I had a basketball coach who helped me break down everything about the way I know how to play basketball—because I played like a football player," he continued. "Basketball players don't do strength training the same way football players do. You have to train your body to move laterally so you float a little bit more and there's more finesse. So those people helped me figure out my body and how to move, which really helped create the illusion that I'm a point guard."
To accurately recreate Johnson's signature, free-flowing, flashy-passing play style, Isaiah revealed to The Hollywood Reporter that he was forced to unlearn everything he knew about the modern NBA, opting instead for a game based around 80s fundamentals.
"It's about not bringing the ball up and cuffing it," Isaiah told THR, describing how players handle the ball nowadays. "It's about having a flat hand and the way you move."
"[My coach] wanted to make sure I could just play basketball and break down all of the bad habits that I've picked up from years of pickup," he added. "Once he broke all of that down and made me a basketball player, we started getting into the silhouette of Magic."
Since Winning Time premiered on HBO two weeks ago, on March 6, fans of the show have been blown away by Isaiah's performance as Johnson—with some speculating that he might be better at being Magic, than Magic himself.
"Dude...Quincy Isaiah *is* Magic Johnson," one Twitter user exclaimed. "Give this dude an Emmy ASAP."
"I'm loving Quincy Isaiah as Magic," another user tweeted.
Observing Isaiah's ability to capture the essence of Magic Johnson, on and off the court, Twitter user @habibiting speculated that his Winning Time role will only lead to grander opportunities.
"Quincy Isaiah is absolutely killing his role as Magic and we only two episodes in," they tweeted. "Gotta keep an eye on him, he's gonna be big."