'Star Trek Discovery' Season 4 Release Date: Will There Be Another Season?
Star Trek: Discovery has aired its current season finale, with the cast boldly going into a new mission that seems to set up the plot of Season 4. This has left fans of the CBS All Access and Netflix show wondering exactly if and when they will get to see the next set of episodes of the Star Trek series.
Luckily for Star Trek: Discovery fans, the show has already been renewed for Season 4. In fact, Season 4 was announced back in October 2020, and production began on the new episodes in November.
As for when episodes will air, the release dates of seasons of Discovery have never followed a scheduling pattern. Season 1 began in September 2017, Season 2 in January 2019 and Season 3 in October 2020. That is a 15-month gap between Seasons 1 and 2 and a 20-month gap between Seasons 2 and 3.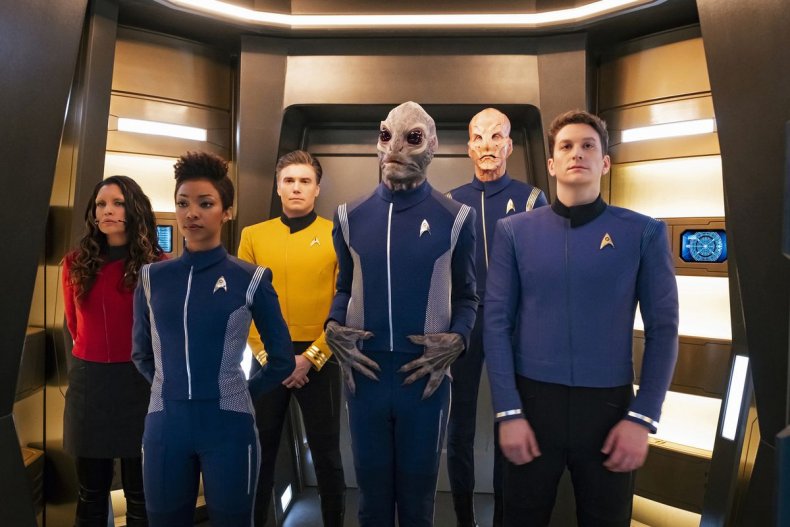 As such, looking at how long the show takes to film may give us a better idea of when to expect Discovery Season 4. Season 3, for example, began shooting in July 2019, wrapped in February 2020 and aired in October of that year—seven months of shooting followed by eight months for post-production.
If Season 4 follows this pattern, then we may expect filming to wrap in June 2021, with a release date sometime around February 2022.
Previous seasons aired on CBS All Access in the U.S. before airing internationally on Netflix the following day, something that is set to continue with Season 4 – though by the time that the seasons stars airing, CBS All Access will have been rebranded as Paramount+.
There are, however, a number of things that could delay Star Trek: Discovery Season 4 further into 2022. The first is coronavirus-related production delays—filming on shows is generally taking longer thanks to new safety guidelines, and production could be shutdown in Discovery's Toronto home at some point in 2021 if there is a spike in cases before the vaccine fully is able to roll out.
Another factor is the other Star Trek series, which may not delay production but could delay the release of Discovery as CBS attempts to spread the shows across its schedule.
Discovery is one six Star Trek shows planned across the ViacomCBS family of networks. Picard has been renewed for Season 2, and the animated show Lower Decks has had two more seasons ordered. Also coming soon are Discovery spin-off Strange New Worlds, anthology series Short Treks and an animated Captain Janeway show. Luckily, however, Discovery is the first of these to go into production, so is likely to be the first of the live-action shows to air.
Star Trek: Discovery Season 4 is coming soon to CBS All Access and Netflix.