'Star Trek: Discovery': Shazad Latif on the Mystery of Ash Tyler, How CBS All Access Has Modernized 'Trek' and Dropping F-Bombs
Star Trek: Discovery, befitting the fictional Starfleet's ethos, is boldly going where no incarnation of Star Trek—or indeed any other television program—has gone before. For one, the new Star Trek is beaming not onto television sets but online, through CBS's All Access streaming service. It is also making a decisive stand for diversity. Discovery's transatlantic, multiethnic cast is led by The Walking Dead's Sonequa Martin-Green as protagonist Michael Burnham—only the second woman to anchor a Star Trek series and the first black person to do so.
Then there's Shazad Latif, a London-born actor of mixed Pakistani-Scottish heritage, who plays the dashing-yet-mysterious new USS Discovery recruit Lieutenant Ash Tyler, Burnham's apparent paramor and the show's romantic lead. Nearly 60 years after Star Trek: The Original Series dared air one of television's first interracial kisses in 1968, the franchise is again making great strides for gender and racial equality.
"It's always a show of firsts—way ahead of its time," Latif tells Newsweek. "As a mixed-race person, I see the world how that show portrays it. It's very normal. They're trying to normalize it. And what they do is they don't mention it, which is how it should be. They don't highlight race—it just is."
Star Trek: Discovery is also pushing forward into the 21st century in other ways. While past incarnations of Star Trek were bound by strict network broadcasting rules, Discovery's streaming home allows it looser shackles. That means that unlike William Shatner's Captain Kirk in the Sixties, Burnham, Tyler and the rest of our modern Starfleet can casually curse. In fact, the show sparked debate in October when it aired the first "fuck" in Star Trek history.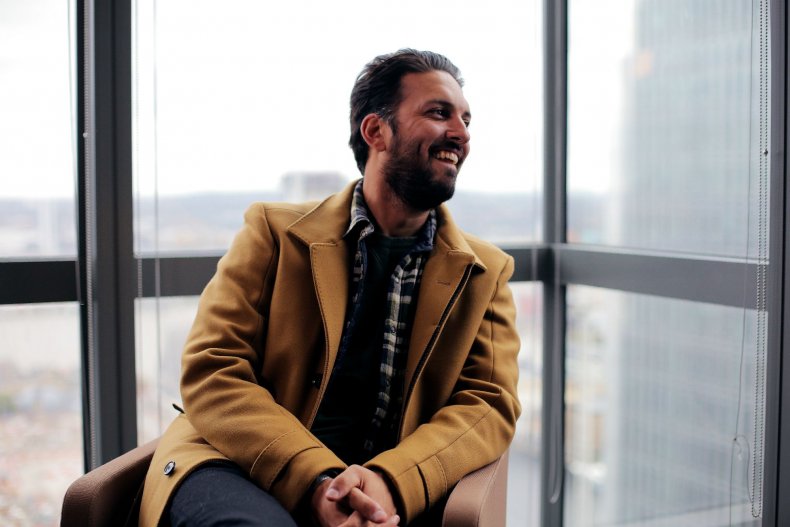 "There's always diehard fans who want to keep tradition and that's fair enough, but I think you have to adapt with the times," says Latif. "People swear nowadays."
Latif's Tyler was introduced in the fifth episode of Discovery, "Choose Your Pain," and so far his presence aboard the USS Discovery has raised more questions than solutions to the ongoing war with the Klingons. Tyler was rescued from Klingon captivity by the Discovery crew and was appointed chief of security by Captain Lorca, played by Jason Isaacs. But already theories have flooded the internet about Tyler's shadowy history, the most far-fetched of which claim he is, in fact, Klingon villain Voq in disguise.
There might be some logic in that thinking. Latif lucked into the role of Tyler. He initially auditioned for, and won, the role of Kol, a Klingon leader. But when he arrived on the Discovery set in Toronto, Canada, the series' producers asked him to read a different part—Tyler. "They were like, 'You might be right for this, do you want to audition for it?' I did a couple of rounds and they were like, 'This is working. Would you rather do that?' It was a bigger part, it was a better part and I'd have less time in prosthetics, so I was like, great."
So, who is the mysterious Lieutenant Tyler? "He's very dark," Latif says. "He's got a lot of inner turmoil, he's a very complex character. It's not just that classic lighthearted action hero character. It gets dark and emotional." Central to Tyler's character arc will be Discovery's leading lady, Burnham, who does fit the mold of an action hero. Latif says the subversive gender roles are another of the show's strengths: "[Tyler]'s a very vulnerable man. We've got Sonequa who is playing a powerful woman. We've flipped it. It's trying to change that idea of what strong is. You can be vulnerable and strong—you don't just have to be able to punch someone and be macho. That's what we like about [Marlon] Brando in On the Waterfront."
Latif himself is less of a mystery. He's perfectly affable, quirky (he doesn't have a smartphone and doesn't text, he says, whipping out an old relic of a Nokia from the '90s) and easily conversable.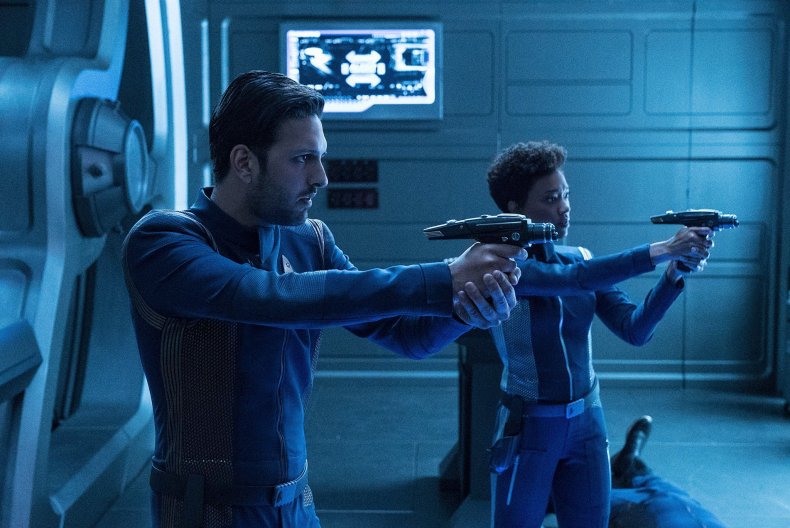 Though Star Trek: Discovery is his biggest role to date, Latif has achieved numerous credits in both his native U.K. and in the U.S., including British television drama Spooks and the cult hit Penny Dreadful. On the big screen, he's appeared alongside Dev Patel in both The Second Best Exotic Marigold Hotel and The Man Who Knew Infinity. He'll next appear with Liam Neeson in what may be the veteran actor's final action thriller, The Commuter, released in early 2018. "It's one of those classic action movies—Liam Neeson on a train trying to decipher who's the bad guy," Latif teases.
But the 29-year-old says that roles for actors of Asian, or mixed-Asian descent, are still lacking in Hollywood. "The group of Asian actors that I've been growing up with—Riz [Ahmed], Dev [Patel], Arsher Ali—we've been grinding it for 10, 15 years. There's a limited amount of roles, it just takes time. Riz, Dev, they're opening those doors. And they're full Asian," Latif jokes. "I'm mixed—so I'm never brown enough or white enough. I'll get down to the last two [auditionees] and they'll go, 'You're not light enough' or 'You're not dark enough.'"
Latif believes the changing television landscape has been key to non-white actors getting more work. Between broadcast, cable and streaming, there will be an estimated 500 scripted series on the air in 2017—more than double the number that aired in 2010. "[TV] has always been slightly ahead. The film roles have been slightly behind—I have to play the Indian guy or whatever. Some of the casting breakdowns I've got over the last 10 years are hilarious. But it's gotten less and less specific. The last five roles I've got, I've played a guy called Rick, a guy called Clem...you can see the improvement on my CV. The first five I did, it was Tariq, Riz."
Star Trek: Discovery streams Sundays on CBS All Access in the U.S. and globally Mondays on Netflix.