Stephen Breyer Defends Ginni Thomas' Freedom to Pursue Political Activism
Former Supreme Court Justice Stephen Breyer is defending Ginni Thomas, conservative activist and wife of Justice Clarence Thomas, amid the controversy surrounding her support for former President Donald Trump's efforts to overturn the results of the 2020 election.
In his first interview since his retirement from the bench, Breyer told CNN's Chris Wallace on Friday that Ginni should have say over her political activity and that it shouldn't damage the standing of the Court.
"I don't go through that in that I strongly believe that women who are wives, including wives of Supreme Court justices, have to make the decisions about how to lead their lives, careers, what kind of career, etc., for themselves," the former justice said. "I'm not going to criticize Ginni Thomas, whom I like. I'm not going to criticize Clarence, whom I like. And there we are."
Earlier this year, the Thomases came under scrutiny after texts between Ginni Thomas and former White House chief of staff Mark Meadows revealed that she had repeatedly urged Meadows to overturn the 2020 election and made numerous false claims about widespread voter fraud.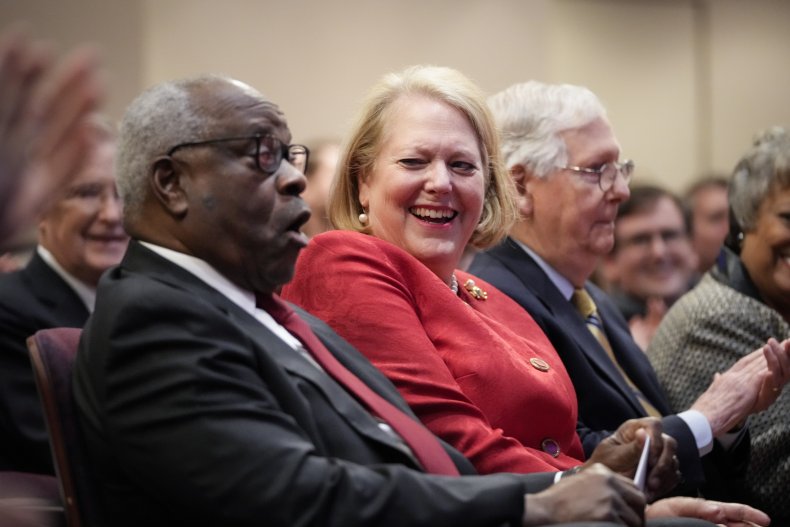 "Help This Great President stand firm Mark!!! ...," Ginni said in one message. "You are the leader, with him, who is standing for America's constitutional governance at the precipice. The majority knows Biden and the Left is attempting the greatest Heist of our History."
Ginni was also pressing Republican lawmakers in Arizona and Wisconsin, key swing states won by President Joe Biden, to reject the election results and for each to choose a "clean slate of Electors" to cast votes in the Electoral College, according to emails later obtained by The Washington Post.
Her husband, who is the most ideologically conservative justice on the Court, subsequently faced calls to recuse himself from any cases related to the January 6 Capitol riot. A petition to impeach him gathered more than 1.2 million signatures after his wife was asked by the House select committee investigating the riot to testify.
"Thomas' failure to recuse himself warrants immediate investigation and heightened alarm," the petition reads. "And it's only the latest in a long history of conflicts of interest in the service of a right-wing agenda and mixing his powerful role with his conservative political activism."
"He has shown he cannot be an impartial justice and is more concerned with covering up his wife's coup attempts than the health of the Supreme Court," it continued.
In the interview with Wallace, which was released Friday on HBOMax and airs Sunday night on CNN, Breyer said that at times conversations between justices were "a little less jolly," but that relations between the Court's liberal and conservative members were never as fraught as it appeared on the outside.
"You do your best, you know, and maybe people will agree. And maybe they don't. And maybe you'll win. And maybe you'll lose. And then what you do is you think about it for a while," he said. "Go on to the next thing, so that you can do a decent job on the next thing, and just keep going."
Despite his optimism, Breyers, who spent nearly three decades on the Supreme Court, said that he found being in the minority opinion on a number of hot-button cases during his final term on the bench "very frustrating."
Asked about the controversial Dobbs v. Jackson Women's Health Organization decision that overturned the 1973 landmark ruling in Roe v. Wade in June, the justice said, "Was I happy about it? Not for an instant. Did I do everything I could to persuade people? Of course, of course."
"But there we are and now we go on. We try to work together," he added.
Newsweek reached out to Ginni Thomas for comment.