Ginni Thomas Pressured Multiple Swing States to Overturn Biden Win: Emails
Virginia "Ginni" Thomas, wife of conservative U.S. Supreme Court Justice Clarence Thomas, reportedly attempted to sway 2020 election results in the battleground state of Wisconsin following repeated communication with dozens of Arizona state lawmakers.
The Washington Post reported that she contacted 29 Arizona lawmakers, some multiple times, in November and December of 2020 and urged them to "choose" their own presidential electors while ignoring President Joe Biden's popular vote victory—a contradiction of Arizona state law that stipulates voters choose electors.
Emails to Republican Wisconsin lawmakers state Senator Kathy Bernier and state Representative Gary Tauchen reportedly showed communication at 10:47 a.m. on November 9. It was the same time Arizona lawmakers received a "verbatim copy," according to the Post, which obtained the Bernier email, while the Tauchen email was obtained by the watchdog group Documented and then provided to the Post.
Thomas reportedly sent all of the emails through FreeRoots, an online platform that allowed people to send pre-written emails to multiple elected officials.
"Please stand strong in the face of media and political pressure," read the November 9 emails, days after Biden's election victory. "Please reflect on the awesome authority granted to you by our Constitution. And then please take action to ensure that a clean slate of Electors is chosen for our state."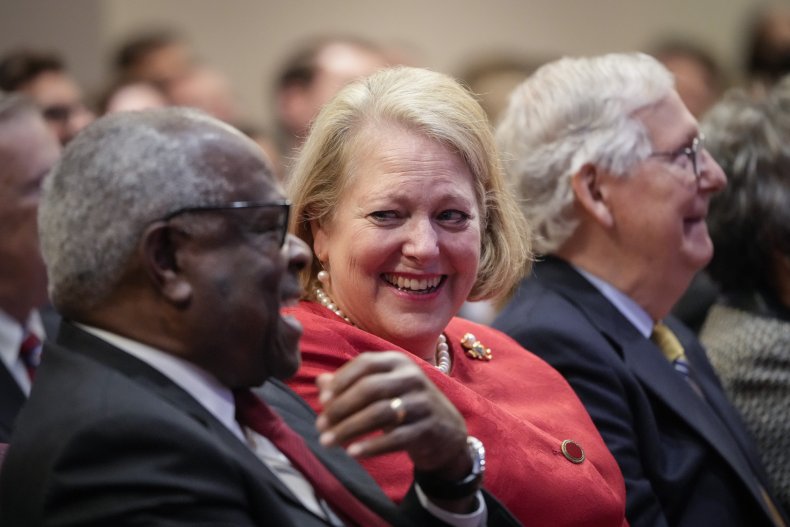 Ginni Thomas has refused to testify before the January 6 committee. Previously, her attorney, Mark Paoletta, wrote a letter to the committee that was later obtained by The New York Times that stated there was not a "sufficient basis" for her to testify.
Newsweek reached out to Paoletta for comment.
Previous emails uncovered by The Washington Post revealed that Ginni Thomas told two Arizona legislators, "Please do your Constitutional duty!" and encouraged them to choose a "clean slate of Electors" and to "audit" the 2020 presidential vote.
Public outcry escalated for Thomas to be subpoenaed due to revelations that she had emailed John Eastman, a former campaign attorney for Donald Trump. The emails reportedly showed that her efforts to overturn the 2020 election were greater than previously known.
Republican Representative and January 6 committee Co-Chair Liz Cheney reiterated that Thomas could still be subpoenaed, saying that the committee hopes Thomas would testify "voluntarily."
"But the committee is fully prepared to contemplate a subpoena if she does not," Cheney said on July 24.
Attorney and former Watergate prosecutor Jill Wine-Banks has suggested that even with a subpoena, Ginni Thomas might be able to get out of testifying due to her husband citing spousal privilege and his inability to testify against her.
Newsweek reached out to Bernier, Tauchen and the Supreme Court for comment.