Liz Cheney Hints at Ginni Thomas Subpoena Following Bannon Indictment
Representative Liz Cheney, a Wyoming Republican, hinted on Sunday that the House select committee investigating January 6, 2021, might consider issuing a subpoena for Virginia "Ginni" Thomas, the wife of Supreme Court Justice Clarence Thomas, if she doesn't cooperate with the panel.
"We certainly hope that she will agree to come in voluntarily. But the committee is fully prepared to contemplate a subpoena if she does not," Cheney said during an appearance on CNN's State of the Union, adding that she hopes it doesn't get to that.
Cheney, who is currently serving as the vice chair on the House committee, noted that it is important for the panel to speak with Thomas about events related the Capitol riot.
"We have certainly spoken with numbers of people who are similarly situated in terms of the discussions that she was having [with Meadows and Eastman about efforts to overturn the 2020 election results]. So it's very important for us to speak with her," the congresswoman said, who voted with nine other House Republicans to impeach former President Donald Trump after he allegedly incited his supporters to attack the U.S. Capitol.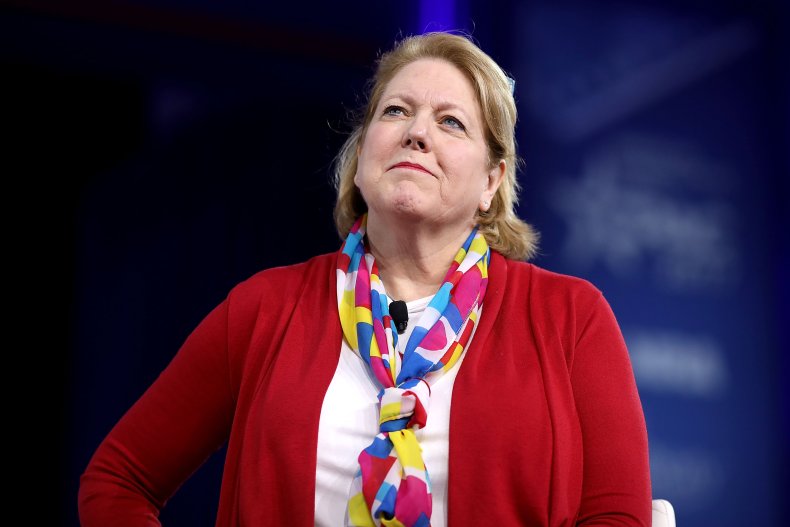 Calls to subpoena Thomas have been made following allegations that she discussed efforts to overturn the 2020 election results with former White House chief of staff Mark Meadows and Donald Trump's campaign lawyer John Eastman, who allegedly played a role in pressuring former Vice President Mike Pence to not certify the election results.
Her emails with Eastman were obtained by the committee, who previously told The Washington Post, that those emails show that her efforts to overturn the election results were greater than previously known. Additionally, she allegedly texted Meadows urging him to prevent a Joe Biden presidential victory as she described the 2020 election as "the greatest heist of our history."
In June, calls to subpoena Thomas were revived after her lawyer Mark Paoletta told the committee that there was no "sufficient basis" for her to testify, according to a letter obtained by The New York Times.
Newsweek has reached out to Paoletta for comment.
Cheney's remarks on Sunday come after Trump's former chief strategist, Steve Bannon, was convicted on Friday on two counts of contempt of Congress for refusing to comply with subpoenas from the committee. Bannon, who is set to be sentenced on October 21, could face a minimum of 30 days and up to one year in jail.
Bannon initially defied the panel's subpoenas late last year, citing "executive privilege," which prevents the public release of documents involving presidents. In response, the committee sought contempt charges and accused him of hiding behind Trump's "insufficient, blanket, and vague statements regarding privileges he has purported to invoke."
The House committee has been holding a series of public hearings to present evidence showing the alleged involvement of Trump and his top allies in efforts to overturn the 2020 presidential election results. In its eighth hearing on Thursday, the committee played an audio from a meeting that Bannon allegedly had with associates days before the 2020 election.
"What Trump's gonna do is declare victory," Bannon said in the clip. "But that doesn't mean he's the winner. He's just going to say he's the winner."
The committee's evidence on Thursday also detailed Trump's lack of response for over three hours while rioters stormed the Capitol building.