Bannon Wants to Know if Jurors Watched Jan. 6 Hearing
The jury began deliberation in the Steve Bannon contempt of Congress trial after closing arguments were presented Friday.
In November, Bannon was indicted on two counts of criminal contempt of Congress for refusing to comply with the subpoena from the House Select Committee investigating the events of Jan. 6. Bannon pleaded not guilty to the charges. He faces a minimum of 30 days in jail if found guilty.
Bannon's defense team began the day by filing a motion asking the judge to ask the jurors if they watched last night's Jan. 6 hearing, according to court documents.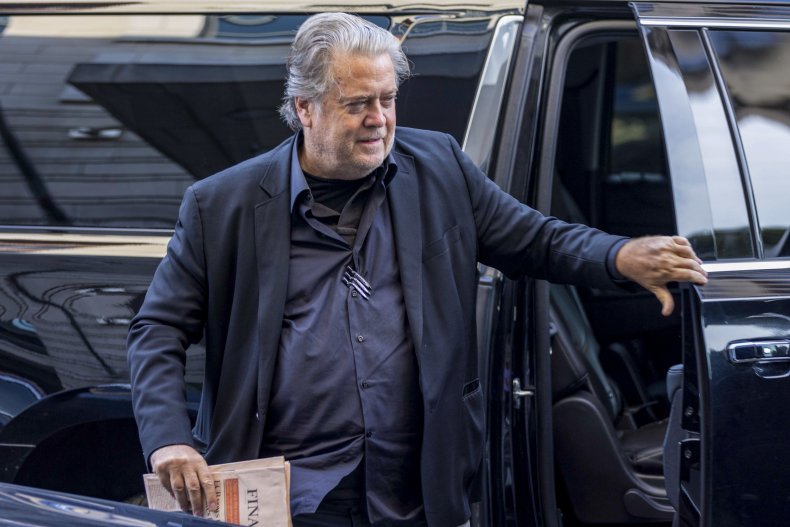 "The Defendant respectfully requests, subject to the Court's experienced view on how best to address the matter, that there should be some inquiry, while assuring the jurors of the importance of candor and that they will not suffer negative consequences if they acknowledge exposure to the broadcast or its subject," Bannon's team wrote in the motion.
His team argued that Bannon's featured segment during the hearing was "highly inflammatory."
"The nature and substance of the segment present a significant cause for concern regarding possible prejudice to Mr. Bannon's constitutional fair trial rights and right to a jury trial if a juror viewed the segment of was made aware of it in some manner," the motion read.
Bannon served as former President Donald Trump's chief strategist and pushed false claims of widespread election fraud.
During the Jan. 6 hearing Thursday night, the House Select Committee played audio from a meeting Bannon held with associates days before the 2020 election.
"What Trump's gonna do is declare victory," Bannon said in the clip. "But that doesn't mean he's the winner. He's just going to say he's the winner."
Bannon also said that Trump would claim the election was stolen if he was losing on election night.
"If Trump is losing...it's going to be even crazier," he said. "He's going to sit right there and say they stole it. If Biden is winning, Trump is going to do some crazy sh*t."
Trump did claim he won the election, despite his advisers repeatedly telling him that he lost and there was no evidence of election fraud.
"What the new Steve Bannon audio demonstrates is Donald Trump's plan to falsely claim victory in 2020, no matter what the facts were, was premeditated," Committee Vice-Chair Liz Cheney said. "Perhaps worse, Donald Trump believed he could convince his voters to buy it, whether he had any actual evidence of fraud or not."