Impeach Clarence Thomas Petition Hits 1M Signatures: 'Justice is Needed'
A petition calling for the impeachment of Supreme Court Justice Clarence Thomas has passed a million signatures.
The petition was launched earlier this year by advocacy group MoveOn after it emerged that Thomas' wife, Virginia "Ginni" Thomas, had repeatedly urged aides of former President Donald Trump to try to overturn the result of the 2020 presidential election, prompting calls for the justice to recuse himself from cases related to the January 6, 2021, attack on the U.S. Capitol.
The petition has gained hundreds of thousands of signatures since the court overturned Roe v. Wade last week, stripping away constitutional protections for abortion.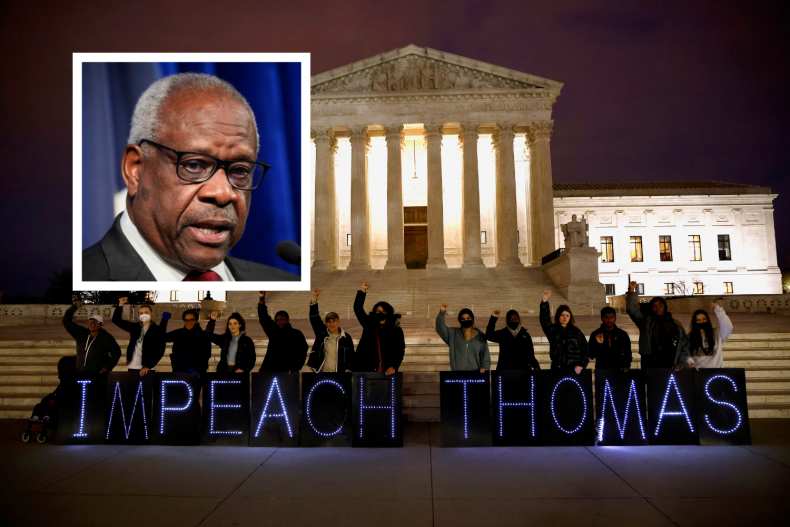 It was addended to note that Thomas, who voted with the majority to overturn the landmark ruling, "made it clear what's next: to overturn high court rulings that establish gay rights and contraception rights."
"Justice is needed," one person noted as their reason for signing the petition, while another said he "never should've been appointed to begin with."
The petition noted that Thomas, who was appointed by former President George H. W. Bush in 1991 and is the longest-serving member of the Supreme Court, was the lone dissenting voice when the Supreme Court ruled earlier this year to allow the House select committee investigating the January 6 attack to obtain access to contested White House records.
"It has become clear that his wife—longtime conservative activist Ginni Thomas—was actively urging the White House to overturn election results both leading up to January 6 and after the deadly insurrection," the petition states.
"Thomas' failure to recuse himself warrants immediate investigation and heightened alarm. And it's only the latest in a long history of conflicts of interest in the service of a right-wing agenda and mixing his powerful role with his conservative political activism. He has shown he cannot be an impartial justice and is more concerned with covering up his wife's coup attempts than the health of the Supreme Court.
"He must resign—or Congress must immediately investigate and impeach."
MoveOn's executive director, Rahna Epting, previously told Newsweek that Ginni Thomas' text messages "revealed a direct conflict of interest for Justice Thomas when a lawsuit came before the Supreme Court on whether the Trump White House needed to disclose communications we now know included texts from his wife. Justice Thomas was the only vote against White House officials having to disclose the documents."
Epting said: "This is a severe conflict of interest. Justice Thomas has disgraced himself and American democracy. He must immediately resign or be impeached."
MoveOn has been contacted for additional comment.