Stephen Colbert Calls Donald Trump's Statement Taking Credit for Vaccines 'Pathetic'
Stephen Colbert has hit out at Donald Trump over the former president's "pathetic" statement he released about the coronavirus vaccine rollout in the U.S.
Trump, who is still banned from Twitter, released a statement on Thursday claiming that he was responsible for the progress with the vaccines due to his administration's Operation Warp Speed.
"I hope everyone remembers when they're getting the COVID-19 (often referred to as the China virus) vaccine, that if I wasn't president, you wouldn't be getting that beautiful 'shot' for five years, at best, and probably wouldn't be getting it at all," Trump said.
Colbert poked fun at Trump releasing the statement, joking that it is something he would have preferred to tweet.
Colbert noted that Trump was not part of a vaccination advert campaign which included former presidents Jimmy Carter, Bill Clinton, George W. Bush and Barack Obama.
"Maybe his invite got lost in the mail... because he destroyed the postal service!" the host joked. "Ol' 45 was left out of the POTUS PSA party, but he did put out his own statement about the vaccine."
Then, reading the statement aloud, Colbert mocked: "First of all, that's unbelievably sad.
"Second, pathetic. Third, how did we even find out about this statement? He can't tweet this stuff! Did he just print it out and staple it to telephone poles around Palm Beach? He might as well have just released 'Ex-prez will take credit, and teach you guitar!'"
"We banned him from Twitter," he concluded. "Can we ban him from paper? Is that possible?"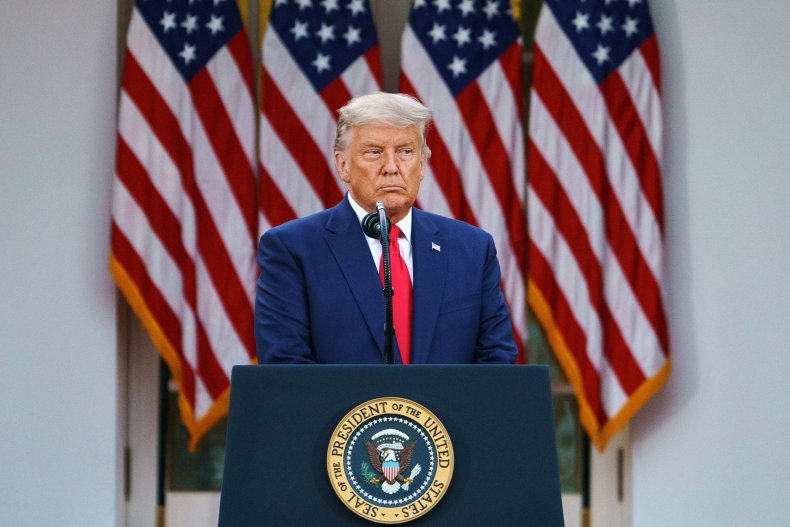 The Biden administration has said Trump's team left them with no roadmap to distribute the vaccine across the country when he left office in January.
This week, President Joe Biden addressed the nation, saying that all adult Americans will be eligible for the vaccine by May 1, with the goal of having a number of lockdown restrictions lifted by the Fourth of July.
"If we do our part, if we do this together, by July the 4th, there's a good chance you, your families and friends will be able to get together in your backyard or in your neighborhood and have a cookout and a barbecue and celebrate Independence Day," Biden said.
"That doesn't mean large events with lots of people together, but it does mean small groups will be able to get together."
However, Biden's announcement has prompted many Republicans to suggest that the Biden Administration should credit the Trump administration's Operation Warp Speed.
Former Arkansas Gov. Mike Huckabee tweeted: "Breaking wind from CNN the Cuomo News Network! Joe Biden breaks his arm patting himself on the back for building on Covid response made possible by Pres Trump & Operation Warp Speed but Biden gives Trump no credit."
Fox News host Sean Hannity said: "Joe, you want unity? Why don't you just thank Donald Trump? You want us all to get along, you say. No Trump, no vaccine, Joe. Stop trying to take credit for something, frankly, you had nothing to do with. Nothing."