Former White House chief strategist Steve Bannon cut off one of the guests on his War Room podcast after the person admitted that Donald Trump lost the 2020 presidential election.
During a Thursday taping of the show, conservative economic writer Stephen Moore told Bannon, "I am so frustrated right now because I really believe if Trump—if the American people had not made such a big mistake in November, and I think people recognize they did—" before Bannon cut him off.
"Whoa! Whoa, whoa, whoa," Bannon said as he interrupted his guest. "You mean in not fighting hard enough to make sure that we got to the steal? Dude, you're in the War Room."
Bannon continued, "You mean we didn't fight hard enough to make sure that we got the big steal. Let's leave that aside." As Moore tried to clarify what he said, Bannon told him, "I know, you still want to go on Fox. I got it." The host then called the current Biden administration "the illegitimate regime that's there."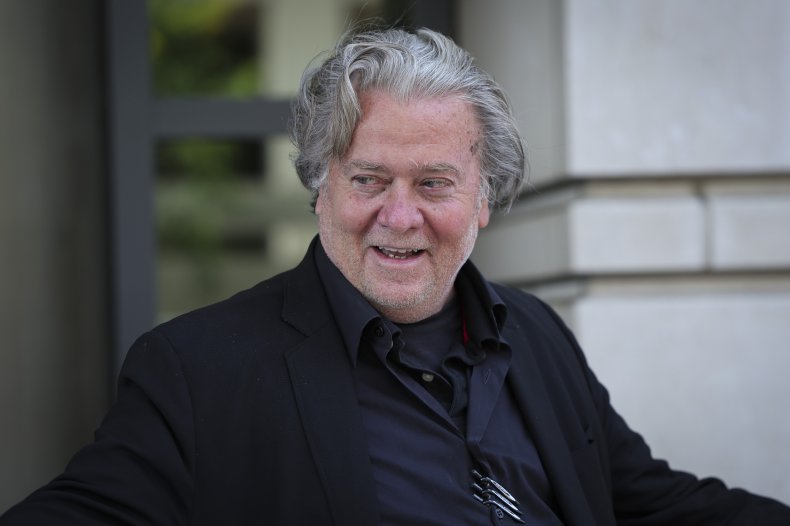 Bannon has repeatedly echoed Trump's baseless claims that the 2020 election was "stolen" through widespread voter fraud. Meanwhile, after refusing for months to testify before the House select committee investigating the January 6 attack on the U.S. Capitol, Bannon agreed last weekend to appear for an interview in a last-minute decision. In a letter to the committee, his lawyer said that Bannon was authorized to testify by the former president.
Bannon's agreement to testify came as his criminal trial is set to begin next week. He could get at least 30 days in jail if convicted of the two contempt of Congress charges he's facing for his failure to comply with the House panel's subpoena.
The Department of Justice (DOJ), meanwhile, said Bannon's sudden reversal was "irrelevant" to his prosecution.
"The defendant's last-minute efforts to testify, almost nine months after his default—he has still made no effort to produce records—are irrelevant to whether he willfully refused to comply in October 2021 with the Select Committee's subpoena," federal prosecutors wrote in a Monday court filing.
It added that his "continued failure to comply with the subpoena's document demand while claiming he now will testify suggests his actions are little more than an attempt to change the optics of his contempt on the eve of trial, not an actual effort at compliance."
On Thursday, a federal judge again denied Bannon's attempt to delay his trial until mid-October.