Rupert Murdoch's media empire has "turned on" former president Donald Trump, according to Trump's longtime adviser Steve Bannon.
Bannon made the comments in a Gettr post responding to a Vanity Fair article that pointed out how columnists at several of the media tycoon's U.S. newspapers have been urging readers to "dump Trump" and back Republicans with a better chance of regaining the White House in 2024.
"The game's up for the Donald… It's time Republicans put their faith in the Ronald," Piers Morgan wrote in a recent column for the New York Post, referring to Florida Governor Ron DeSantis.
The piece also outlined how Fox News has been giving DeSantis a national spotlight ahead of a possible 2024 presidential run.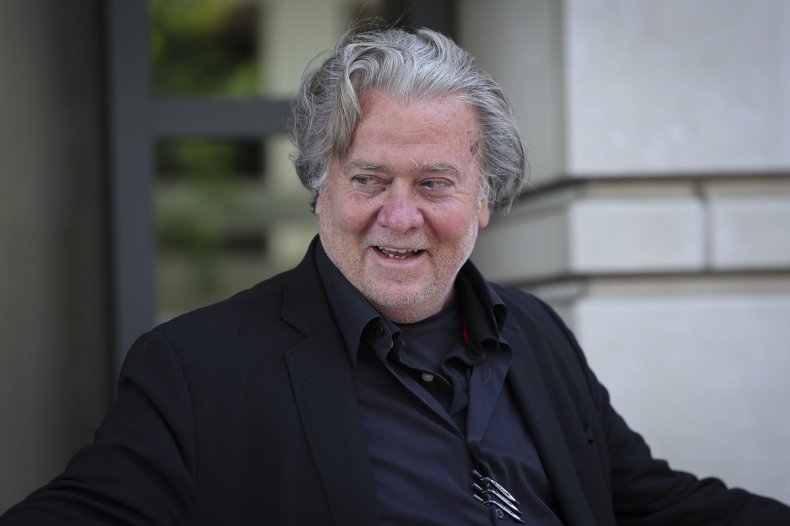 "The Murdochs —-Australians via England—not American, have never sacrificed anything for this Country—their entire media Empire has turned on Trump — Fox News, Wall Street Journal , New York Post , Times of London , The Sun etc etc etc——all lockstep against Trump," Bannon said in a post on Gettr.
Murdoch "has zero 'feel' for America or Americans— I know this first hand —from 2015 and 2016," Bannon added. "Fear not — we've got this."
Bannon has continued to falsely claim that Trump won the 2020 election as the House select committee investigating the January 6, 2021 attack on the U.S. Capitol holds televised hearings detailing how Trump's efforts to overturn the election led to his supporters violently storming the building in a bid to disrupt Congress from certifying Joe Biden's victory.
"Trump knew he won because he did win—and he was told and shown he did win REPEATEDLY... watch WarRoom from those days of November thru Inauguration day," Bannon said on Gettr last week, referring to his right-wing podcast, War Room.
Bannon was chief executive of Trump's 2016 presidential campaign before serving as chief strategist in the White House until August 2017.
In August 2020, Bannon was indicted by a federal grand jury for conspiracy to commit mail fraud and money laundering connected to a crowdfunding campaign that claimed to be raising funds to help Trump construct a wall along the U.S.-Mexico border. Prosecutors said Bannon and three others used the funds to enrich themselves.
Bannon was pardoned by Trump shortly before he left office on January 20, 2021.
Last November, the Department of Justice announced that Bannon had been indicted on two counts of contempt of Congress for refusing to comply with a subpoena issued by the committee investigating the Capitol attack.
A federal judge last week rejected Bannon's efforts to dismiss the case. He is facing trial on the charges in July.
Newsweek has reached out to Bannon, Fox News, Trump's spokeswoman and DeSantis' office for comment.