Steve Bannon Attacks Dick Cheney, Criticizes His 'Demon Seed'
Steve Bannon has hit out at Dick Cheney and his "demon seed" daughter, Wyoming rep. Liz Cheney, after the former vice president called Donald Trump the greatest "threat to our republic" in its history.
Bannon, a former White House adviser, was reacting to the campaign ad released by Dick Cheney attacking Trump over his false claims that the 2020 Election was rigged and calling him a "coward."
Posting on Gettr, Bannon accused the man who was VP under George W. Bush of being a "war criminal"—in reference to his role in the Iraq War and claims at that time that Saddam Hussein had weapons of mass destruction—while suggesting his daughter will lose her upcoming primary.
"Dick Cheney is a war criminal..lied to the American people and brought nothing but death and destruction to Iraq ....Cheney's demon seed will be destroyed at the polls by the good folks in Wyoming... and then we will be done with them," Bannon wrote.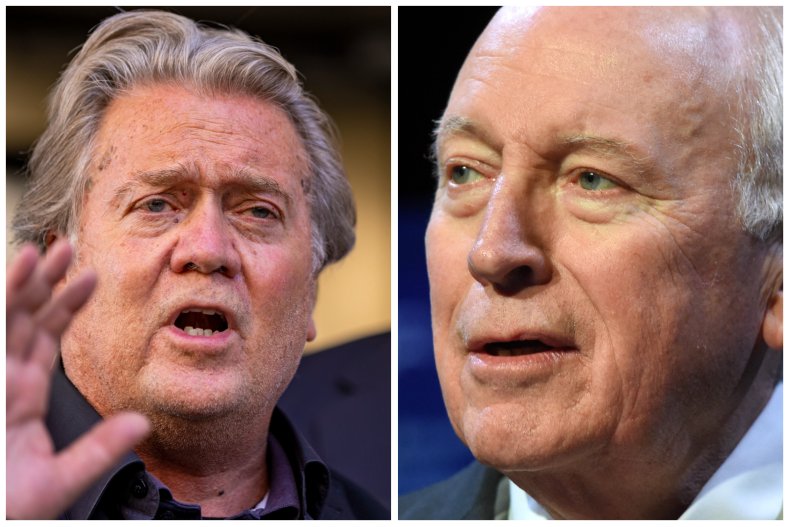 Bannon made the remarks while awaiting sentencing after being found guilty of contempt of Congress for defying a subpoena issued by the House Select Committee investigating the January 6 attack. Liz Cheney is vice chair of that committee.
Liz Cheney, who is facing a battle to keep her congressional seat as she faces the Trump-endorsed candidate Harriet Hageman in the August 16 GOP primary, posted the ad featuring her father on Twitter. The clip has since been viewed more than 5 million times.
"In our nation's 246 year history, there has never been an individual who is a greater threat to our republic than Donald Trump," Dick Cheney said. "He tried to steal the last election using lies and violence to keep himself in power after the voters had rejected him.
"He is a coward. A real man wouldn't lie to his supporters. He lost his election and he lost big. I know it, he knows it and deep down I think most Republicans know it."
Dick Cheney said that he and his wife were "proud" of their "fearless" daughter for "honoring her oath" to the Constitution.
"Liz is fearless," he added. "She never backs down from a fight. There is nothing more important she will ever do than lead the effort to make sure Donald Trump is never again near the Oval Office. And she will succeed."
A number of other figures have also criticized Dick Cheney for the video, noting his role in the Iraq War, and how Bush also managed to win the 2000 election thanks to a recount in Florida, which had been targeted Republicans such as Roger Stone in the so-called "Brooks Brothers riot."
"Dick Cheney, notorious election thief and all-time liar, now yelling at Trump for ... trying to steal an election and lying about it, uh-huh," tweeted Nitish Pahwa, web editor at Slate.
Liz Cheney's campaign team has been contacted for comment.