Democratic Rep. Adam Schiff believes the criminal contempt charges brought against Steve Bannon will help the House select committee's investigation into the Capitol riot. Indeed, he said Sunday, they started to do so even before the Justice Department's indictment of the former Trump adviser on Friday.
Appearing on NBC's Meet the Press, Schiff said that the DOJ's indictment of Bannon will "without a doubt" compel more subpoenaed witnesses to appear before Congress for deposition.
"Even before the Justice Department acted, it influenced other witnesses who were not going to be Steve Bannon," Schiff explained. "Now that witnesses see that if they don't cooperate, if they don't fulfill their lawful duty when subpoenaed, that they too may be prosecuted, it will have a very strong focusing effect on their decision-making.
"So it's very positive. I view this as an early test of whether democracy was recovering. If our law is to mean anything, it has to be applied equally. And so I'm very glad that Justice Department has moved forward in this fashion."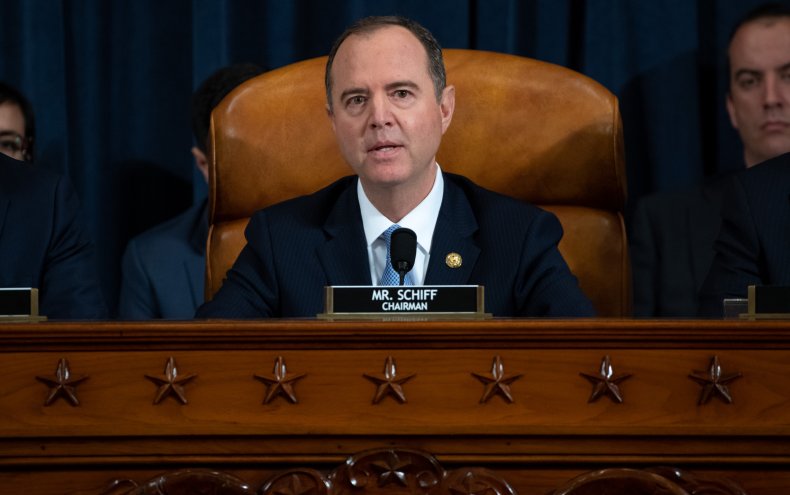 Schiff also noted that Trump and some of his allies appear to see themselves as "above the law" when it comes to answering congressional subpoenas.
"The Republican Party at the top levels, that is Donald Trump, and those around him, seem to feel that they're above the law and there's something admirable about thumbing your nose at the institutions of our government," Schiff added.
Newsweek reached out to Schiff for further comment on Sunday.
The House voted to send a referral for criminal contempt charges against Bannon to the DOJ in October after he refused to answer a congressional subpoena. The House select committee is conducting an investigation into the January 6 attack on the Capitol and the role Trump may have had in it.
Earlier this month, the DOJ hit Bannon with two charges, one for criminal contempt of Congress and another for failing to produce documents. Cumulatively, the charges could result in up to two years in prison.
On Tuesday, the committee issued a new round of subpoenas targeting the likes of former White House advisor Stephen Miller, former press secretary Kayleigh McEnany and former chief of staff Mark Meadows. Potential contempt charges are already being discussed for Meadows, who failed to appear for his scheduled deposition on Friday.
Following the indictment of Bannon on Friday, Democratic Rep. Eric Swalwell of California said that he now expects Meadows to comply with the subpoena.
"Mark Meadows is gonna realize he doesn't look good in orange and that he, like many others, are gonna come forward and want to cooperate," Swalwell said. "The [DOJ] has shown that there is no other path. Maybe Mark Meadows thought that the years of lawlessness would continue under Joe Biden. Well, they're not."