Steve Bannon Responds to Hunter Biden's Threat
Steve Bannon responded to Hunter Biden on Friday after the president's son threatened to sue him and others for allegedly spreading material obtained from his laptop.
Abbe Lowell, Hunter Biden's attorney, sent letters to Bannon and 14 others on Thursday demanding them to preserve evidence that may be relevant to a lawsuit involving their roles in spreading the contents of the laptop, which the president's son allegedly left in a computer shop in 2019, according to a report from NBC News.
Hunter Biden's laptop has become a rallying cry for critics of President Joe Biden. Its contents sparked concerns about the younger Biden's finances and ties to a Chinese energy company. Conservative media has also used the laptop to spread stories about Hunter Biden's personal life and drug use. Furthermore, Twitter's alleged suppression of a New York Post story about the laptop ahead of the 2020 presidential election was also the basis of the Twitter files.
The letters sent to Bannon—as well as other high-profile conservatives including Roger Stone and Rudy Giuliani—suggest the possibility that the president's son could take legal recourse over the spreading of his private information.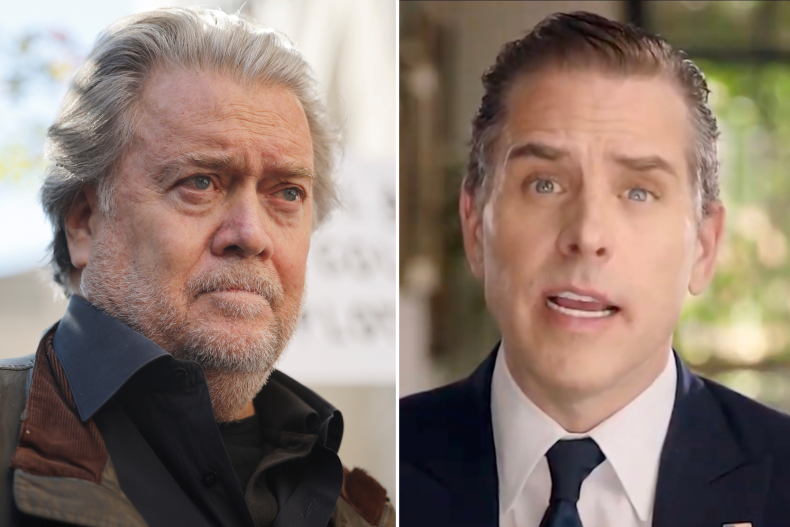 "You have made various statements and engaged in certain activities by your own admission, or that have been publicly reported in the media, concerning our client, Robert Hunter Biden ('Mr. Biden')," the letter reads, according to NBC News. "This letter ('Notice') constitutes notice that a litigation hold should be in effect for the preservation and retention of all records and documents related to Mr. Biden."
Bannon, who previously served as an adviser to former President Donald Trump, hit back against Hunter Biden's attorneys in a Gettr post on Friday night, taunting him over House Republicans' probe into his dealings.
"Hunter Biden doing what he has done all his life— running and hiding from accountability...and hoping Daddy bails him out," he wrote. "The MAGA House not going to let him hide—and they could care less about Daddy."
Republicans, after taking control of the House of Representatives last November, began investigations into Hunter Biden. Representative James Comer, the Kentucky Republican who chairs the House Oversight and Accountability Committee, issued a formal request for material related to Hunter Biden's alleged foreign business affairs this week, according to CBS News.
Hunter Biden, who is under Department of Justice (DOJ) investigation for alleged tax crimes and making false statements when purchasing a firearm, has maintained his innocence. Meanwhile, Democrats have accused Republicans of using the investigations to score political points with their base.
Hunter Biden's allies have also downplayed the contents of the laptop, arguing details of his personal life, salacious or not, have no bearing on the president's ability to govern.
Attorneys for the president's son previously requested the DOJ to launch an investigation into the dissemination of personal information taken from the laptop, describing it as a "failed dirty political trick," according to the Associated Press.
Hunter Biden's attorneys accused conservative figures who spread information from the laptop of violating statutes prohibiting the unauthorized access of a computer, transporting stolen data across state lines, and publishing personal data "with the intent to intimidate or threaten."
Newsweek reached out to Biden's attorney and Bannon's spokesperson for comment.